Bath Care Category Case Study
The retail brand chosen for this case study is a South African pharmacy chain comprising of over 100 stores and specialising in providing an all-around healthy living lifestyle solution for the whole family.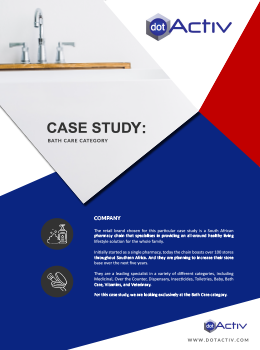 They are a leading specialist in a variety of different categories, including Over the Counter, Dispensary, Insecticides, Toiletries, Baby, Bath
Care, Vitamins, and Veterinary.
With DotActiv's help, this pharmacy retailer was able to increase the average sales, unit movement and gross profit for their Bath Care category by 31%, 20% and 65% respectively.
In this case study, you'll discover the following:
The Challenge this pharmacy retail chain faced around the Bath Care category;
The Solution that DotActiv proposed to help them address it;
The Results of implementing refreshed data-driven planograms created in DotActiv software; and
The practical benefits to continuously updating planograms for this
category.
Want to learn more about DotActiv's Category Management Software? Click here to learn more or visit our online store here.