Food Lover's Market Oils Category Case Study
Food Lover's Market is a fresh produce and groceries retailer with 128 stores.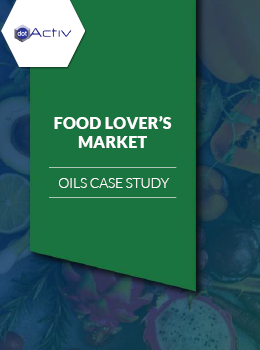 As a food emporium, Food Lover's Market is known as the store of choice for multiple categories. This specific case study is about the Oils category, which boasts a variety of both local and imported oils.
With help from DotActiv, Food Lover's Market was able to increase the average sales and unit movement for their Oils category by 147% and 157% respectively.
In this case study, you'll discover the following:
The Challenge Food Lover's Market faced around the Oils category;
The Solution that DotActiv proposed to help them address it;
The Results of implementing data-driven planograms for the Oils category; and
An explanation of how the implemented planograms contributed to the overall improve of the category.
Want to learn more about DotActiv's Category Management Software? Click here to learn more or visit our online store here.