So you want to build an effective space planning team ...
A space planning team plays a pivotal role in the success of your retail business. That's why you need to be mindful of whom to choose to take up these key positions in your business.
That, undoubtedly, leads to a series of questions that you need to ask yourself.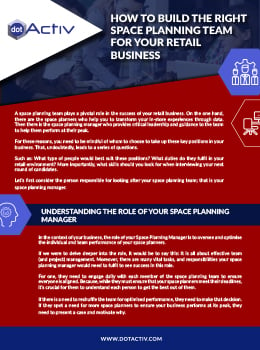 Who should download this guide?
If you are a retailer or supplier and you're either interested or are in the process of building a space planning team for your business, this guide is for you.
What to expect:
We unpack the key questions that will help you to determine who you should employ in your space planning team. Questions include:
What role does a Space Planning Manager fulfil?
What role does a Space Planner fulfil?
Who would best suit the role of Space Planning Manager?
Who would best suit the role of a Space Planner?
What skills do you candidates need to process?
Want to learn more about DotActiv's Category Management Software and how it can help you to please your customers and increase your profits?