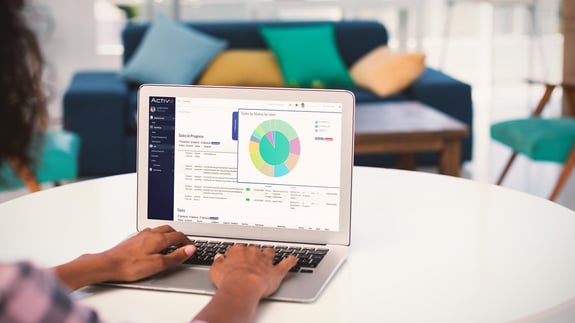 TEAM MANAGEMENT SOFTWARE. 20 USERS FREE FOR 1 MONTH.
Let DotActiv provide you with the platform to help you be more efficient when managing your team across multiple work locations.
Sign up to Activ8 now to test out the platform for one month, free of charge for 20 users.
SIGN UP FOR A FREE TRIAL OF ACTIV8*
*This Activ8 free trial is only available as a one-time offer.
ACTIV8 KEY FEATURES
Designed to suit your business' team management needs, Activ8 has built-in features and functionalities that help you drive transparency, accountability and structured management across your business.
Project And Task Management
Build out detailed and collaborative project plans. Include dynamic tasks with checklists. Collaborate with comments, attachments and everything you need to get the work done.

Team Stats and Reporting
Understand team productivity and performance at a granular level. Set performance thresholds specific to your company. Collect time and attendance data through Activ8's mobile apps.


Leave and Expense Management
Accurately capture purchase information for company-wide expense and travel claims. Customise leave management settings and manage all leave requests with a live calendar.


Record Keeping and Remote Onboarding
File documents in a digital filing cabinet with secure role-based access permissions. Onboard new employees remotely by allowing the digital signing of contracts and policies.


Store Communication and Planogram Compliance
Drive planogram compliance at store level and increase category performance. Access, download and implement completed planograms in-store. Send implementation confirmations to head office for reporting.


Field Marketing Functionality
Maximise the output of your mobile workforce. Schedule and automate store visits. Set up questionnaires to help you understand your brand representation in-store in real time.