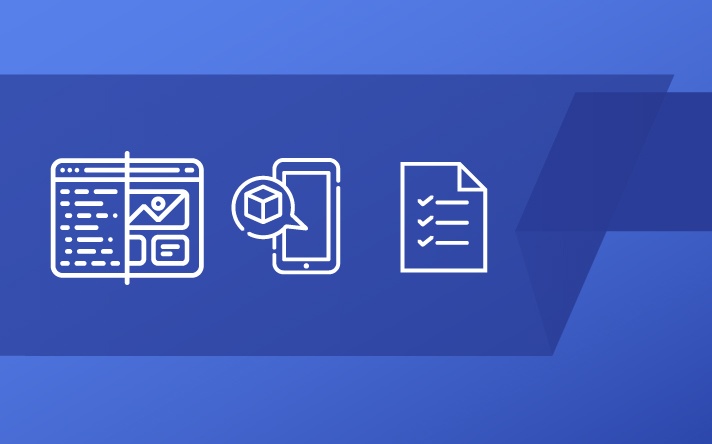 Technology has, in recent times, played an increasingly important role in retail. You only need to consider what you can do with mobile technology. Or what the rise of e-commerce websites means for the future of brick-and-mortar retailers. Of course, that's just two examples. There are many others. Planogram automation is another example. So too is the endless aisle.
What is an endless aisle?
In simple terms, an endless aisle is an interactive kiosk or booth that you'd place in-store to allow your customers to browse your products at their leisure. In fact, they could even order those products that aren't sold in-store. In that sense, it's a form of self-service, giving your customers access to the entire product catalogue.
That's why you'll often hear it referred to as a virtual shelf or endless shelf - it's the perfect blend of physical presence and virtual interaction. More importantly, it also meets and fulfils the expectations for your different customer demographics, whether they're looking for an online shopping experience or not.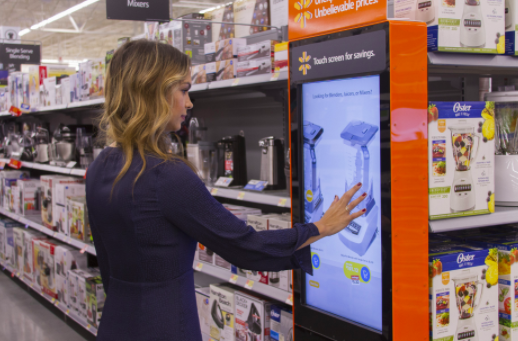 An example of an Endless Aisle as found in Walmart.
That said, with any retail technology, there are challenges to overcome. The main one against implementing an endless aisle in-store, is the cost. There is the argument that a 'less-limited aisle' could be better. From one angle, that might be true, especially if you don't have the capital to invest. You first need to consider the benefits of installing a virtual shelf in-store to make up your mind.

Among other advantages, it can help you to avoid lost sales, compete with e-commerce stores, and increase customer satisfaction.
That's why an endless aisle isn't only limited to one type of retailer. It's perfect for you if you have limited floor space. Let's say you sell shoes, for example. Instead of trying to cram your entire product range into your store, you could instead look at selecting those items that are best-sellers or fast movers. Maybe include a few items in-between to catch anyone looking for something else and then add an endless shelf for everything else.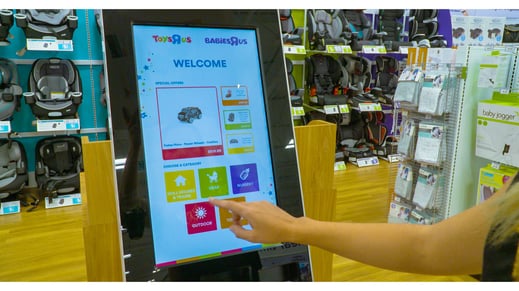 An example of an Endless Aisle as found at Toys R Us.
On the other hand, it's also perfect for you if you're a large FMCG retailer or even a Pharmacy Retailer. In each case, you could place a virtual shelf at the end of an aisle that stocks similar products. You could also just as easily reach an agreement with a supplier to use an endless shelf to promote a new product range, thereby sharing the cost.
What do you need to consider when setting up an endless aisle?
1. Your inventory levels must be kept up to date in real-time
As much as you might think that implementing a virtual shelf in-store now means you no longer have to worry about running out of stock, you'd be wrong. In fact, it makes it that much harder to keep track of your inventory. After all, you're essentially using the supply chain management method known as Drop Shipping.
As Shopify points out, drop shipping is a "retail fulfillment method where a store doesn't keep the products it sells in stock". Thus, whenever you sell a product, you'd purchase it from a third party - your suppliers - and they would ship it directly to your customer. Most times, at no additional cost.
That's why when implementing this technology in-store, you need to have complete control of your inventory levels in real-time. After all, while you can order stock that you don't sell in-store, that doesn't mean there is an endless supply. Imagine telling a customer that you can get a product only to find out afterwards that it's out of stock at your supplier. That damages any existing relationship that you've already built up with that customer.
Book a one-on-one consultation with an Account Advisor to hear how DotActiv approaches data integration.
Fortunately, there is a simple solution, and it comes in the form of integrating your inventory system.
By integrating this system, you're able to keep track of your stock levels. That means that whenever a product leaves the store (or in this case is ordered through your endless shelf), the stock level is adjusted accordingly. As a result, whenever you do place an order in the future, you can do so confidently, knowing that each time, you'll be able to fulfil the needs of your customers.
2. Take a centralised approach when ordering and managing your stock
There are two different approaches when it comes to ordering and managing your stock. On the one side, there is the decentralised method. That's when you allow individual stores to order their own stock according to their own volition.
On the other side is the centralised approach. As we've mentioned in a previous article on store management, if we were asked to recommend one of the two, we'd endorse the centralised approach every time.
That's because of the benefits.
For one, following this approach means everything is updated in one place. That includes your stock levels, amount of sales, how many units are available and so on. You'll have all this data at your fingertips. And you'll be confident that what you see is reflected in real time.
For example, when you sell an item, if you follow the centralised approach (and you've already integrated you inventory system), your stock levels should update immediately. That's even if you're selling products using an endless aisle. As a result, you avoid the mistake of overselling. More importantly, you don't have to have unpleasant conversations with customers about the fact that you can't ship their items to them after they've bought it.
Of course, those aren't the only consequences of not following a centralised approach. There is also every chance that it will take longer for your out of stocks to be rectified. While another distribution centre may have stock, they'd have to ship it to the right distribution centre first before transporting it to the correct location. That takes time, which ultimately costs you.
3. Ensure you have the right mix of products
There is no doubt about the fact that implementing a virtual shelf in-store opens up a lot of opportunities for you. For one, if you're a small retailer with limited floor space, you wouldn't have to worry about how you're going to present your entire assortment without overcrowding your store and shelves.
That said, this doesn't now mean that you should look at offering all of the products that your supplier offers.
Let's say, for example, that you're a Category Specialist who sells shoes, and the supplier you've chosen supplies more than just footwear. They also supply clothing and other related merchandise to other stores.
As much as you might be tempted to place a virtual shelf in-store that includes all of their product catalogues - the argument being that more products equal more sales opportunities - you should first consider your customers. Ask yourself this question: What are your customers looking for when they enter your store?
In this case, the answer is, to purchase shoes. If they enter your store and find that besides shoes, you now suddenly offer clothes, it'll confuse them. That's especially true if you're offering the same range of assortment.
Schedule a walkthrough to see how DotActiv software can help you choose the right mix of products for your stores.
Just to note, that doesn't mean that you shouldn't consider diversifying your product assortment. However, if you do want to go this route, you need to meet customer demand.
If you want to include clothing in your stores, you could look at ranging a small assortment and then monitor it over a set period to see if it's selling or not. If it's selling well, you could look at increasing your range. If not, you can reduce the range.
4. Don't think you have to discard your sales staff
As much as an endless aisle means that your customers have the opportunity to browse and purchase items by themselves, it would be disingenuous to say that you no longer need sales staff.
That's because regardless of the rise of technology in retail, there will always be a need for human interaction.
Let us explain.
Having readily available inventory that can be shipped to customers is a major competitive advantage in retail. However, your customers still appreciate recommendations and advice. They also have questions that need answering, and only your sales staff might be able to help. If there is no-one physically present to help answer any questions, it won't matter if you have the best technology in-store. There is every chance that the customer will walk out in frustration.
That's especially true if they are not used to a virtual shelf and thus don't understand how to use it effectively. Well-trained sales staff can help here. More than that, once they've assisted, they could suggest additional purchases which can increase their basket size.
In that sense, the role your employees play changes from hard-selling to soft-selling. In doing so, it makes for a deeper and more immersive shopping experience for your customers. After all, who doesn't like a personalised shopping experience where someone is trying to help you find the best product rather than attempting to sell you something.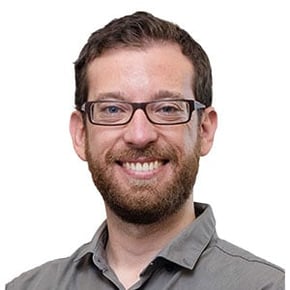 Darren Gilbert
With over 10 years of writing and marketing experience, Darren joined DotActiv in 2017 as a content writer where he was responsible for producing blogs, Ebooks and more. He has since worked himself up to the role of content manager, where he oversees all and any content produced by the company. He has a Bachelor of Arts in International Studies from the University of Stellenbosch.