Ultra Liquors Corlett Drive Store Case Study
Ultra Liquors is a hybrid retail/wholesale liquor business with over 60 stores nationwide.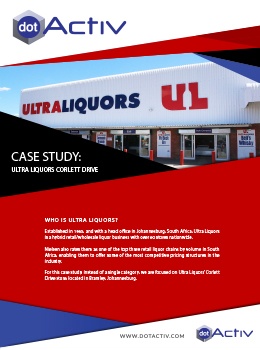 Instead of concentrating on a single category, we focused our attention on one of Ultra Liquors' flagship stores.
With DotActiv's help, Ultra Liquors was able to increase the average sales and unit movement for their entire Corlett Drive store by 39% and 31% respectively.
In this case study, you'll discover the following:
The Challenge that Ultra Liquors faced at their Corlett Drive store;
The Solution that DotActiv proposed to help them address it; and
The Results of implementing data-driven planograms created in DotActiv software.
Want to learn more about DotActiv's Category Management Software? Click here to learn more or visit our online store here.