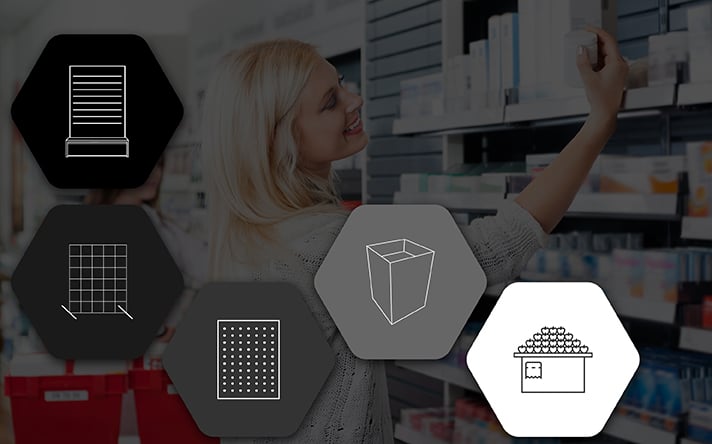 Merchandising displays are important parts of the design of your store. Below are a few that you should consider; and if these are already in your store, why you should implement them correctly.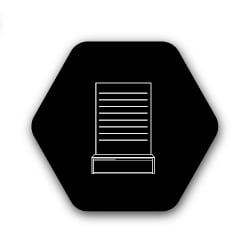 Slat Walls
Slat walls are one of the most popular merchandising displays used by retailers around the world. These display fixtures consist of panels and horizontal grooves (slats) that are configured to accept a variety of merchandising accessories. Slat walls can be mounted onto walls or combined with a base as a freestanding fixture. They are used in conjunction with attachments such as arms, hooks and shelves that can easily be slotted into the slats without the use of tools.

One of the biggest benefits of this type of display is versatility. Between the assortment of finishes, sizes, shapes and types of attachments, you can create a retail display unique to your business and it's needs. Slat walls are also a great bang for your buck with basic slat wall panels available at relatively low prices, making it an affordable way for creating memorable, customisable looks.

Another reason slat walls are worth getting right is that they are extremely durable. They have an impressive life expectancy, can carry heavier merchandise and are difficult to damage. Slat walls are also very space efficient and have a high storage capacity. Once you have assembled your panels, all you have to do is hook on your attachments and start merchandising!
There is no single method of using slat walls but rather a variety of ways to carry merchandise such as clothing, hardware, toys and accessories.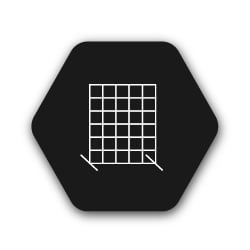 Grid Walls
Another merchandising display that has become an increasingly popular choice for retailers is the Grid Wall. This type of merchandising display is made from a lattice of wire panels that can easily accommodate a variety of different hook and shelf options that attach to the grid.

Benefits of Grid Walls are similar to those of slat walls. They too are versatile, affordable and customizable. However, Grid walls are much lighter and easier to maintain, requiring minimal dusting and general cleaning.

With today's high rent prices, retailers often seek effective and affordable solutions to utilize wall and floor space that also offers flexibility and so the Grid Wall is perfect for traders looking to conserve space.

Apparel stores especially can benefit from the use of Grid wall fixtures as hooks and hangers are easy to remove and relocate, allowing the retailer a quick merchandising update with minimal effort. With bins, baskets, and shelving also easily attachable, impulse merchandising displays containing loose goods such as Confectionery, Books and Magazines may also stand to benefit from this type of display.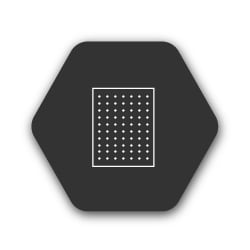 Pegboards
A Pegboard display is a fixture consisting of a slab of perforated hardboard. The most common types of Pegboards are made of wood or fiber-board and contain rows of evenly spaced holes which are used for attaching hooks, bins, shelving and other storage accessories. Pegboards are also often paired with other types of mainstream merchandising displays such as gondolas for an interesting display of articles.

Benefits of this type of display include being highly flexible and allowing aesthetically pleasing merchandising designs.

This type of display is most commonly used to carry smaller merchandise such as categories found in snake queues of exit retail for example. Categories include confectionery, stationery, jewellery and cellular accessories to name but a few.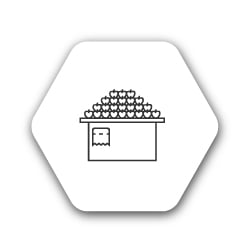 Table Displays
As per its name, Table Displays are merchandising displays that have a flat, table shape to them but can be tiered or just have one level. Although the term table could indicate being made of wood, Table Displays can be made of a variety of other materials as well.

Table displays are commonly placed near the entrance of a store to display craft items or other small items and the benefit of this type of display is that it is an excellent tool for attracting and enticing a buyer to purchase items they had not planned to buy. Table displays can also be used as decoration for seasonal holidays and are highly visible, invoking a call to action.

Other examples of Table displays include showcasing clothing, home décor or as a promotional platform for gifting.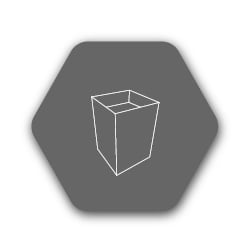 Point of Purchase Displays
Point of Purchase displays, or POP displays are some of the most important displays in any retail store and yet can be one of the most underutilized tools in retail. This type of fixture is most commonly the marketing material of the merchandise or brand being promoted, and most vendors will provide these to stores for free use to boost sales of their product. These merchandising displays can be as simple as a sign or as elaborate as a full free-standing display where the vendors' products are boldly displayed.
POP displays are found in high-traffic areas such as next to the cash register or the doors so that it is easily accessible to the customer and increases the possibility of an impulse purchase. The material will highlight the product and draw the customers' attention to it, which is extremely important in a retail store crammed with similar merchandise.
Stores use Point of Purchase displays to place fast-moving merchandise such as candy, cheap items and popular goods. Many stores also use the point of purchase display for sale items or items close to the expiry date.
Conclusion
DotActiv's all-in-one category management software will allow you to add and customise your fixtures as necessary. Visit our online store to browse a range of planogram software packages by clicking on the link below.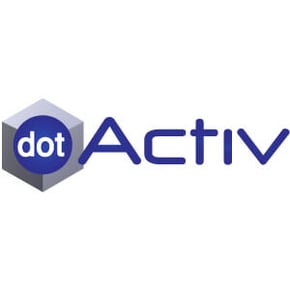 DotActiv Team
The DotActiv team comprises of multiple category management experts, all lending their years of retail experience and knowledge to create well-researched and in-depth articles that inform readers of DotActiv's retail blog.