The Highlights Function, available in DotActiv software, is a useful tool which provides a number of benefits to you, the user. Not only does it assist you to determine your brand flows, but also to allocate shelf space and identify your top performing SKUs. Using this function also ensures the planogram generation process is both efficient and effective.
The following article will address what the Highlights Function is, how to use the function as well as the problem that it solves.
What is the Highlights Function?
The Highlights Function in DotActiv software allows you to illustrate product groupings or performance by using different colours. In other words, you can use it to highlight the numbers and information behind your planogram.
For example, our space planners often use the Days of Supply (DOS) highlight to visually illustrate how space allocation has been maximised by considering the number of days it will take for an individual product to run out of stock.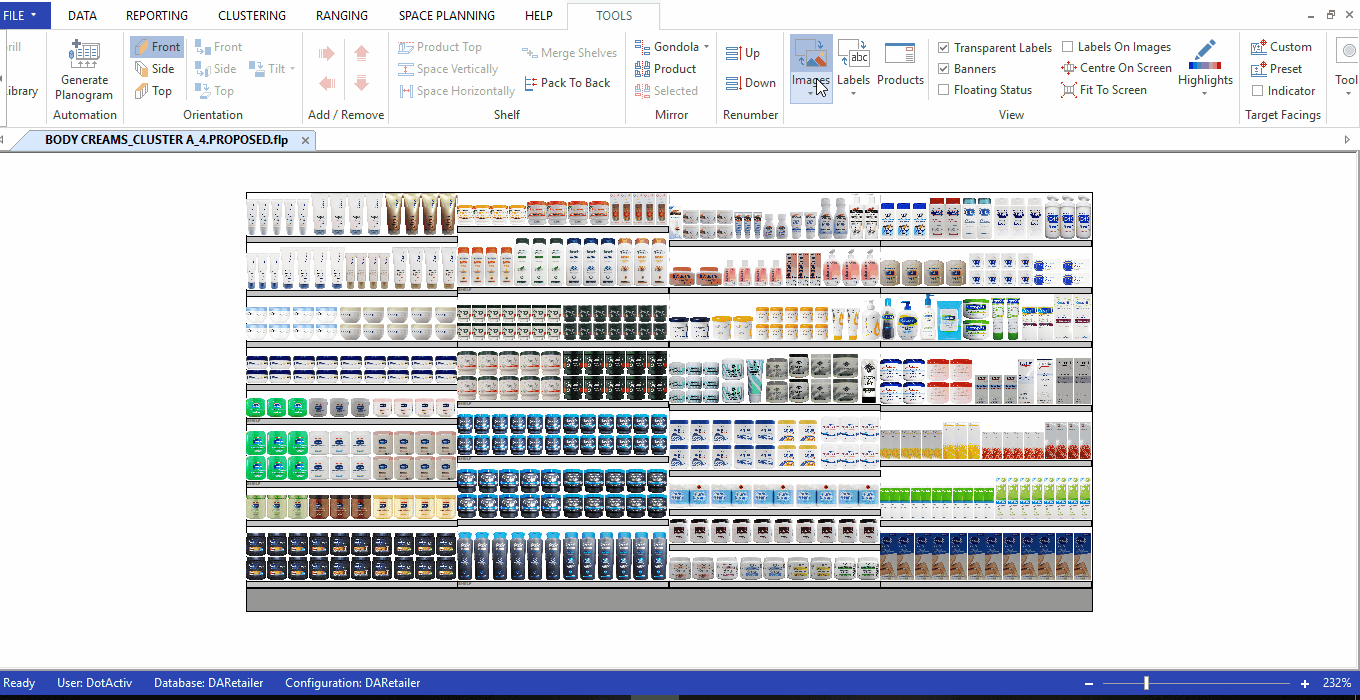 Using the DOS highlight also provides you with many benefits.
Firstly, you can determine which products will run out of stock first. This ensures optimal inventory management as you can specify exactly how much stock should be available, as well as when you should order new stock.
Secondly, combined with your sales and units contribution, you can determine which products require more or fewer facings on the shelf. It essentially gives you a strong competitive advantage because you can provide the right product assortments to your customers, which ultimately creates a more enjoyable shopping experience for them.
Finally, combined with other datasets, your DOS can indicate your top performing products. Understanding which products are your top performers assists you to make key strategic decisions.
The Highlights Function is, of course, not limited to the DOS highlight. DotActiv software provides a wide range of highlighting functions depending on what you want to emphasise. To mention a few, you can highlight by brand, sub-category, segment, sales, units, or product description.
DotActiv aims to provide you with efficient, flexible and user-friendly software. The Highlights Function and the flexibility it gives is a perfect example of how we achieve this goal.
How do you use the Highlights Function?
Once you have opened a planogram in DotActiv, you can find the Highlights Function button under the shelf planning tools tab in the view section. When using this function, it is important that your images are turned off.
After clicking on the Highlights Function icon, a pop-up window appears, which allows you to select which highlight you would like to use. At this point, you might see the 'preset highlights' in the top left-hand corner (see the GIF below), so it is useful to explain it further.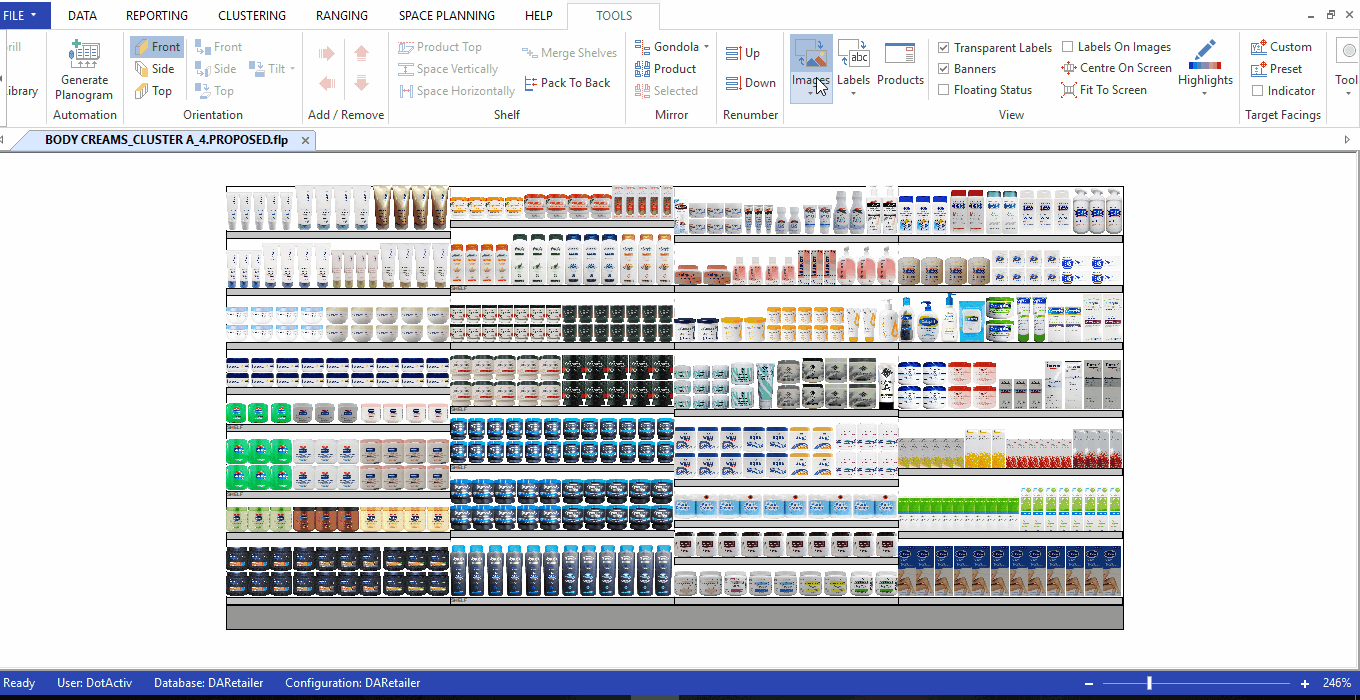 If you know you will always rely on the sales at sell highlight, which highlights your highest and lowest sellers based on sales, you can save it as a preset to access it easily the next time you use DotActiv software. Thus, instead of manually selecting your highlighting field, you can select the previously saved highlight, thereby streamlining the space planning process.
If you would like to rather select your highlighting field manually, here's how you can do that:
Firstly, you need to select the dimension by which you want to highlight- this could either be by fact, period, market or product.
Secondly, you need to select the attribute. As previously mentioned, DotActiv software offers many highlighting attributes such as product code or barcode.
Finally, you need to select the highlighting type. Two of the most common highlighting types used by our customers are the standard and spectrum highlights.
The standard highlight applies primary colours available in the software to your desired attribute. For example, if you use a standard highlight indicating brand, the same brands are given the same colour, providing you with a visual of how you have grouped your brands on the planogram.
Meanwhile, the spectrum highlight creates a spectrum of colours throughout the products on your planogram. For example, the lowest sales to the highest sales. It is important to note that you can only use this highlight option with numeric values such as sales and units.
However, what happens if you've forgotten which colours represent which fact? No problem; DotActiv has you covered. Just select the "legend" option in the highlights drop down, and a legend appears, indicating your selected colours and facts.
The spectrum highlight also allows you to indicate the top performing products as a percentage. For example, if you want to select the top 5% and bottom 5% of products based on sales, you can do that with the spectrum highlight. That's why, you'll often find the spectrum highlight used when highlighting by DOS.
The Highlights Function is available in all four DotActiv software packages. Thus, every user has access and can enjoy the benefits of the function.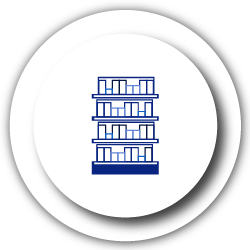 What problem does the Highlights Function solve?
The Highlights Function essentially aids the planogram generation process. When generating planograms, it's best to begin by looking at the current situation in your store. This includes analysing a realogram.
For the sake of context, a realogram is a replica of the gondola in store before you optimise it. By considering the Highlights Function, you can identify any opportunities and see where you can improve.
For example, the sales at sell highlight might indicate that you have over-faced a particular product. By knowing which products are over-faced, you can make the necessary product assortment changes. Making such adjustments ultimately allows you to stock more profitable products.
Furthermore, the Highlights Function is a perfect tool for visually displaying your category, sub-category, segment, or brand flow.
Let's consider your brand flow as an example. Determining the flow of your products is crucial in the planogram generation process. At DotActiv, one of the merchandising principles we implement is grouping products by sub-category and then by brand. By doing this, your customers can easily find what they are looking for on the shelf.
The Highlights Function also allows you to group products to ensure you have created and followed the correct category, sub-category, segment or brand flow.
Another on-shelf merchandising principle is to display products from premium to economy. If you decide to merchandise from premium to economy, all your high-end products will appear first on the shelf, making it easier for your consumers to know which items are more expensive. You, as the retailer, will also benefit from this merchandising principle since your more expensive products will be seen first.
Finally, the Highlights Function enables you to justify any decisions you've made on your planogram. For example, if you increase the number of facings based on DOS, your DOS highlight automatically updates as you make the changes. As a space planner, this is a useful tool for showing retail buyers why you are making these changes.
Conclusion
DotActiv Lite, Pro, and Enterprise are all different versions of our category management software that allows you to drive category performance. Interesting in finding out more? You can book a complimentary consultation with a DotActiv expert here or visit our online store here.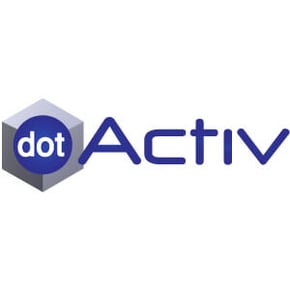 DotActiv Team
The DotActiv team comprises of multiple category management experts, all lending their years of retail experience and knowledge to create well-researched and in-depth articles that inform readers of DotActiv's retail blog.