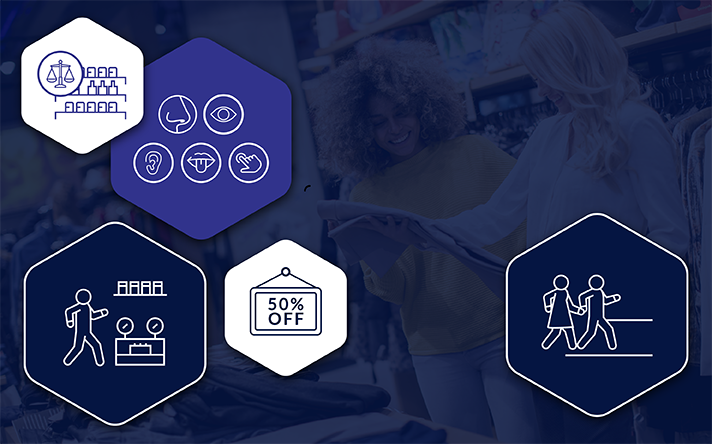 Merchandising is one of the fundamentals of sales success. And, when it comes to fashion retail, this is no exception. As a merchandiser, you must continuously consider how each element influences a customer's decision to make a purchase.
Let's focus on how merchandising applies to fashion retailers and how it differs from other retailers by looking at the following five aspects.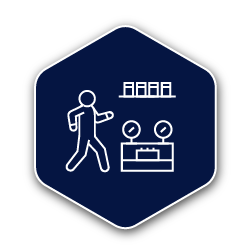 1. The decompression zone
The decompression zone is the area at the front of the store used to attract potential customers and provide them with space to familiarise themselves with your store. The more comfortable a shopper feels inside your store, the longer they will stay.
The decompression zone of a fashion retailer differs from that of a general store - where this space should be welcoming and large enough for customers with trolleys to easily navigate in and out of the store. For a fashion retailer, the aesthetics of the decompression zone is vital because it must entice a customer to enter the store.
A customer visits a grocery retailer routinely with the intention of making a purchase. These retailers have the benefit that they already have the customer inside their store.
Fashion shopping is not a routine activity, and therefore these retailers are dependent on an aesthetically pleasing decompression zone to motivate customers to enter the store. Remember, first impressions count.
Furthermore, due to the fashion industry constantly changing, consumers want fresh displays to show the newest items and trends of the season. To keep your shoppers interested, change your decompression zone regularly, depending on the arrival of your new stock.
You can also use the decompression zone to merchandise the more expensive items to make them more desirable to shoppers. Keep your display fixtures interesting and use fixtures such as mannequins, display tables and clothing rails of different heights, but remember to keep this area neat and uncluttered.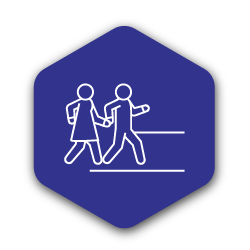 2. Creating a customer path
Creating a customer path in your store allows you to guide your shoppers on a path of your choosing through your store, exposing them to more merchandise. This is achieved by carefully considering the placement of the merchandise and fixtures around your store.
The arrangement of your display areas, till points and fitting rooms impact the way that your shopper navigates through your store. These areas should be placed strategically so that hot spots are created.
When it comes to merchandise, place your sale items and basic fashion items towards the back of the store. When a customer comes in to search for those products, they are forced to walk past other merchandise before getting to the items that they came to the store for, increasing the chances of them making additional, unplanned purchases. They also end up staying in your store for longer.
Today, fashion lead times are as short as two weeks, which means that new stock arrives often. Therefore, the store layout and the placement of merchandise must be updated regularly to keep up with the short lead times. Place new merchandise in areas towards the front of the store so that it is more exposed to shoppers and anyone who walks past.
When creating your customer path, consider your consumer decision tree as this will determine how you group and place your merchandise. For example, creating a section for corporate wear and then grouping by brand within this category.
Another technique used to guide consumers is to make use of speed bumps such as displays and non-merchandise fixtures. Speed bumps are used to slow shoppers down and allow them to spend some time to browse, thereby increasing the chances of them making a purchase.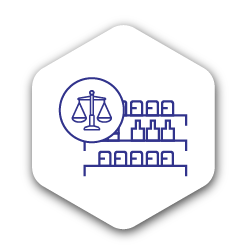 3. Merchandising Principles
Unlike a FMCG store, fashion purchases are very much based on aesthetic appeal - not only of the item but also how it is displayed. Implementing certain merchandising principles is key to boost sales.
Consider placing related items together. This is particularly effective in a fashion retailer as customers like to "shop the look". For example, in the summer months place swimwear with sunglasses, hats and flip flops.
By placing these items together, customers see how an item can be worn and are more inclined to make impulse purchases.
Fashion merchandising considers the size and nature of the items as well as the display fixtures. Create interesting displays by playing around with different heights and consider the colours and styles placed together.
For example, when creating a display wall, place the darker colours towards the bottom and the lighter colours towards the top to create visual balance.
Merchandise based on the nature of the product
When it comes to fashion merchandise, the display of items must be according to the display of a product. For example, some items must hang while others will be better folded on a display table.
Consider your consumer decision tree
How your customers shop impacts how your items are grouped together. Do they shop by use, size, colour or brand?
For example, most customers shop for clothing by colour because they know what colours they like and what looks good on them. Therefore, placing certain colours together could appeal to these shoppers.
It is important to keep sizes together by grouping from small to large from left to right and front to back. This avoids frustrated shoppers.
Create your displays around the current trends and seasons. If it is cold outside shoppers are more likely to purchase a coat than a swimsuit. It is important to keep this in mind when creating product displays.
Fashion cycles are short. The challenge faced by many clothing retailers is that this needs to be planned for and the new merchandise must receive good placement in the store. Therefore, a constant change of displays and store flows are common for clothing retailers.
New items are merchandised closer to the front of the store, as these are the products that you want your customers to notice first.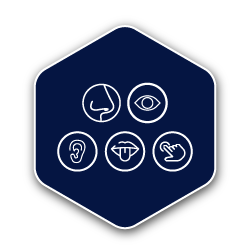 4. Creating a multi-sensory experience
Consumers are more likely to remember a store based on the combination of sensory experiences offered. This is no different for a fashion retailer. However, the way in which this is achieved differs greatly from a food or general merchandise retailer.
Sight: People tend to have the best memory of what is seen which makes sight one of the most important factors to consider when merchandising fashion items. Displays and signage must be aesthetically pleasing to boost sales and to attract recurring customers.
Smell: Scent is linked to emotion and memory and can heighten brand connection. The way that a retail space smells creates an impression in the consumer's mind and impacts the amount of time they spend in-store.
When considering a food retailer, smells of baked goods and coffee have been found to increase sales. It is important that the scent of your store match your merchandise.
For example the women's fashion retailer, Forever New, has a subtle floral scent noticeable upon entering the store. This scent is not overwhelming but it contributes to the feminine image of the store.
Touch: This is probably the most important consideration when it comes to fashion. Consumers want to feel the fabric and this is one of the main reasons why many shoppers prefer visiting brick and mortar stores above online shopping.
In an FMCG store this is not as relevant, but touching a fabric can motivate a purchase decision. This can be encouraged by merchandising clothing items in a folded pile as consumers are then forced to touch the item when they search through the pile looking for their size or colour of choice.
Hearing: The music you play in your retail store has a profound but subtle effect on how your customers behave.
People experience a shorter wait time when they hear music that they like, they might even linger around a bit longer to finish listening to a song playing in-store.
You can use this tactic to drive sales. Just remember that the type of music playing should appeal to your target market so avoid classical music when targeting teenagers or hard rock when you have a more mature market.
Taste: Trying on clothing in an apparel retailer is the equivalent of a food tester in a grocery store. By giving your customers the opportunity to try the item on, you provide them with a "taste" of the item.
Make this experience as pleasurable as possible by providing spacious, well-lit fitting rooms.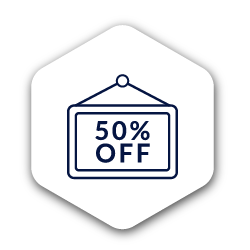 5. In-store signage
As a customer we can all agree that nothing is more frustrating than not being able to navigate through a store. When it comes to in-store signage, the most important thing to remember in terms of a fashion retailer is that it has a dual purpose of providing information and contributing to your brand image.
In-store signage contributes to the merchandising and can drive sales. It must, therefore, portray the right style.
In-store signage and advertising banners can contribute to the way in which your customers view your current merchandise in the store.
Seeing items worn together can motivate shoppers to buy as they can visualise how an item can be worn. It can even lead them to purchase more than one of the items or even all of the items displayed. (remember sight discussed in the previous section?)
Conclusion
These five aspects are sure to guide you in the merchandising of your fashion retail store. DotActiv has introduced new clothing fixtures to its software. To get a 14 day trial of any DotActiv software edition, click here or below.