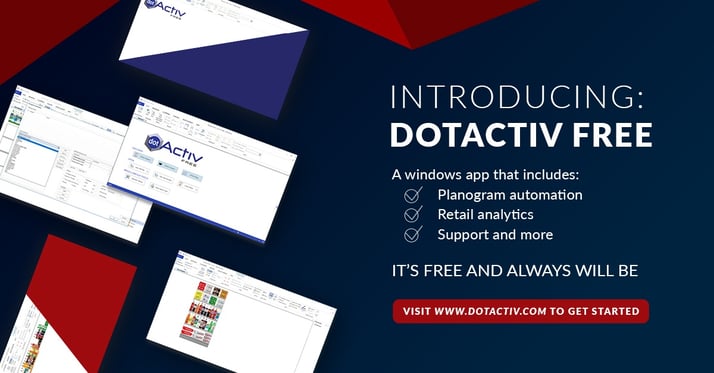 Today is an exciting day for us at DotActiv. For years we have been working to refine our planogram software so that it can help retailers and suppliers transform the way they merchandise their products. We do this not only to improve store performance but also to improve in-store shopping experiences.
Unfortunately, in days gone by category management tools like DotActiv have had significant barriers to entry - not only have the basic concepts been daunting to learn but access to category management tools have also been extremely expensive. At DotActiv it has always been our mission to reduce these barriers so that more and more retailers and suppliers can get onboard with data-driven category management - regardless of their size.
Today we are taking another leap in reducing the barrier to entry for category management with a new version of our software and we're calling it DotActiv Free. As the name suggests, this edition of our Microsoft Windows-based planogram software is completely free and always will be.
DotActiv Free is packed with features including:
Our planogram automation capability which enables users to automate the creation of data-driven product layouts based on customisable but predefined packing criteria and weighted variables such as % Sales and % Units.
A range of standard reports which help users to grasp better how their categories and shelf space is performing.
Our retail analytics module which enables users to create their own custom data visualisations and dashboards.
Training videos which equip users to learn how to master the core features of DotActiv Free.
Access to our team of dedicated Account Advisors so that our users can get expert advice on how category management can be applied in their unique environments.

What are the limitations?
Of course, we can't give away everything for free because we would not be able to sustain the ongoing research and development that makes our toolset so impactful for our customers. DotActiv Free, although packed with a number of DotActiv Enterprise Features, is limited to creating one drop planograms which can contain no more than 40 products.
This approach helps us to share knowledge around the concepts of category management without making DotActiv Lite, Pro and Enterprise any less valuable. We believe this is a win for the category management industry.
What's the catch?
We are not going to mine users sales data or abuse their information - this is not who we are. Doing so would go against one of our core missions which is to be a trusted third-party category management provider. All sales data stays on users local hardware and is not at all accessed by DotActiv.
Why are we releasing a free version of our software?
Our aim with this product is simple: we want retailers and suppliers of all sizes to freely explore the concepts of category management without obligation or excessive upfront investment.
Conclusion
If you would like to explore DotActiv Free, you can watch the training videos here, or you can explore the product's features here. If you have questions and would like to speak to a real person about DotActiv Free, please go ahead and schedule a walkthrough here.