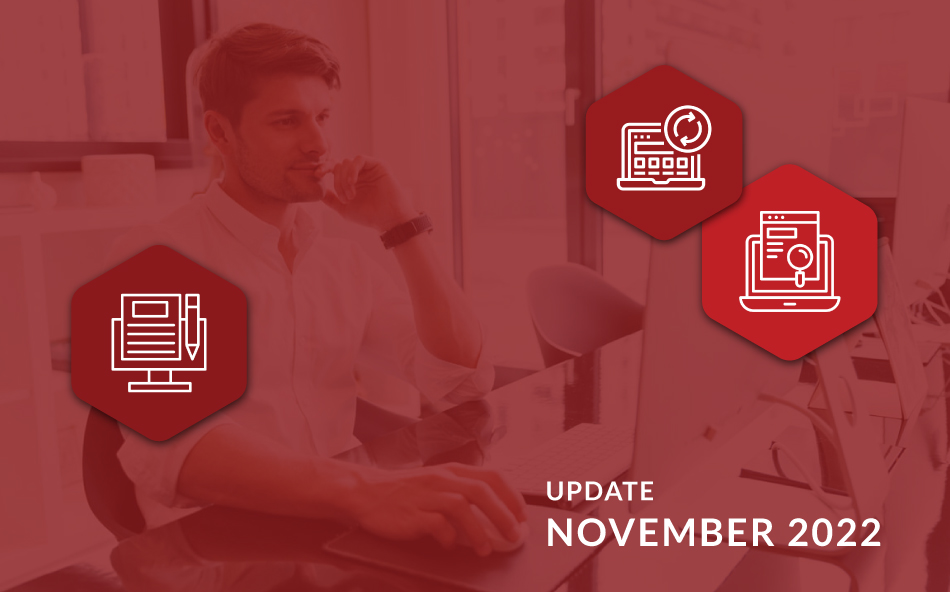 The end of 2022 is almost here, with light at the end of the tunnel. As the first full post-Covid year, it held a unique balance of challenges and successes. The DotActiv PowerBase updates have been part of the latter. In November, we added two new articles and updated two existing articles.
With that said, we are also excited to say that we have released a new version of DotActiv, which includes new software features to be discussed in the section - New Software Updates.
If you would like to read past articles on what we've added or updated on the DotActiv PowerBase, you can browse those PowerBase summaries here. You can also read about why we introduced the DotActiv PowerBase here.
New articles on the DotActiv PowerBase
How To Use The Report Item Index When Working With Custom Reports
The report item index allows you to switch between viewing the inventory of all items on a custom report. This new article unpacks how to use this function step-by-step.
The function works so that should you select an object or grid on your custom report, it will highlight that same object in the report item index. You will also be able to filter by page, data source, item name, and time type.
You can find the article here for further information.
How To Use The Snip Function When Floor Planning
The snip function allows you to share a visual image of your floor plan. It also allows you to snip a floor plan image and link it as a data source image in a floor planning custom report. This new article will guide you when using this new snip function.
You can also preview your floor plan snip and adjust the image dimensions or keep the original. You can then save the snip as a .png file.
Find out more about the snip function in this article.
Software release updates on the DotActiv PowerBase
How To Use The Floor Plan Analysis Grid And Optimizer
DotActiv's Floor Planning software has yet another addition! We've added a new section to this article to explore the latest software update to the Floor Plan Analysis Grid and Optimizer.
We've added some information on the drop movement within a department option. Within the 'What Is The Floor Plan Optimizer?' section, you will find that 'Step 4: Drop Movement Settings' gives a detailed explanation of how this new function works. You can choose whether you want to optimise the NOD's within a specific department or across various selected departments.
Have a look at this function in this article.
How To Add A Cluster Plan To A Custom Report
Being able to set up a Custom Report in the DotActiv software creates a unique opportunity for you to automate a specific report and various reporting functions. This article serves as a guide to adding a Cluster Plan to a Custom Report.
By following the steps outlined in this article, you can add various Clustering objects, namely; the Silhouette Analysis, Linkage Distance and Cluster Composition.
Once you have added these different report objects, you can link an existing cluster plan for the existing data to pull through to the features on your Custom Report.
You can find the steps here. Should you need additional assistance in setting up a Custom Report, you can find them in this article.
Updated articles on the DotActiv PowerBase
How To Search For Products And Categories On A Floor Plan
The purpose of this article is to assist you in using the 'Find' function when working on floor planning in the DotActiv software. This function simplifies the process of finding products and categories on your floor plans.
Once you have specified which product or category you're looking for, it will highlight them on the floor plan.
We recently updated this article to include 'Find And Search' as a tag.
You can find more information and a step-by-step guide in this article.
How To Find, Edit And Remove Products In The DotActiv SQL Database
By using the 'Find' function in the SQL tab or the 'Find and Edit' function, you can find, edit and remove products from the DotActiv SQL Database.
It allows you to locate products, make changes to a product's display structure and remove products entirely from the database.
We recently updated this article to include 'Find And Search' as a tag.
This article is a guide to keeping your DotActiv SQL Database up to date.
Conclusion
The DotActiv PowerBase provides quick answers to specific questions about how to make the most of DotActiv's products and services.
If you come across an article that doesn't answer a question to your satisfaction, please leave a comment. It's entirely anonymous and will help us to help you get the answers you deserve.
Are you currently not a DotActiv client but want to learn more about how DotActiv software can help your business increase sales while also pleasing your customers? You can book a meeting with a DotActiv expert here or browse our various software and service options on our online store here.
Rina Oosthuizen
Rina Oosthuizen joined DotActiv in 2018 as a space planner. She worked her way up to the position of account manager where she oversaw the Health Department and Floor Planning at Dis-Chem. In late 2021, she moved to the HR department to work as our Quality Analyst before her move to head up DotActiv Training in late 2022. Rina has a Post-Graduate Diploma in Business Administration from the NWU Business School.