The custom planogram reporting function, available in DotActiv software, allows you to create a reporting template specifically tailored to your reporting needs. You can customise your templates by adding grids, graphs, logos and planograms where required. You can also share the templates you create among team members. In doing so, you ensure consistency across all departments.
The following article addresses what the Custom Planogram Reporting Function is, how to use it as well as the problem that it solves.

What is the Custom Planogram Reporting Function?
The Custom Planogram Reporting Function is fully customisable to your specific business requirements. You can report on different dimensions including market, product, period or fact. In other words, you can analyse figures for virtually any store type, cluster, geographic location, hierarchy or brand, to mention a few.
When using the Custom Reporting Function, you have two options. You can either generate a report or use the report builder.
You would use the report builder to create a custom template. Creating a custom template ensures those wanting to report on a business dimension have access to a standard reporting layout. In this sense, templates save your shelf planners valuable time because they have a reliable starting point from which to work.
You can save templates as .drt (DotActiv Reporting Template) files, which you can then share among other DotActiv users. You are also able to refresh your data within each template by mapping a specific data source.
Alternatively, using the generate report function generates an existing report. You need to have your templates set-up to use this function.
Once your reports have loaded, you can make changes to your graphs and grids. There are many graphs available to you. For example, you can select a column, bar, funnel, pie or pyramid graph. You can also insert different logos to further customise your report.

How do you use the Custom Planogram Reporting Function?
As previously mentioned, there are two main functions available when using the custom reports in DotActiv software. Namely, using the report builder and generating a report. These two functions are explained in detail below.
Report Builder
To begin, select the custom report icon in the reporting tab. In the drop-down menu, select the report builder. A menu appears where you have the option to create a new template, edit an existing template or delete a template. Select the new template option as seen in the GIF below.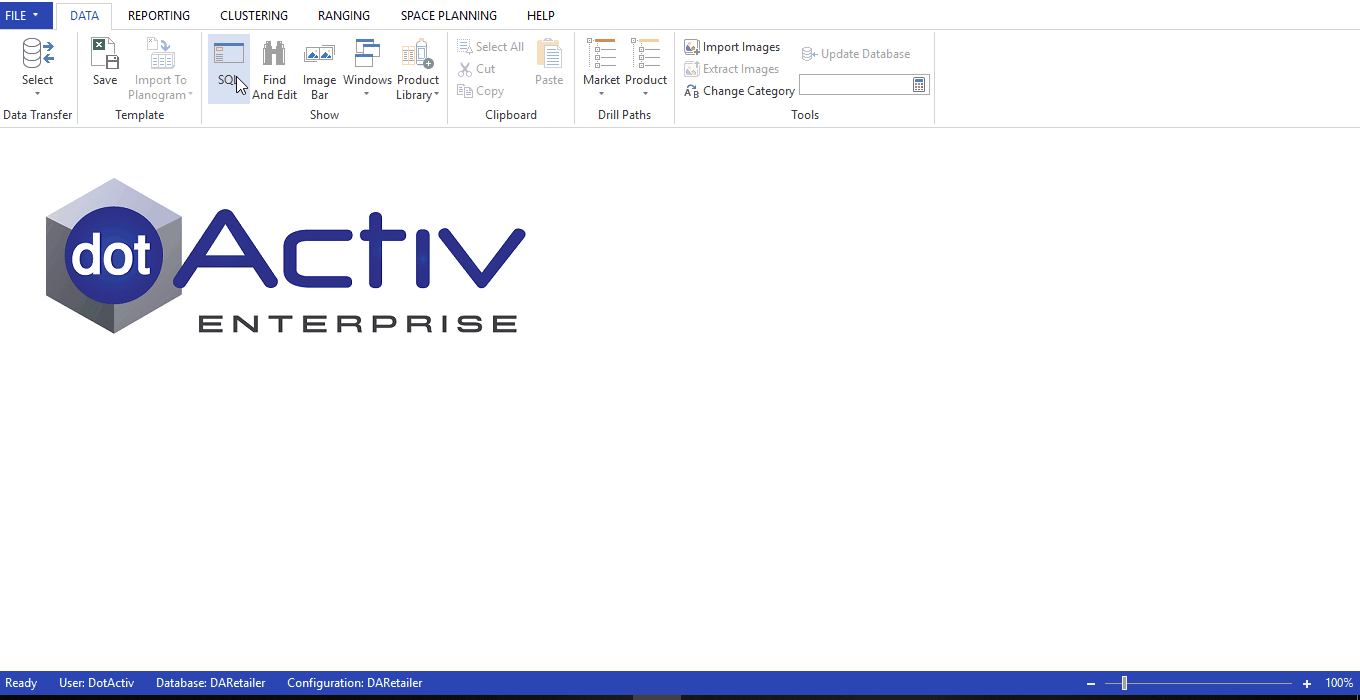 From here, you can begin creating your template. You can add an image by selecting the image icon and then clicking on your selected page. You can add text to your template in the same way as seen in the GIF below.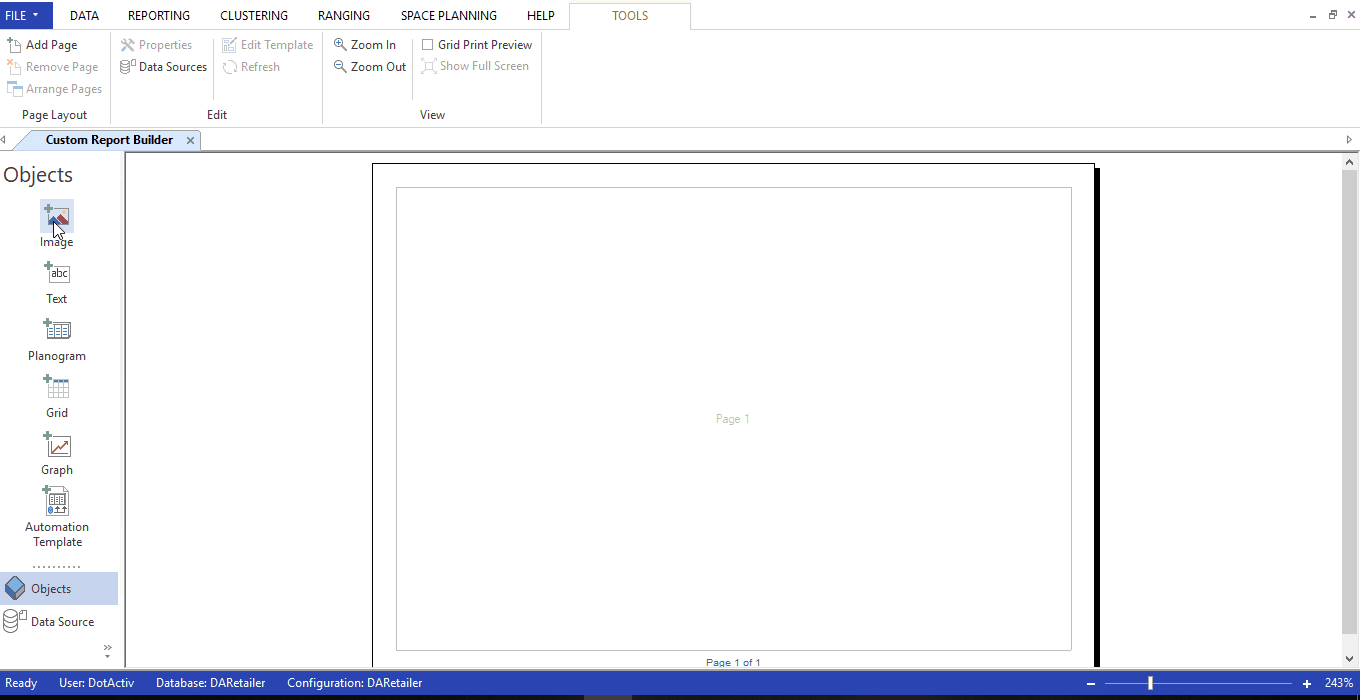 When inserting planograms, grids and graphs, you have many options available so you can tailor your templates according to your specific requirements.
For example, you can apply filters, change your layouts and use various data sources. To add a planogram, select the planogram icon and click on the desired page. From there, you need to give your planogram a name, select a data source and determine your product settings as seen in the GIF below.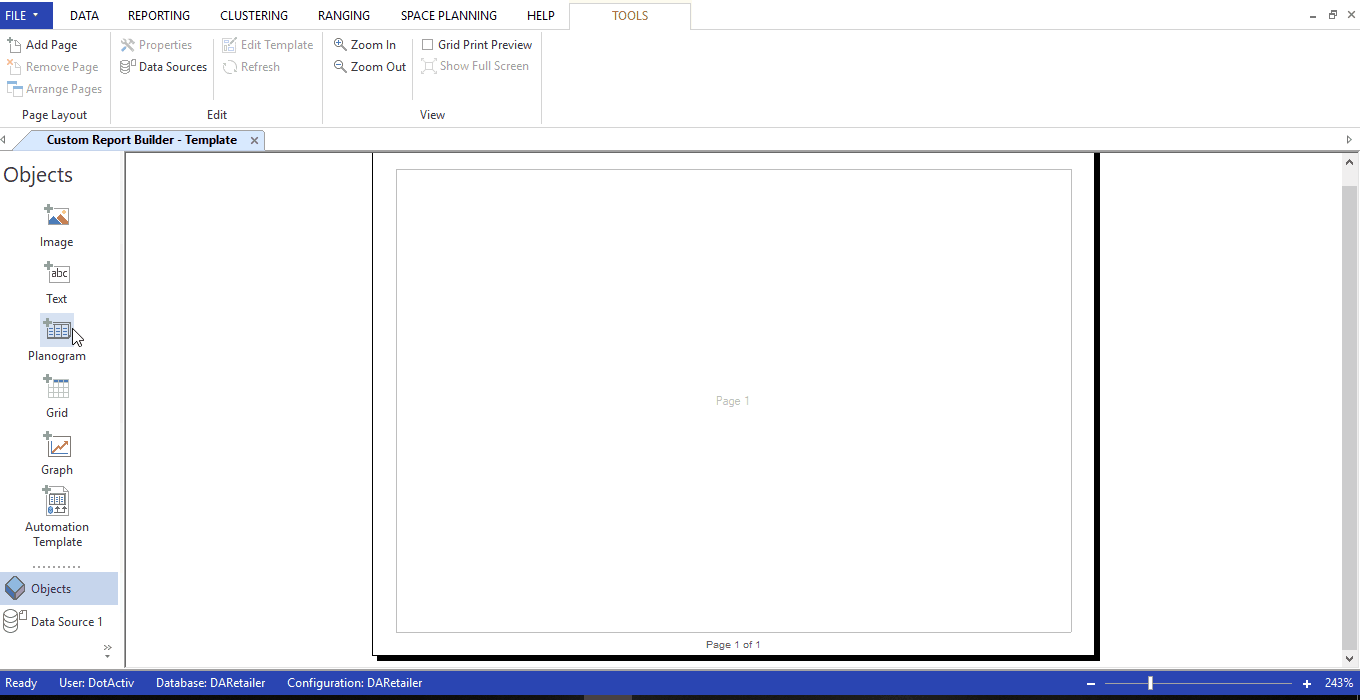 At this stage, you may be wondering why your planogram is not appearing. It's because you will only see your planogram once you generate your report. The report builder is only used to create a template to determine how you present your data. It won't display your data until you have generated your report.
Graphs are inserted in a similar manner. Your graphs also require a data source. As previously mentioned, DotActiv provides a number of different graph options. You can customise each graph by determining a colour scheme, gradient type, display labels and label content.
Furthermore, you can add an automation template, which allows you to create an automated planogram once you generate your report. You have the option to show a planogram automation sample by providing a sample .FLP file (planogram file) and sample .DPA file (planogram automation file). Adding a sample allows you to see a completed planogram, created using the Planogram Automation Function.
Generate a Report
Select the custom report icon in the reporting tab. In the drop-down menu, select 'Generate a Report.' A pop-up window appears where you can find your saved template. Select the template you wish you use.
You then need to map each configured data source to a specific file or directory before generating your report, as seen in the GIF below.
Once done, you can edit your template, refresh from the database and zoom in and out as required. You can also drill down into your graphs to further report on your space evaluations by category, sub category, days of supply and more.
If you want to print your report, this is also possible using the 'Generate a Report' function. Simply navigate to the printer icon at the top left of your screen and select your desired printer. You can also print to PDF for future use.
What problem does the Custom Planogram Reporting Function solve?
There are many benefits to using the Custom Planogram Reporting Function. We've summarised these benefits into two main points below.
A Standard Template Is Created
Creating a custom template that you can use across departments ensures consistency when reporting on your performance measures. All your reports will have the same presentation layouts and graph types. If you know you will always report on product performance by sub category, you can select this option when creating your template.
It also saves time for your space planners because they won't need to create their reports from scratch. Your space planners simply need to map the files they are currently working on and use the template that you've already created.
It is also important to provide a consistent brand image as a retailer. If you are using your reports in a presentation to another company, you need to ensure these reports visually represent the brand image of your company. This is possible by adding your company logos and colours into your custom reports.
A Number Of Reporting Tools Are Available
The Custom Reporting Function was created to ensure that all users could create reports based on their specific business requirements.
For example, retailers and suppliers often have slightly different requirements when it comes to reporting on their planograms. Retailers are generally more interested in product performance by category, sub category and brand. Based on these reports, retailers can determine the correct product assortments to increase sales and units.
Suppliers on the other hand, are generally more interested in performance by Days Of Supply. The reports generated here can determine how many facings they must provide to each store. Suppliers need to provide sufficient stock. The Custom Reporting Function can be used to determine the amount of stock each store requires.
That's not to say that some reports are more important than others. This all depends on you as a retailer and supplier and the performance measures you are most interested in.
Whatever you need to report on and the type of reporting measures you find most important, you'll find it available in the Custom Planogram Reporting Function within DotActiv software.
Conclusion
DotActiv Lite, Pro, and Enterprise are all different versions of our category management software that allows you to drive category performance. DotActiv Pro and Enterprise come standard with access to the Custom Planogram Reporting Functions. You can visit our online store here or click below to find out more.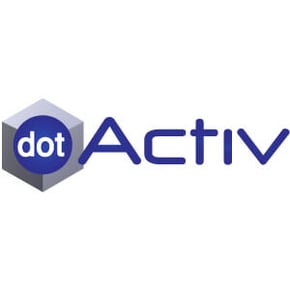 DotActiv Team
The DotActiv team comprises of multiple category management experts, all lending their years of retail experience and knowledge to create well-researched and in-depth articles that inform readers of DotActiv's retail blog.