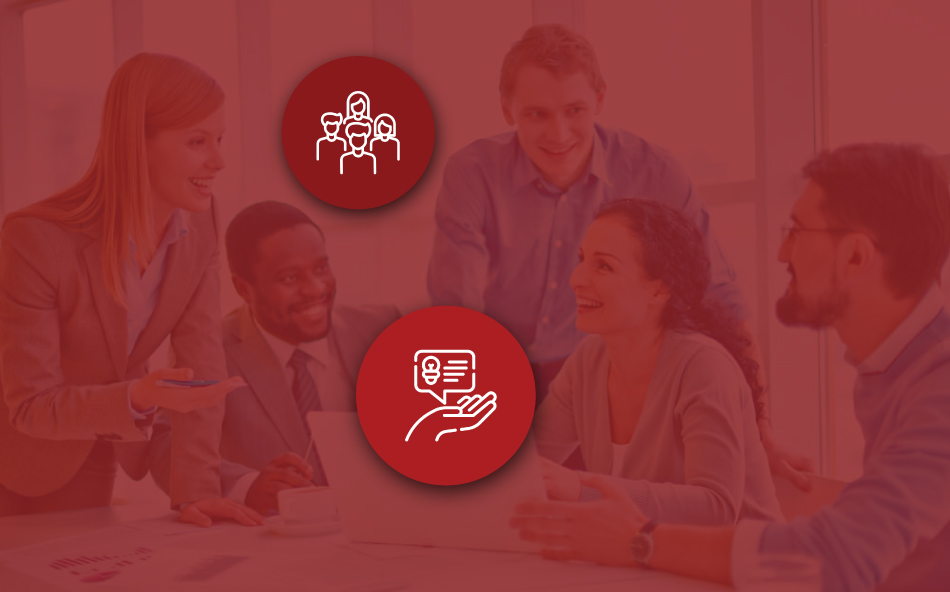 Your first few weeks or months at DotActiv as a category planner can be daunting because it'll feel like an information overload. You'll be busy with onboarding, which includes training, understanding how to use our software, building the foundation for your new role, and learning about our company and policies. So we don't blame you if you ever feel overwhelmed. But don't worry.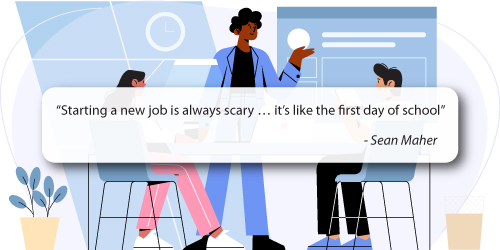 We are here to help you with this transition by offering our best advice in preparation for your new position with us.
In this article, we unpack what you can do to prepare yourself for your new role as a category planner. More importantly, we spoke to a few of our senior managers to hear what guidance they'd give if you were to ask them yourself.
How can you prepare for your new position as a category planner?
While we will support you as you learn more about the new position, there are actions you can take when starting as a category planner at DotActiv. But what are they?
1. Learn about your working environment
Whether you're working remotely or from a client's office, learning how to adapt to the work environment is vital to help you settle into your new role. A few critical aspects of the work environment may include:
Ethics; and
Acceptable behaviour in the workplace.
Being successful in the application process to join our company means our recruitment team believe you are a good fit for the company and will represent the culture and values that we nurture and uphold. Prove them right! Represent it!
2. Make a strong first impression
You want to develop a reputation that you are proud of and that others will notice. You can do this by having a positive attitude at work each day, practising good time management, being productive, participating in meetings and performing your best work to show your coworkers that you are hard-working and reliable.
3. Spend time with your DotActiv colleagues
Get to know your coworkers. In the first few weeks, spend time with your colleagues and form relationships with them to integrate into your new work environment and feel more comfortable in the office. That includes if you work remotely.
We encourage monthly meet-ups, be these online or in-person. We also encourage the mentoring of others and host regular one-on-ones.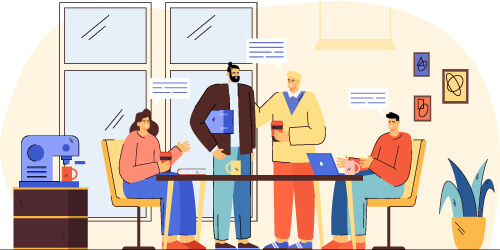 After all, we spend a lot of time at work, and having great relationships with your colleagues will help create a safe space, supportive relationships and long-lasting friendships.
4. Ask for help and apply feedback
We encourage you to ask your new team members questions. Everyone in the DotActiv family is always happy to answer questions and offer advice to help our new family members adjust. Do not avoid asking for help. Your line manager and colleagues are available to answer any questions.
Once you receive feedback from a colleague or line manager, put that feedback into practice.
5. Focus on skills development
Upgrading your knowledge and skills is a two-way street. As a company, we invest a lot in your training and development. In the same way, we also expect you to invest in yourself. Be hungry to learn more!
You can use the resources provided to pursue professional development or additional training. Or pursue further studies through a tertiary institution.
What advice do our senior managers have for you?
We reached out to some of our managers for their best advice that they would like to pass along to new category planners starting at DotActiv.
Here's what they had to say:
Lisa-May van Blerk is our operations executive (Head of Operations) and has been with DotActiv for nine years.
"Slot in with a group for moral support during your training. Whether it's fellow new employees or employees that have recently completed their training. Having someone to talk to about your daily struggles can help you realise that you are not alone. We all perform better when we have someone to lean on."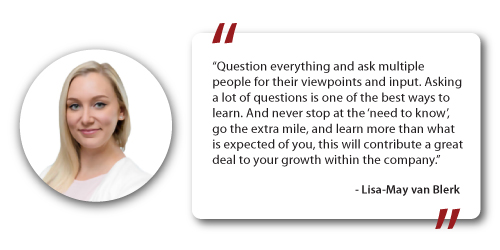 Sonia Visser joined DotActiv in October 2019 and is currently an account manager on various supplier accounts.
"Never feel that you are bothering someone when you ask questions, there is no such thing as a small or insignificant question. When you ask questions, it shows that you are invested and willing to make a success of your work.
Make notes whenever someone is taking you through a practical example of how to do something. Speak up whenever you feel under pressure and don't know how to continue. There is always someone to help. It's okay to explain to someone why a certain amount of work can't be completed in less time. It's also okay if you tell a client you don't know something and that you will get back to them when you are sure of the answer."
Nadia Duvenage celebrated her second work anniversary with us in November 2022. She is an account manager on our Food Lover's Market account.
"Don't overthink your training. It is a lot of content, and trying to make notes of everything said in the videos will put a lot of pressure on you. Remember that you will learn a lot more when you do the work for the client you're assigned to."
Do you want to join a tight-knit group of people all working together to deliver the best category management solution to global retailers and suppliers? Apply here today!
"Get a good understanding of the category that you are working on. When you start working on an account and you are assigned a category, first thing first: familiarise yourself with the range of products in the category. Do some research and be aware of what you're working with.
Ask a lot of questions! I promise you, every new category planner feels like they're asking too many questions, but you should be asking a lot of questions. The category planners and training specialists in the business can give you so much advice and explain things so well - you will only benefit from asking questions. Don't feel bad about it."
Aerin-Kiss Massari joined our family in March 2022 and is an account manager on our Wellness Warehouse account.
"Make sure you concentrate on your training and ask all the questions you need to, even if you think they're silly. Your training is the most important, make sure you have the basics down because once you start working, that's what you'll need the most.
Always rely on your account manager, and the rest of your team for support if you are uncertain of what to do - they're there to help!"
Elani Nel is an account manager on one of our international accounts and has been a part of our company since May 2021.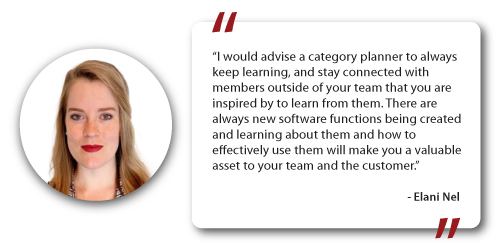 "Stay truthful and ethical when conducting business with the client and ensure your strategies and their strategies align with each other so that you do not work against one another but rather promote teamwork with the client.
Be a positive influence in your DotActiv team, when it's crunch time and people are stressed. A positive attitude makes the world of a difference."

Conclusion
The reality of starting as a new category planner at DotActiv is that you have a lot to learn. It's unrealistic to expect things to fall into place or anticipate career growth from the get-go.
Remember that you need to find your feet and build your own brand. Set your sights on creating a good reputation and attitude, live out DotActiv's values, and be hungry for the experience.
The good news is that you have more than enough support from your colleagues to assist and guide you along the way. Our ultimate goal is to ensure that you are successful in your career with us.
Are you interested in starting your journey as a category planner at DotActiv? We'd love to hear from you. You can read up about DotActiv, what we stand for and how we operate here or apply for any open positions here.
Carmen Krige
Carmen Krige joined DotActiv at the end of 2021 as an HR consultant to provide critical recruitment support. She also works to continually maintain and improve our internal employer brand. She is currently completing a LLB through the University of South Africa.