Have you ever completely changed your mind about something, or maybe had a lightbulb moment where you realised the solution to a problem you have been contemplating for a while? That's an epiphany! An intuitive grasp of reality through something usually simple and striking.
Epiphanies have an objective and a subjective side to them. Objectively, it reveals the essential nature of something, while subjectively, someone has an intuitive grasp of its meaning.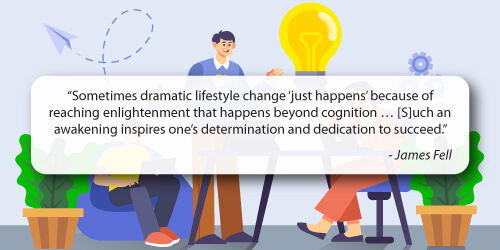 Whether in your personal or professional life, epiphanies can transform your life. We can use these profound realisations to move forward in our development and propel ourselves to a higher level of living and clarity.
What are the biggest epiphanies experienced by our colleagues?
We reached out to some of our colleagues to share the biggest epiphanies they have come to realise, either in their personal or professional life.
Robert Stohr is our Chief Revenue Officer who has been a part of the DotActiv family since 2006. With so many years of experience, we knew he would have some great insights to give.
"Your every thought and action shapes who you are and what you mean to the lives of others."
Colleen Kathrayan is an Account Manager on various retailer and supplier accounts and joined DotActiv in August 2021. Her epiphany revolves around the importance of an organisation treating its employees with the utmost respect.
"From personal experience, I can honestly say that DotActiv is passionate about their people and truly lives up to their values. The culture is one of growth and inclusivity, with a work-life balance I have not experienced in many years," says Colleen. "I've truly felt like a valued team member from day one."
Chris Muller, also known as Master C to the DotActiv family, is our Software Development Manager and has been with us since 2012.
"One of the biggest epiphanies I've had in the workplace has been realising the importance of being surrounded by a great team and the impact each person can make on the team, which ultimately affects everyone's happiness and success," says Chris.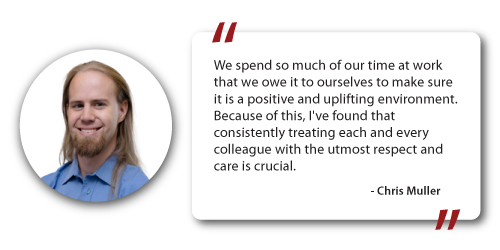 One Rakanyane joined the DotActiv family in August 2022 and is a Category Planner on our Makro account.
"Professionally, my most meaningful insight to career choices is the importance, and sometimes overlooked significance, of a nurturing and peaceful work environment. I am BIG on mental health and truly believe that if a place causes distress and absolute sorrow, it is not worth losing your marbles over," says One.
"To wake up each morning and be ready to take on the day knowing I am walking into an atmosphere where I do not have to constantly look over my shoulder or be anxious for those 9 hours is truly magnificent. As a result, I get to give it my all and operate at my peak!"
Do you want to work for a company that sees you as more than just a number? A company that encouraged a healthy work-life balance? Then we want to hear from you. Browse our open positions here.
Palesa Mnguni is an Account Manager on our Bidvest Waltons account, having joined us in April 2021.
"My greatest epiphany professionally is that you develop at the pace of your talents, and each individual is talented in their unique way. Therefore never put yourself in a position to compare your growth or career direction to that of another individual. You may draw inspiration but never be in a position to want to be identical to another individual."

More: What are the biggest epiphanies experienced by our colleagues?
Lize Kolver joined DotActiv in June 2022 as a Space Planner.
"My biggest epiphanies that I have had in my twenties is that nothing is final and that Plan B is often better than Plan A. The most freeing moment in my life was when I realised that no decision you make is final," says Lize.
"There is always a way to change course and to have the peace of mind and faith to let go of what you thought was best for you. Just take it day by day to find your way again, which is amazing."
Sonia Visser joined DotActiv in October 2019 and is an Account Manager on various supplier accounts.
"We work in a high demand, high capacity, fast-moving environment with people and clients who may be difficult. I have learned in the past that it doesn't help in any situation to fight back or throw stones. I rather think a bit longer about my response. How can I treat this person as a person today and not make them feel worse about any given problem? I have realised that the person giving me a hard time is probably getting a hard time from someone else and is probably only following orders," says Sonia.
"I am not saying that you should be a punching bag, but there are better ways of treating people like people. I feel that every person should still be human to each other. It doesn't matter the amount of stress you're under or the amount of strength you need to keep going. If they are being rude to you, rather be nice back, say thank you for reaching out to me, and thank you for your feedback."
Are you interested in working in a fast-paced industry but for a team where everyone looks out for each other? We want to hear from you! Browse our open positions here.
"I have been able to form relationships I never thought possible, and this is because I do not let this behaviour affect me and people, in turn, realise and see this. I am still willing to help anytime, but if they treat me as a person, I am more willing to do more for them," adds Sonia.
Mlungisi Maseko joined DotActiv in June 2022 as a Category Planner on our Absolute Pets account.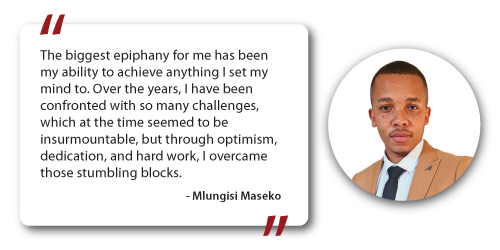 Matthew Beadsworth is an Operations Manager who has been a part of the DotActiv family since 2004.
"This is professionally and personally. The ability/responsibility you have as a manager to positively impact the careers of your colleagues as well as their personal lives," says Matthew.
"By being a good example through your work ethic, your ability to relate to those you work with and having a genuine care for those around you, they will naturally gravitate towards you, and this is where you can impart knowledge and some of the key fundamentals that make up character and principles that will serve you well in the work environment as well as in your personal life."
Thuli Sidaki is a Space Planner on our Revlon account and joined us in August 2018.
"Always give your best and never give up no matter how difficult things become."

Conclusion
Working towards a goal can be tedious, whether it is something you want to accomplish in your personal life or career. Often the only way to progress is to start small and gnaw away at it, little by little.
But be on the lookout for those lightbulb moments. It's your subconscious trying to nudge you towards what you are supposed to do and who you should become.
Now, can a single epiphany transform your life or career? Can one thought which occurs to you suddenly change your life or career trajectory? You better believe it! When an epiphany hits you, it will transform you.
Are you interested in joining the DotActiv team and providing category management solutions to retailers and suppliers from across the world? We'd love to hear from you. You can read up about DotActiv, what we stand for and how we operate here or browse through our open positions here.
Carmen Krige
Carmen Krige joined in 2021 as an HR consultant to provide critical recruitment support. She is currently completing an LLB through Unisa.