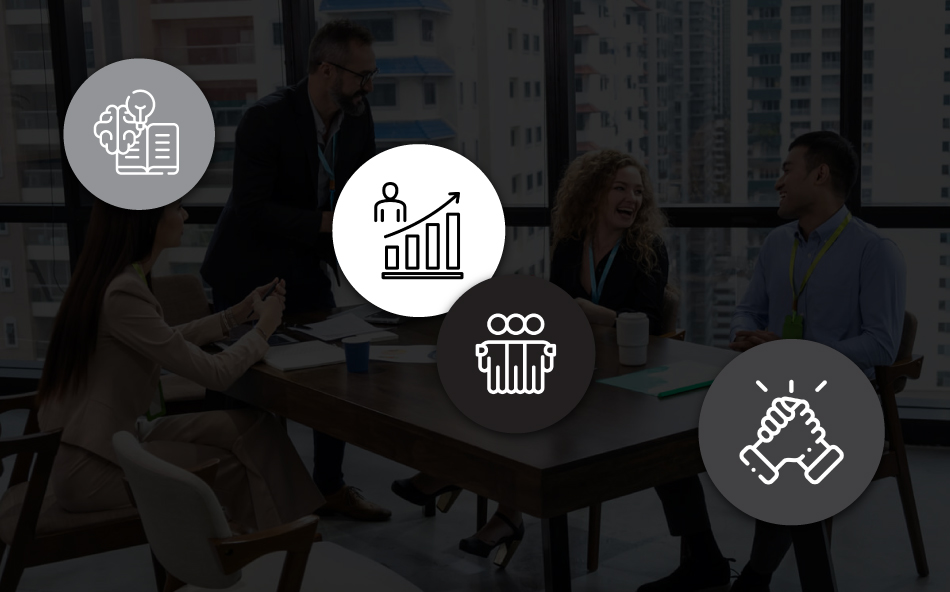 Here at DotActiv, we believe your job shouldn't just be a source of income. It should also be a source of happiness. Being happy at work and loving what you do is an overall productivity booster and enhances your work performance. It's not just us saying that. Research completed by Oxford University's Saïd Business School and British multinational telecoms firm BT confirms it.
The study found that workers are 13% more productive when happy. Meanwhile, a separate study by the University of Warwick confirmed similar findings. Professors from the Department of Economics at the University of Warwick found during their study that happiness made people around 12% more productive.
But what is happiness in the workplace?
Emiliana R. Simon-Thomas, PhD and Dacher Keltner, PhD, co-instructors of the Science of Happiness online courses, define happiness as feeling an overall sense of enjoyment at work; being able to gracefully handle setbacks; connecting amicably with colleagues, co-workers, clients, and customers; and knowing that your work matters to yourself, your organisation, and beyond.

What our colleagues enjoy most about working at DotActiv
We reached out to some of our colleagues to share what it is that they enjoy most about working at DotActiv, and here is what they had to say:
Kyle Lentin joined DotActiv in March 2022 as a Category Planner on our Food Lover's Market account.
"Although the actual day to day work at DotActiv is highly enjoyable and it has been great learning and growing within my current role, the greatest part of working at DotActiv has to be the incredible people I get to work with within DotActiv," he says.
"Since day one, I have felt a part of a new family. The whole culture that DotActiv has created is amazing and it is great to see that it is embodied by everyone day to day. I thoroughly enjoy each day at work due to the amazing team I have. I look forward to spending more time with them all both in and outside of work. I cannot wait to meet more people within the company as well in the future."
Charlotte Barker is one of our trusted IT Support Developers and started her career with us in November 2021.
"I enjoy the routine DotActiv provides along with the constant offer for help if it is required. I am relatively new to the company, and I have a lot of appreciation for my team and DotActiv for the fact that everyone is so willing to assist and quick to understand if you are struggling with something. It also always puts a smile on my face when someone messages our 'Everyone' chat group asking for help and someone else offers their assistance."
Do you want to join a tight-knit group of people all working together to deliver the best category management solution to global retailers and suppliers? We want to hear from you!
"I also really appreciate the IT team and the fact that while we always focus on work, we also manage to have quite a few laughs along the way whenever we are working on something together. Our meetings are some of my favourite moments of the day," adds Charlotte. "I am also genuinely impressed by the effort DotActiv puts into the importance of mental health and making sure everyone has an opportunity to reach out for help when it comes to the stress of work and life."
Brian Nyamachiri is one of our Operations Managers and has been a part of our family for nine amazing years, having joined in 2013.
"The DotActiv business culture is all encompassing and it allows my views to be heard and appreciated. I am not just a number but an invaluable and important piece of the DotActiv puzzle."
Aerin-Kiss Massari joined us as an Account Manager on our Wellness Warehouse account at the beginning of March 2022.
"The amazing culture and work environment."
Morne Myburgh started his journey at DotActiv at the end of June 2021 and was recently promoted to Account Manager on our Food Lover's Market account.
"The culture, the people - they are not just co-workers but my friends. When co-workers choose to spend time with each other, even outside of the workplace, you know that the professional dynamic is going to be just as positive. Also, there is a big involvement in personal development, training, and mentorship within our company."

What our colleagues enjoy the most about working at DotActiv continued ...
Storm Louw is our Public Relations Associate who also looks after our social media channels and recently celebrated being part of our family for a year, having joined in 2021.
"I love the support that we all give each other. No matter how much work someone has or how crazy their schedule is, there is always going to be someone there to help you! Specifically, my team (Darren and Nadia) we are there for each other, always! We are like a little family."
Percy Mtshali forms part of the original squad with a whopping nine years with our company and works as a Scanner. He joined DotActiv in 2013.
"I have been with the company for 9 years now, which shows I'm happy working for DotActiv. I enjoy meeting new people and after meeting those new people, they become family. Even when they leave the company, they will always be family."
Chanelle Jacobs recently changed career paths, moving from Account Manager to Sales Consultant and has been with our company since March 2021.
"The company culture. The mentorship and knowledge line managers have to offer and being able to work remotely."
Are you a retailer or supplier interested in buying a category management solution that's developed, built and delivered by people all striving to deliver measurable and meaningful results? Let's talk!
Dylan Colbet joined DotActiv April 2021 as a Category Planner on our Makro account.
"I really enjoy the friendships that I have made whilst working on the Makro account. I have also been able to gain a lot of different perspectives and industry knowledge, which add to my personal growth in my vocational journey."
Stephanie Laubscher is our amazing HR Manager and recently celebrated her five year work anniversary with our company, having joined in 2017.
"For me it's definitely the talented people I get to work with daily! We are all a bunch of people with goals to grow, excel in our careers and to feel that our contributions are valued. Having been part of the DotActiv family for the last five years, it has been so rewarding to see the growth that so many have experienced during their time with us," she says.
"But furthermore, when I hear new people saying that everyone in the company has been so helpful and supportive, it also makes me feel so proud. I love nothing more than to see each and every person go from a nervous new employee with so much potential to a self-efficient employee maximising their full potential daily."

Conclusion
Two recurring themes emphasised by our colleagues are a strong culture and deep and meaningful relationships. That's not a mistake. A big part of loving any job is getting along with your co-workers and it's one of the points we focus on at DotActiv. Feeling compatible with your team can make you feel happier, more fulfilled and ultimately more productive.
You should find enjoyment in your work, but we do need to point out that you don't have to always love your overall job to enjoy the everyday aspects of it. Every job has aspects that could possibly be unpleasant. However, pinpointing one or more things that you enjoy will help you to get through the difficult moments with a smile on your face. It also helps when you have good friends at work.
Are you interested in joining the DotActiv team and providing category management solutions to retailers and suppliers from across the world? We'd love to hear from you. You can read up about DotActiv, what we stand for and how we operate here or apply for any open positions here.
Carmen Krige
Carmen Krige joined DotActiv at the end of 2021 as an HR consultant to provide critical recruitment support. She also works to continually maintain and improve our internal employer brand. She is currently completing a LLB through the University of South Africa.