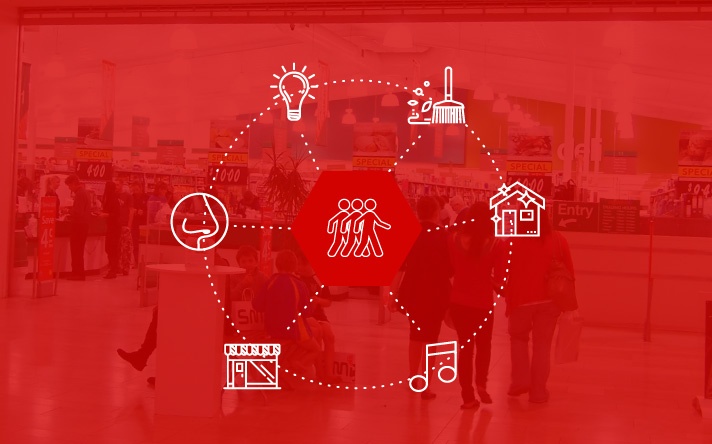 It's now more convenient than ever to shop online. Browsing and reviewing products from the comfort of your home has never been easier. In this digital age, the question arises: How do you attract customers into your stores when shopping online is so attractive?
Without customers, there can be no sales, and without sales, your store will have to close. On 8 September 2015, Macy's announced their plans to close 35-40 underperforming brick-and-mortar retail stores in the 2016 calendar year. Macy's, Wal-Mart and many stores like them are shifting their focus to growing their e-commerce business.
Then you have online giants, like Amazon, doing a more traditional turn. In November 2015, Amazon opened a brick-and-mortar bookstore in Seattle. Amazon is leveraging their online data to discern customer patterns and drive offline sales.
Amazon knows that people still yearn for the "old-fashioned" in-store shopping experience. So if you are running a chain of physical stores, you can gain a competitive advantage over online retailers by focusing your attention on the customers' in-store experiences. However, to provide a customer-centric experience, you first need to attract customers into your stores.
Many consumers often make purchase decisions based on the physical attributes of a store ie. the image of the store or brand projects. This blog will help you evaluate your store's image from the customer's perspective and gain insight on how you can improve your store's appearance to attract more customers inside.
Step 1. Evaluate customer's perception of your store's attractiveness
Before you change anything, you must first determine how people currently view your store. Gather some basic feedback from regular customers. There are two ways you can do this:
Observe:
Get your employees involved and observe together how passers-by are attracted into your store. Create a culture where your employees are always looking and listening.
Ask:
Gently approach customers in the store and ask them this question: What brings you into the store today? You could also place a short questionnaire at the line before the checkout counter which can be filled out while waiting in the queue. Another option is to ask for their email address and send them the questionnaire that way.
Track the results of your observations and questionnaires and compile the data into a detailed account of what attracted a customer to your store and their suggestions on what can be improved.
Step 2. Spruce up your storefront
Your storefront is the first impression which customers have of your store. You need to show off your best products and features that will paint customers a picture of what you sell and what value it holds for them.
Cleanliness:
Make sure your store is clean and in good repair. There's no point in presenting a beautiful display in a dirty or unkempt storefront.
Window displays:
Your visuals and branding are what entice people to walk into your shop in the first place. The difference between a great and average window display could mean the difference between getting a customer across the line or losing them to a competitor.
Signage:
Your retail store signage needs to be highly visible and should grab people's attention. Make sure it can be read at a glance and reveals an alluring message.
Step 3. Develop your store personality and make a connection
Help passers-by make a connection between what you're selling and the expected shopping experience. Invite them inside through sensory stimulation.
Colour:
Colour can influence a customer's perception of your store, so be sure to pick a palette which reflects your brand and remember to use consistent colour schemes throughout your visual marketing efforts.
Smell:
Our brains are keenly tuned to scents. Smells triggers memories and emotions and has been shown to persuade customers to stay in a retail store longer. A pleasant, subtle scent will improve the perception of quality.
Choose your store scent wisely. For example, when you walk into Lowe's, the smell of freshly cut wood stimulates your creativity as a builder and designer.
Lighting:
Lighting plays a vital role in showcasing your window displays and store merchandise, as well as contributing to the overall ambience experienced in your store. It's also shown that lighting can have an influence on a person's mood.
For example, Louis Vuitton uses warm tones to create an exclusive atmosphere that leaves customers feeling pampered.
Music:
Use music to uplift and motivate your staff, while putting passers-by in the right emotional state to make purchasing decisions. Choose music which reflects the character of your store, don't blast rock music if you're selling baby clothes.
Step 4. Entice them toward action
Use the exterior of your store to its full potential by advertising your best deals outside your premises. Give passers-by free samples of your products to guide them toward your store's entrance. Invite people indoors with welcome messages.
Give them that little nudge by rewarding them with a coupon, which can be brought into the store to be redeemed.
Step 5. Encourage repeat visits
Once inside, make it easy for customers to do business with you. Does your floor plan help guide customers through your store, while managing the flow of traffic? If not, you might enjoy our blog about the importance of developing a cohesive space planning strategy.
One advantage that your brick-and-mortar store has over ecommerce competitors is the ease with which you can build a personal relationship with customers.
Conclusion
Now you know how to attract customers into your store. Effectively leverage shopper data to understand and predict their perception of your store. Take pride in your surroundings. Keep it fresh and inviting. Encourage passersby to come inside by using sight, sound and smells.
Once shoppers are inside, guide them with a well-planned floor layout and reward them by making it easy for them to find the products they're looking for. Your store should shine in comparison to the online experience.