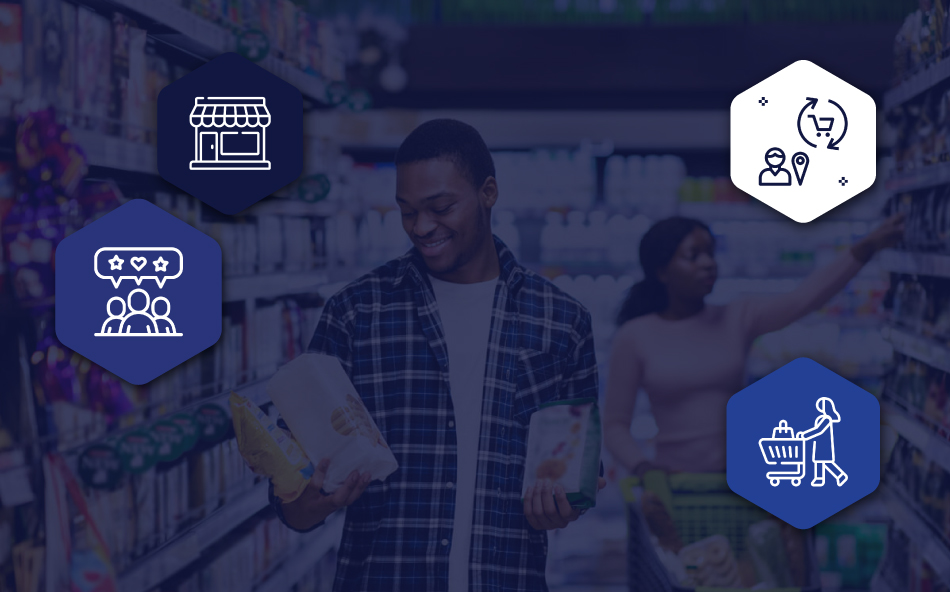 It's now more convenient than ever to shop online. That's due, in part, to the Coronavirus pandemic. COVID-19 has accelerated the expansion of ecommerce across the world, making it easier for you to buy what you need without leaving your home. With the world returning to normal, the question arises: how can you attract customers* to return to in-store shopping when online shopping is so convenient?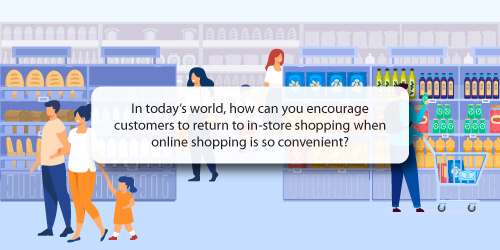 If we look back at mid-2021, while the COVID-19 pandemic was in full swing, there was talk about stores becoming 'fulfilment centres' in the future. That was about how ecommerce could fit into the post-pandemic future. That rhetoric hasn't gone away, albeit the primary reason for this transition is the demand for faster delivery.
However, that belies another fact - consumers appear to have grown tired of ordering everything online and want to return to in-store shopping. Of course, it's not as simple as opening your doors and expecting shoppers to return. Instead, you have to focus on the in-store shopping experience. And before that, find ways to encourage shoppers to visit your store over others.

Build window displays that demand attention
Your storefront is the first impression that your customers will have of your store. It might be your only chance to impress customers and encourage them to walk in.
That's why it needs to be attention-grabbing. Here, we're talking about your window displays. So what makes for an eye-catching window display? That depends on your target audience as well as the season.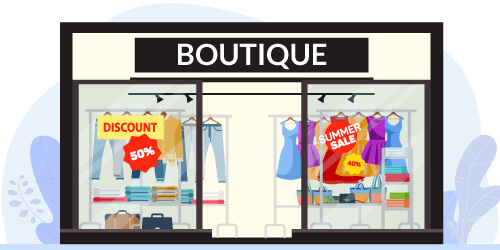 For example, if your ideal customer walks past your store, you must have a window display so enticing that they have no choice but to enter your store. Just to scratch the itch to find out more about what you have to offer.
Ask yourself: What would your ideal customer want to see in your window display?
Of course, these displays don't necessarily need to be over the top. In reality, that's not what you want - including so much that it's confusing and overwhelming. Instead, simplicity and finding a balance are key.
Attracting customers into your store is important. But so too is having the right selection of products on offer. With a DotActiv solution, you'll always have the products your shoppers want. Book a complimentary consultation with us today
Instead of trying to do too much, focus on the message and goal you want to achieve - encouraging more people to shop in-store. That can include out-of-the-box thinking such as shoppable windows.

Create the right atmosphere
Encouraging shoppers to enter your store to find what they want is only the beginning. Once in your store, you need to provide them with the experience they expect. Before that happens, you need to set the scene.
In short, create the right atmosphere. But what goes into the creation of the perfect store atmosphere? And especially in a post-COVID world?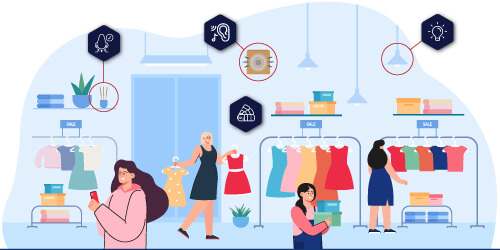 For one, it's worth reevaluating the various elements that can help enhance the experience. That includes:
Colour
The colours you choose can influence perceptions of your store, so it's critical to pick a palette that reflects your brand. Global retail design agency, Sheridan&Co point out that "colour psychology is one of the most powerful communication tools for reframing mood and proving an antidote to anxious times".
They point out that bright and playful colours can enrich our mental well-being and inspire optimism.

Scent
Our noses are one of our most sensitive organs. It's also one of the senses you can use to your advantage as a retailer. Why? Smell triggers memories and emotions and has been shown to persuade shoppers to stay in a store for longer.
Of course, you do need to be strategic in how you use this. As pointed out by Andrew Adam Newman for Retail Brew, scents are a key part of your store's identity. He quotes Martin Lindstrom, brand guru and author of Brand Sense: Sensory Secrets Behind the Stuff We Buy, who says the sense of smell is arguably more important than sight.
As for what smell you should go for? One is cleanliness. Newman writes, "Another effect of the pandemic: more interest in scents that evoke cleanliness. After all, as consumers may be reluctant to return to stores, one way for retailers to communicate safety and cleanliness may be for stores to smell that way."
Lighting
Alongside scent and colour, lighting is also a significant element that plays a role in creating the right mood for shoppers who visit your store.
How can you take advantage of your lighting? We've touched on a few key points here. If we consider how you need to change? Firstly, it's not a case of a drastic change - the best option, as always, is to look at the products you sell, how you want to accentuate them and then choose the lighting that'll help you achieve that.
One caveat here: consider what your target market expects and give it to them. What do you want your customers to feel when they see or interact with your products in-store?
Music
When factoring in what music you want to play in-store, the key question is to focus on the mood. What mood do you want to create in-store?
Do you want to create a fun and happy environment?

Would you rather create a calm and relaxed environment?
No matter what environment you choose to create, it's critical to find the type of music that'll help you create the right mood. Imagine walking into a pharmacy retailer and hearing trance music playing.

Create an enjoyable shopping experience
Above, we mentioned the importance of atmospherics. That's one side of the coin that makes up your interior retail space. The other side includes everything else like the floor plan, the shelving and even the products your stock.
So how can you create an enjoyable shopping experience? One way is to make it easier for your customers to shop in your store. That includes designing a floor layout so shoppers can get around without bumping into each other.
As Holly Breidis et al point out for McKinsey, the pandemic has "hobbled traditional store operations, with physical distancing and a new preference for self-service altering the formula for customer experience".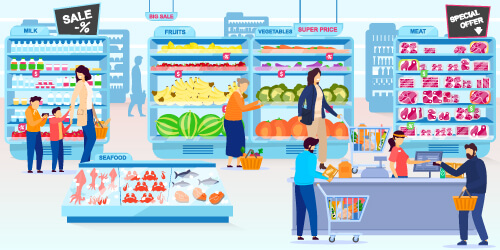 Another way is to ensure that you always have the right products in store to meet demand. Remember that window display you set up to entice shoppers to visit your store? You need to match the expectations that you set up in the mind of your customers.
If you can do that - offer what you promised, both in terms or experience and products - you're well on your way to creating an enjoyable experience for them. The mood you put them in courtesy of the atmospherics mentioned earlier in this article also plays a role.
Do you want to ensure that you always stock the products your customers want? It's possible! Book a complimentary consultation with a DotActiv expert and we can show you how our solution ensure that.
Customer service also plays a role here.

Gather customer feedback
Up until this point, we've focused on what you can do to encourage people to visit your store. If you've managed to get do all of the above just right, you'll soon find your store attracting more customers.
But there is one last thing that we'd recommend you do: ask for customer feedback.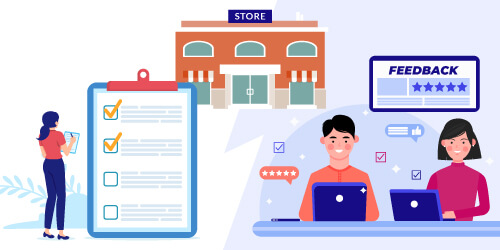 This can come in two forms:
In-store questionnaires
Online surveys
What better way to understand if you've getting things right by asking the people who matter? Granted in a post-COVID world, you might find that many customers might prefer not to have to answer questions in-store. That's okay.
If you do this, be respectful. Another way is to place short questionnaires in strategic places. You could place an electronic screen by the tills and have it completely anonymous. Or by a shelf by a new product with someone asking additional but respectful questions. The main point is to gather information.
Alternatively, you can encourage the filling out of questions by giving shoppers a good reason. 'Save 15% on your next purchase by filling out this short questionnaire'.
If you have a loyalty programme, you can also use this to gather the necessary information about your in-store efforts post-COVID.

Conclusion
COVID-19 has had a significant impact on the world, let alone the retail industry. It's an impact that could very well see permanent changes in the buying habits and behaviour of shoppers. So what better way to negate these changes by adapting to these new demands.
Are you interested in a category management solution that can help you entice customers into your store and keep them returning? Why not book a custom exploratory consultation with a DotActiv expert here and we can show you how.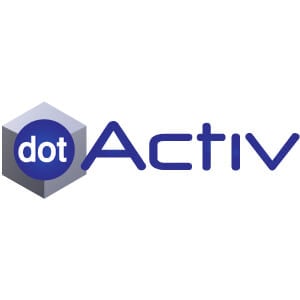 DotActiv Team
The DotActiv team comprises category management experts lending their retail experience and knowledge to create well-researched and in-depth articles.