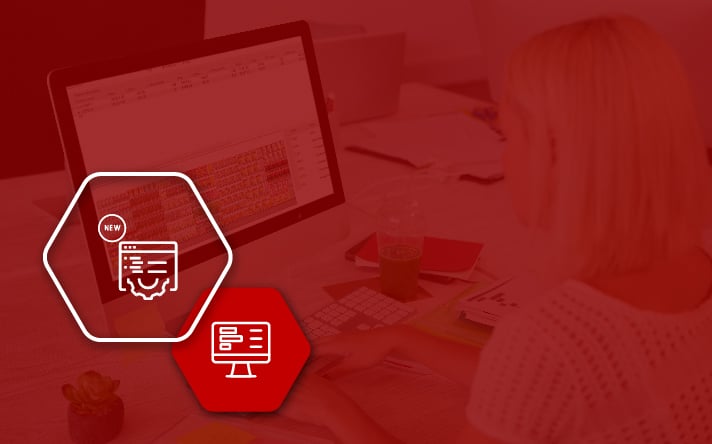 Your customers have high expectations when they enter your store. They expect, among other things, to find the products they're looking for and to have a pleasant shopping experience. So how can you achieve this? One way to exceed their expectations is to regularly monitor and optimise your product ranges as demand changes. That's best done through DotActiv's new Range Optimizer solution.
About the contributors
Erin Hodgson joined DotActiv in 2019 as a senior space planner with an honours degree in Consumer Science and is currently completing her Master's Degree. Since then she has worked predominantly on the development of the clustering and assortment planning divisions at DotActiv as an operations manager.
Chrystle-Dee Gray joined DotActiv in 2019 as a senior space planner, working on the Pick n Pay account. Within six months, she was appointed as an assortment analyst for GMD where she created and maintained the ranges. She has since expanded her role to work on the Dis-Chem account.
What is DotActiv's Range Optimizer solution?
DotActiv's Range Optimizer solution has been developed to create an easy and efficient way to plan ranges. This feature has been created as a one-stop solution for the different goals, strategies and objectives retailers have for the different categories.
It does not only take strategies and objectives in consideration, but also any other fact fields such as Days of Supply and Congestion on a planogram. It also optimises the current range in line with the different inputs.
Input examples include desired range cap per cluster, category objectives and KPIs.
This feature optimises your range per product category based on predefined criteria and is linked to space and the impact of these range changes. This approach removes any human error associated with big data analysis while still allowing the user-specific category knowledge to refine these decisions.
As for why it's important, that's simple: using this function properly is beneficial for a category in many ways. Two such benefits are that it allows for growth and high customer satisfaction. When looking at category management as a whole, this function also fits into cluster optimization and planogram development.
Cluster optimization is directly linked with range optimization since you need to set up your clusters before you can begin with ranging. By dividing different stores into clusters, you can build ranges according to the different needs of your customer.
Planograms are also linked as you are required to test your range cap to determine if the range fits in the minimum shelf space given. You also need to determine the maximum space that should be allocated to a category before the trading densities drop below a certain threshold.
Finally, category management won't be complete without an optimised floor space. By optimising your floor plan, you can link the minimum drop from the planograms which then allows for the range you created in the new range optimizer solution that is built according to the clusters created.
What is new about DotActiv's Range Optimizer Solution?
1. We now use a wizard UI
The wizard setup allows you to click through the different steps in the Range Optimizer one at a time. This tool only allows you to move on to the next step when the current step has been completed correctly, ensuring that this function is simple and convenient to use.
The Range Optimizer function also provides you with recommendations and information bubbles throughout the process to assist you with making range setup decisions and increase the accuracy of the final range plan.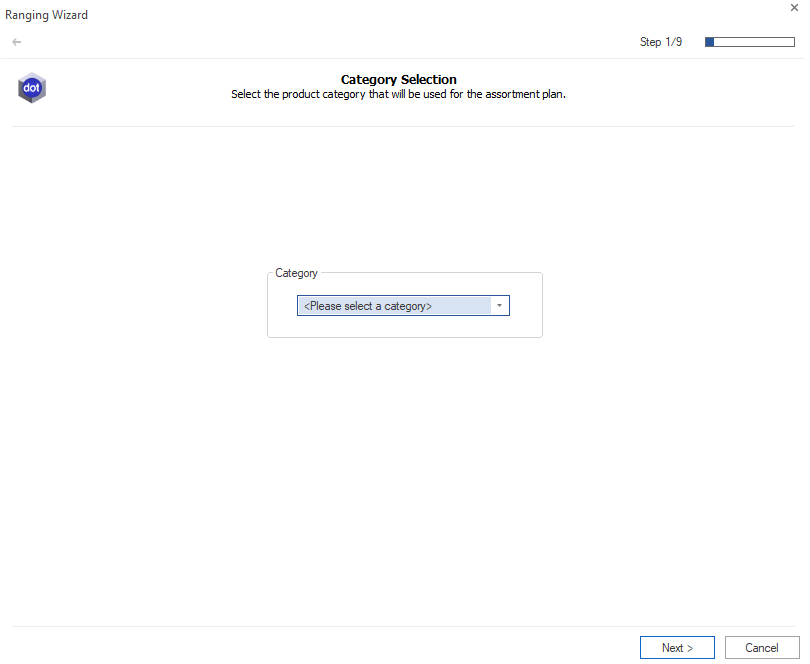 When you click on the Range Optimizer icon in the ranging tab of the DotActiv Enterprise software, select New Range.
A pop-up window appears with actions to follow before moving on to the next step. The setup guides you through the range plan where some selections are mandatory while others are optional, allowing you to create a diligent ranging exercise. As seen above, the wizard process begins by asking you to select the product category that you want to work in.
Next, you can review your points' highlights setup and template view that would have been predetermined in your range settings.
Next, the wizard allows you to apply a template to your desired level of the display hierarchy as a category strategy. After this point, you can apply product filters to include or exclude products from your range plan as well as select the clusters you would like to work with. You can also select stores for an internal market comparison or utilise external market data to identify opportunity gaps.
Finally you will need to select the periods you want to use to create your range. At the end of the process there will be a range summary that shows you all the range plan settings you have used. You can save these settings to access again for a range review in the future.
2. We've made changes to brand profiling
Brand profiling involves assigning a tier to a brand.
The most basic tiers are Economy, Mid-Tier and Premium. DotActiv has created a brand profiling feature that runs as a scheduled task on the database every day.
Brand profiling works using average retail selling price (RSP) as well as brand image to assign a final profile to a brand. You can then use this information to analyse your brand profile composition per cluster or on your planogram to ensure you are personalising the assortment plan to your target market.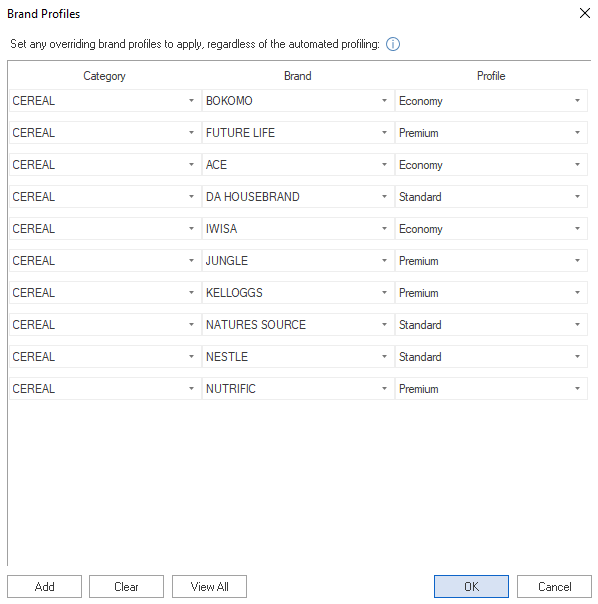 Brands are profiled automatically and updated according to new products that are listed in the database. The logic of the feature uses average RSP to profile the brands and assign them to one of the three specified tiers. The feature calculates the average RSP using equivalised volume which means that the price per unit of measure is calculated.
All average RSPs are evaluated to determine a mid range (Mid-Tier) of brand profiles. Then anything that is 20% above this range would be classified as Premium and anything that falls 20% below this would be classified as Economy. The user is then able to evaluate the resultant profiles to factor in brand image and override any of the profiles for future use.
3. We've made changes to product clones
Product clones are used when you have new listings in the category and would like to complete a range review using the Range Optimizer solution. These new listings need to have mock performance (sales, units, profit etc.) data assigned to them to complete assortment and space planning. That's where product clones come in.
DotActiv's product clone tool scans the new listing's display hierarchy and product description to find the top performing, closest substitute as the product clone. The user will be presented with the best option with the top ten alternatives available to select from as well, should they not agree with the assigned clone.
In terms of the percentage of performance data that is allocated from the clone to the new listing, this feature works using the brand profiles of both the new listing and the clone.
If the new listing and clone have the exact same brand profile, an estimated 100% of the performance data will be used for the new listing. If the new listing and clone have slightly different brand profiles (e.g. Economy to Mid-Tier), then 75% of the clone's performance will be transferred.
However, if the products have completely different brand profiles (e.g. Economy to Premium) then 50% of the clone's performance will be transferred to the new listing.
4. We've added in features for a range pre- and post-analysis
A range pre-analysis is an important part of conducting a range review. This process allows you to assess your current range in terms of performance at different levels of the display hierarchy (category, subcategory, segment and brand) and in terms of ranging indicators such as range caps as well as in terms of KPIs.
DotActiv's new Range Optimizer solution has incorporated the ability to complete a range pre-analysis in the form of a range analysis and cap review section. This means that you can now view your current range with reference to performance across the display hierarchy and your fixtures (segments and shelves) as well as with reference to space on a planogram where you can analyse performance in terms of specific KPIs. Overall, this allows you to analyse your range and planogram and identify areas for improvement or growth.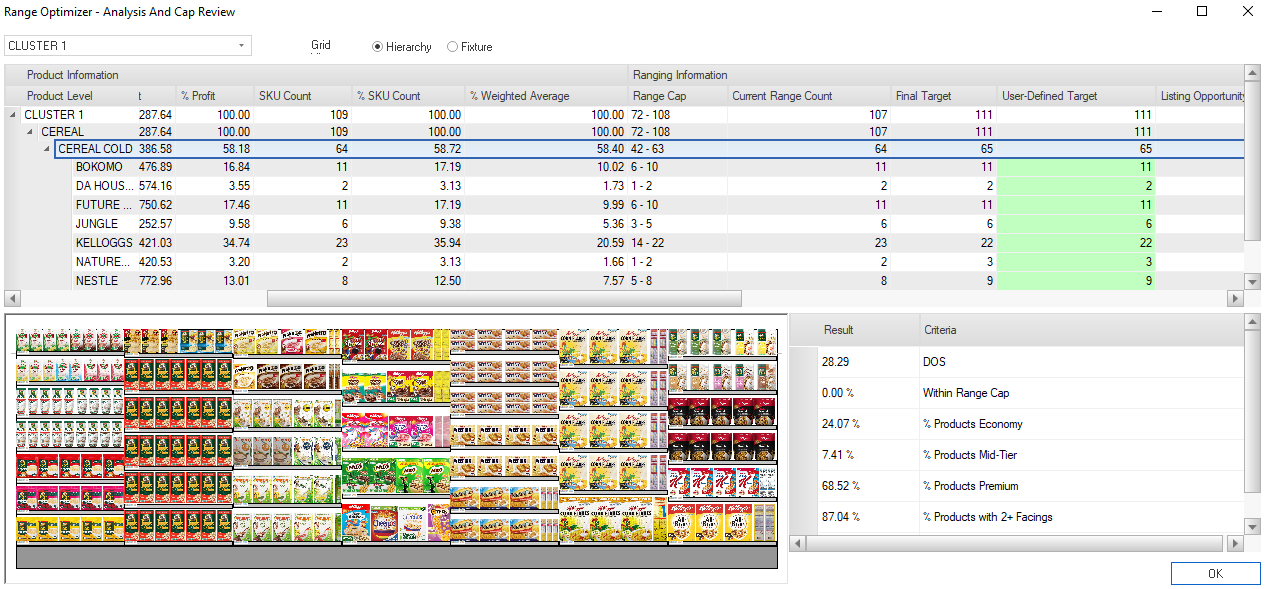 A range post-analysis occurs once the Range Optimizer has produced a range plan for your product category. This involves assessing the range recommendations in line with your planogram, display hierarchy as well as the impact of the range decisions on your bottom line. The range post-analysis is fully dynamic and allows you to make ranging decisions on both a grid and a planogram while having the impact of these decisions update in real time.
The range summary or post-analysis offers analysis options for your new range. These reporting options include:
A Range View: The proposed range will be displayed in terms of the performance data, points, range recommendation, POG indicator, Supply indicator and Disc indicator for each product in your range.


The Summary Grid View: The proposed range across all clusters can be viewed and allows you to compare the POG, Supply and Disc Indicators along with all other product information.


A Hierarchy View: The resultant display hierarchy is shown where each level of the hierarchy is detailed in terms of sales, units, profit and SKU contribution. Range changes relative to range caps are also specified at this point. This view also uses colour coding to show you where your hierarchy may be under or over ranged.


A Planogram View: The proposed range will appear as your linked planogram with a red shelf across each of your clusters for you to delist products and a green shelf for you to add new lines to the planogram. You also have a planoguide option at this stage.


An Impact Analysis: The effects of your range changes are detailed in the impact analysis which looks at performance data and specified KPIs.


The Transfer of Demand Report: This report looks for substitutes in the range for delisted products using the same logic as the product clones. This report details the value and percentage of performance that will be transferred from the delisted product to the remaining product.


5. We've connected ranging to space
Range and space work hand-in-hand when it comes to category management.
As explained earlier, you can use your available shelf space to justify the range cap as you will always range to the smallest available space for a cluster. To have these two elements of category management connected is thus a very useful and important tool to have.
To have this viewing option while ranging means that there is a visual representation of how the items will look on the shelf. That opens up the opportunity to see range gaps or information such as if a subcategory or brand etc. is overfaced or overranged. You are also able to factor in details like congestion, maximum or minimum case packouts as well as days of supply for your range when the system delivers a range cap.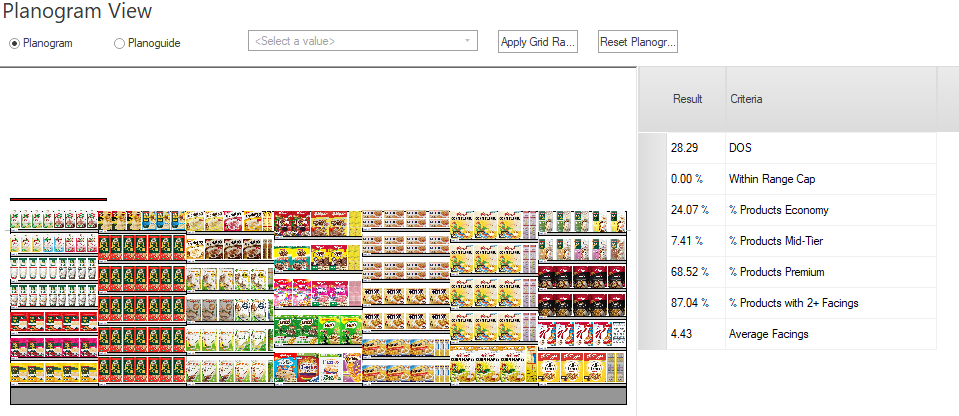 DotActiv's new range optimizer solution now allows you to have a visual representation of your range on shelf. The first time you will see this is when viewing the pre-analysis and cap review. Here you can set caps at a brand level and see the already existing planogram in the database.
When looking at the result grid, there are numerous ways where range and space connects by looking at the planogram view. In this view, you can look at the planoguide and filter according to what you want to see, for example by brand view, subcategory view etc.
The planogram is also available where the software makes it possible to list and delist via the planogram.
When changes are made to the range, the planogram will also have a representation of the changes by showing different colours for different actions. Green will be if products were added, Red when products have been removed, and Orange when facings of products have changed.
Conclusion
With DotActiv's new Range Optimizer solution, you can maximise the effectiveness of your range, improving product performance and customer satisfaction. Interested in finding out more? You can book a custom exploratory consultation here or visit our online store.