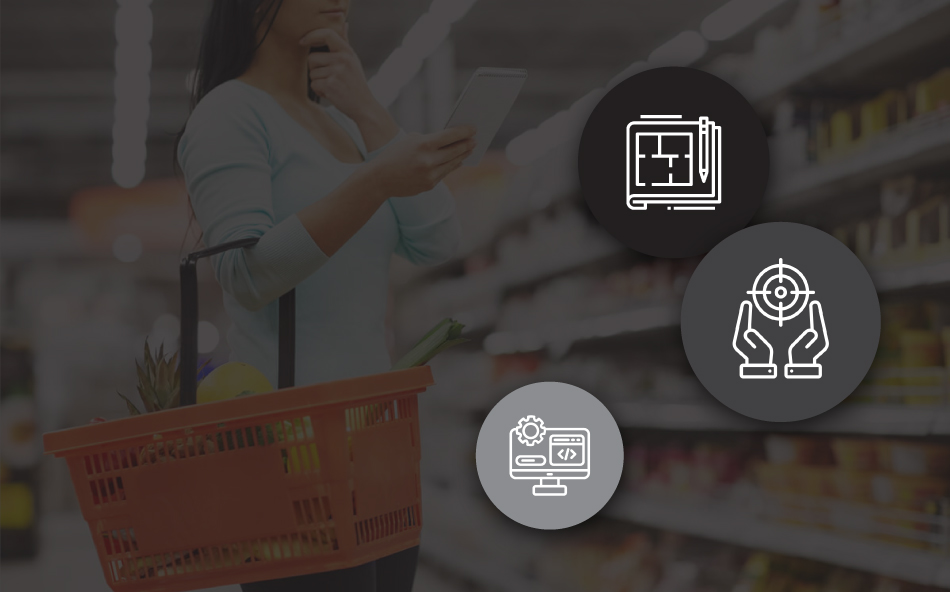 Building an effective store floor plan is not only about placing your categories wherever you want in-store. It's also not about giving them any amount of space. Instead, you must take a deliberate approach. A well-designed store considers many different principles, which contribute to the final look of your store.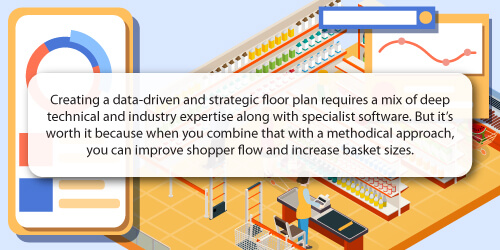 These principles - and other factors - ensure your entire store comes across as a single entity to meet the needs of your target market. You must focus and design a store that maximizes customer experience while minimizing customer irritations simultaneously. And don't forget you must be flexible in your design approach. With these principles, you can design a strategic and profitable floor plan for any store. But how?
With all the regulations and information to consider, how do you go about implementing them? We'll tell you how - you implement them using retail software built to collate and present this information in an easy-to-understand manner. And if you don't want to struggle with software? In that case, DotActiv has a floor space optimization service empowered by a well-documented process that aims to deliver meaningful impact.
What is the purpose of a store floor plan?
Before we go into the intricacies of creating the most efficient floor plan for your store using the DotActiv software, it's essential to understand a floor plan for what it is. Fortunately, it's simple to explain.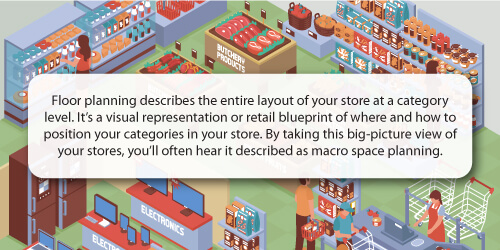 Along with that, it allows you to determine how much space to allocate to each category according to their overall sales contribution.
As for its purpose, we can separate it into multiple goals.
Satisfy the needs of your customers
On the one hand, your goal is to satisfy the needs of shoppers who visit your store. Thus, when building your floor plan, you must design a logical flow throughout your store, keeping similar departments and categories together or side-by-side.
Doing this means you create a better customer shopping experience and less shopper confusion.
Consider your store goals
On the other hand, you must consider your store goals, one of which is to maximize the selling potential of your retail space. That's where having the correct category space allocation according to sales contribution comes into play.
Let's say there is a higher customer demand for Category A (Sweets), so it sells particularly well. But for some reason, you only gave it one drop. Meanwhile, you have Category B (Hot Beverages), which has three drops, yet there is lower demand, and it sells far fewer units. If you want an efficient and profitable store, you must balance your categories according to their overall performance contribution.
That said, a well-planned store floor plan also allows for hot spots throughout your store. Hot spots pull customers through a store and can include stands that promote, among other things, specials and new lines.
For example, next to your in-store butchery, you can place barbecue accessories such as firewood, briquettes, and even apparel or tools.
Why is a data-driven store floor plan critical in retail?
When answering the question about the importance of a floor plan, you only need to look at the financial and practical benefits of floor planning. If you're opening a new store and are undecided on which store layout to follow, you can read up on the advantages and disadvantages of each in this piece.
First up are the financial benefits.
Maximize the selling potential of your retail space
By apportioning the correct area space to each category, you ensure that you don't waste any floor space. Every part of your store is tweaked to work for you. We call it floor space optimization for a reason.
Increase the basket sizes of your customers
Another financial benefit is that it can lead to increased basket sizes. How? A well-designed store floor plan will tempt your customers to spend more time in your store, and when they do, they'll add more items to their baskets.
Improve the overall shopping experience for your customers and increase your sales simultaneously when you build floor plans using DotActiv. Book a meeting with us to see a DotActiv solution in action
Let's take the example of a customer doing their weekly grocery shop. They're looking for the products on their shopping list. But, because of how you lay out your store, which includes placing your high-traffic categories at the back, shoppers will move through your store, which exposes them to more of your merchandise. Cross-merchandising can help you here. They don't know they need a product until they come across it.
Strategic floor plans allow the categories in your store to grow
A well-laid-out floor plan is one that allows the categories in your store to grow. That is due to the proper space allocation relative to the overall contribution, which will, in turn, improve your bottom line.
Those were the financial benefits. But what about the practical benefits? We can break them into two main advantages.
Creation of logical floor plans
Strategic and data-driven floor plans allow you to position your categories to meet (and exceed) customer expectations. It's also known as a logical category flow and goes back to maximizing customer experience and minimizing customer irritation.
Reduce floor congestion during peak hours
A well-designed store floor plan can help to reduce floor congestion during peak hours. We've mentioned it before - when the store is busy, it's unpleasant to shop. How can you prevent congestion with a floor plan? By strategically spreading your high-traffic categories across your store, you can safeguard yourself against congestion.
That also feeds into a previous financial benefit of increasing customer basket sizes. By spreading out your categories, you expose shoppers to more products, giving them more reasons to buy more items.
How do you use DotActiv to build strategic floor plans?
1. Building floor plans in DotActiv software
DotActiv software provides floor planning functions that form part of the macro space planning features, which empower you to build a floor plan from scratch or modify an existing one.
The floor planning feature in the software provides you with multiple functions to create the perfect floor plan based on different datasets.
For example, the Live Graph function provides multiple benefits related to floor planning, including allowing you to view specific information related to the floor space and related activities.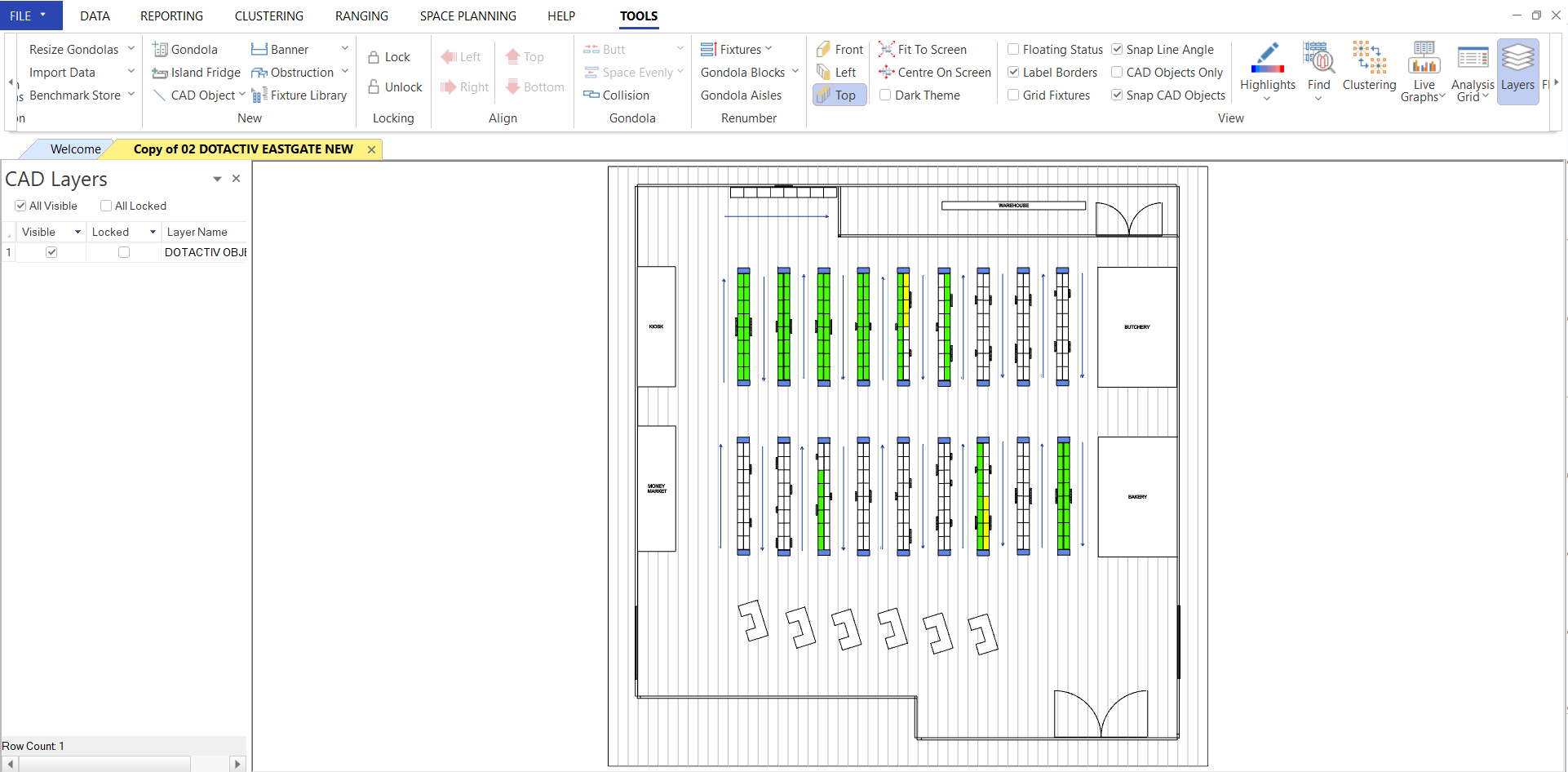 In using the floor planning feature, you can customize your floor plan at a design level that suits your store and your customers. You can maximize your floor space by ensuring the distance between planograms and aisles is as efficient and effective as possible while providing your customers with an enhanced shopping experience. You can do that by placing your categories in the store according to how your customers shop.
When we use the Congestion Report function, the benefits include identifying the spaces in the store with high traffic and dead zones - areas in your store that customers rarely visit. It allows you to make any necessary decisions to move categories to create fewer traffic areas and remove dead zones, ultimately preventing traffic build-up in the store aisles.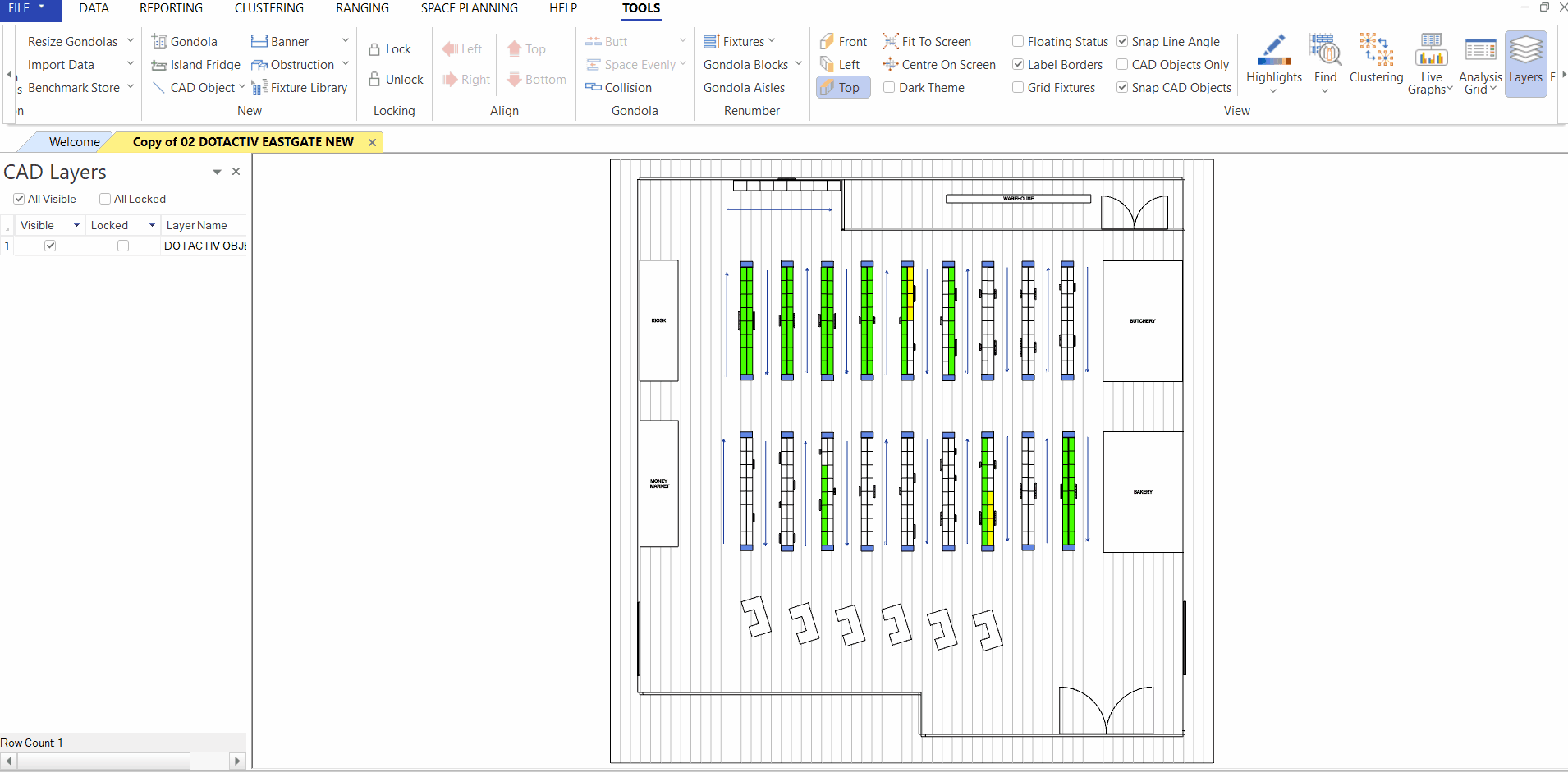 However, to experience these benefits and more, we need to touch on two-way integration. Why?
If you want to gain the most value from the DotActiv Software features, it's critical to ensure two-way integration between your company and DotActiv. Two-way integration is a process where data and information flow between two parties. The information imported into one system (DotActiv) automatically mirrors or synchronizes with the other system (your company).
With such integration, we can ensure sharing of accurate information instantly. It enables everyone to have the most recent data when building floor plans.
For example, if DotActiv makes any changes or updates to information on the integrated system, it will update your system too. It enables you to implement floor plans and provide or receive feedback, which eliminates the risk of communication errors between different parties.
Integrated information also provides an up-to-date analysis of your data and prevents you from using outdated information when creating floor plans or analyzing sales, units, movement, and many other aspects of store-driven data. Two-way integration also allows DotActiv to dictate stock holdings and ordering from suppliers. That means fewer out-of-stock situations and stress associated with identifying when to replenish your shelves
2. Diagnosing floor planning problems with DotActiv software
DotActiv's floor planning features allow you to optimize your floor plan by providing all the data you need to plan the perfect store.
You can achieve that by identifying a specific space for a category and linking a specific planogram fit for that space to the store. It ensures that you have optimized your category space at a micro and macro level. That allows for a better store layout and improved overall performance.
There are several ways to ensure you produce the most optimal store layout.
The graphs developed from your floor plans provide you with the perfect analysis of your current and proposed floor plans. The graphs can indicate how the floor and its activities will change, including the flow of each category, subcategory, brand, and more.
The software also allows you to compare the two floor plans and identify spaces in the store that can be an opportunity for improvement and where the current layout works perfectly. This enables you to make informed decisions regarding each floor plan and the different flows of categories.

The DotActiv software can also help you identify the problem, optimize the floor plan, and measure your success.
When we look at problems with a floor plan related to data, there are several ways of identifying a problem. This can be when 'Blank' data is displayed or even when the values are zero for a category. That will only happen when you introduce a new category and you don't have any data yet.
If you're looking to identify problems with your floor plans, such as overlapping objects, gondolas, or CAD objects, the software has a function that highlights that.
You can also use separate small functions to identify problems on a floor plan.
The Live Graph function can indicate problems by showing an unexpected analysis. It is easier to identify this if you are familiar with the categories and how they usually perform.
For example, if you have a category on the graph that shows low performance during a month when you're expecting peak sales, you will know there is a problem with the floor plan. Another example is when a high-performing category does not indicate growth across two periods. There could be the problem of missing data in your floor plan.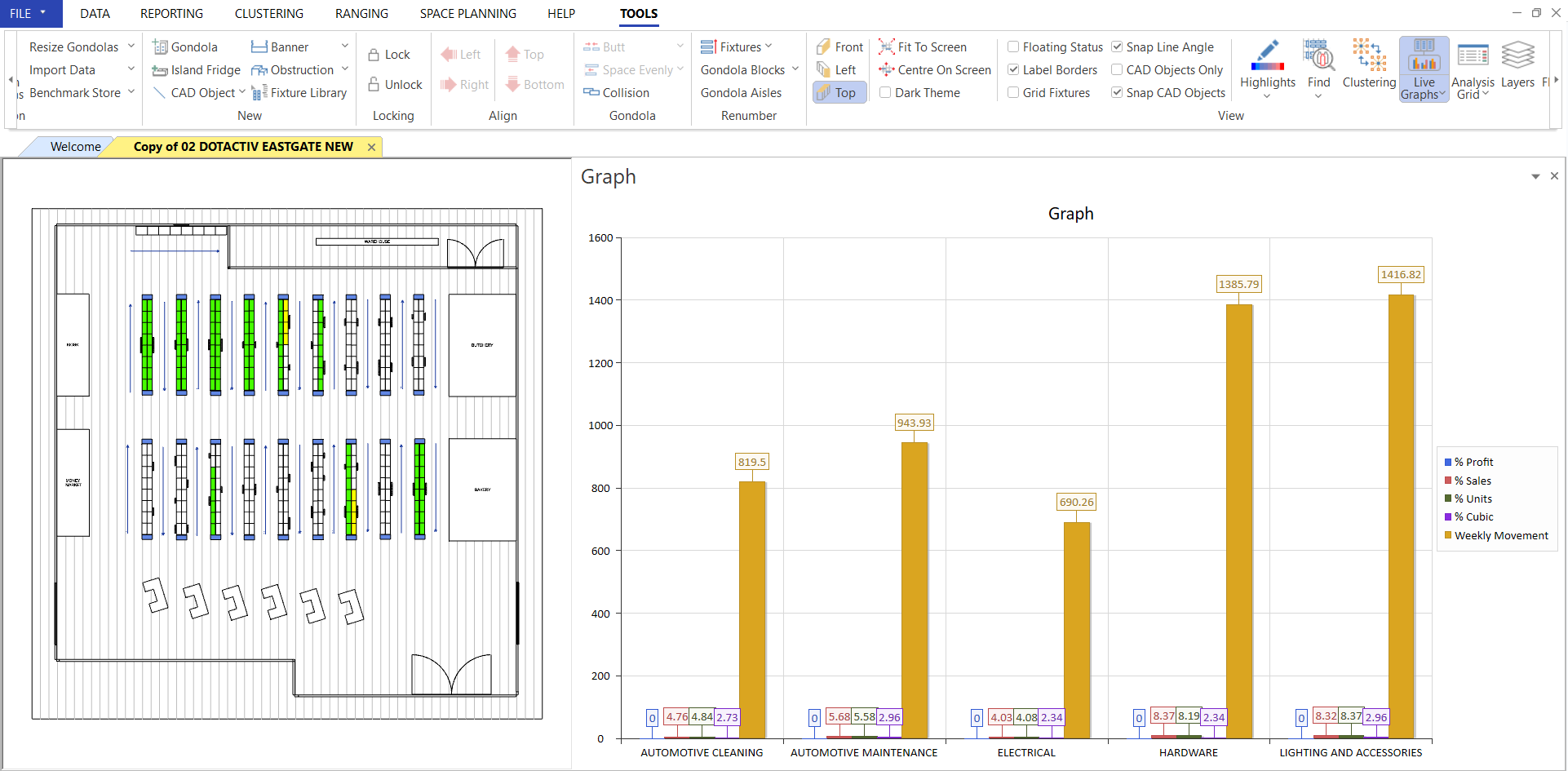 You can also measure success through different analyzing functions in the software. The type of success you want to measure will be the first thing you have to identify. The DotActiv Software provides you with every possible analysis of your implemented floor plan and the data captured after implementing this floor plan.
With the data following implementation, it's easy to analyze and understand if the store's overall performance has improved.
The best time to measure success is three to six months after implementation since this date range provides you with a good indication of growth or decline. The success of a new floor plan will not show accurate results after a month due to the short period of data collected.
Measuring whether or not a floor plan is successful is easy by making use of the following analyzing reports in the DotActiv software:
The Floor Space Report. This measure changes in traffic areas in the store. You can achieve that by enabling the Highlights function on the report, which indicates your hot and cold spots.
The Comparison Report identifies if the changes that were made to the floor plan had a big impact on the store's performance.
The different Live Graphs enable you to measure different types of success. These graphs indicate the sales percentage in the entire store and the days of supply, unit movement, and unit percentage. A store showing higher sales and unit percentages is a sign of a successful floor plan. Lower days of supply and higher unit movement will indicate that a product moves quicker from a shelf which also indicates the product in the store will sell out quickly. That can indicate a successful floor plan, especially if the space allocation for the products did not change.
It's worth pointing out that if your days of supply are lower and the products received less space on the new floor plan, that doesn't indicate a successful floor plan.
3. Delivering impact with DotActiv's Floor Optimization service
With DotActiv's Floor Space Optimisation service, you get access to strategic data-driven floor plans, which include floor space and category analysis.
But who is the ideal client? It's anyone with floor space because it provides you with the best benefits of each function offered by the DotActiv Software. Trained staff that knows the software like the back of their hand and will provide the necessary plans in the most efficient time possible.
Clients with store blueprints that have inconsistent flows across the stores and do not provide the optimal amount of space for each category based on their performance data will need this service the most.
New clients can use the scoping sessions provided, where performance objectives and macro space merchandising principles are established, to help develop the best floor plans according to their needs. Whereas, existing clients benefit from insights and suggestions identified by making use of the analysis tool in the DotActiv software to improve the performance of their current floor plans.
You also have the benefit of being involved throughout the process where you can make decisions regarding changes and suggestions. It will be as if you receive your own ideas without having to do the work yourself.
Here's a high-level look at the process we follow to deliver our Floor Space Optimization service:
We review the context of your account

We determine your macro-space performance objectives

We optimize your floor plan

We conduct the performance analysis
Similar to how we deliver all our category management services, we're focused on understanding your business context, matching the solution we offer to what you and your customers need.
Conclusion
Achieving the best store success requires the best store layout that delivers a personalized shopping experience to all customers while also ensuring that you have the same feel throughout your store.
DotActiv not only provides you with the best software to develop these floor plans but also a Floor Space Optimisation service that does all the work for you and has the best category management knowledge developed over many years with the tried-and-tested methodology.
Are you looking for such a category management solution? Book your complimentary consultation with a DotActiv expert today and we'll show you how we can help you achieve that and more. You can also browse our various software editions and services on our online store.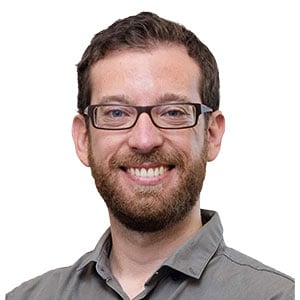 Darren Gilbert
Darren Gilbert joined in 2017 and is the content manager. He has a Bachelor of Arts in International Studies from the University of Stellenbosch.