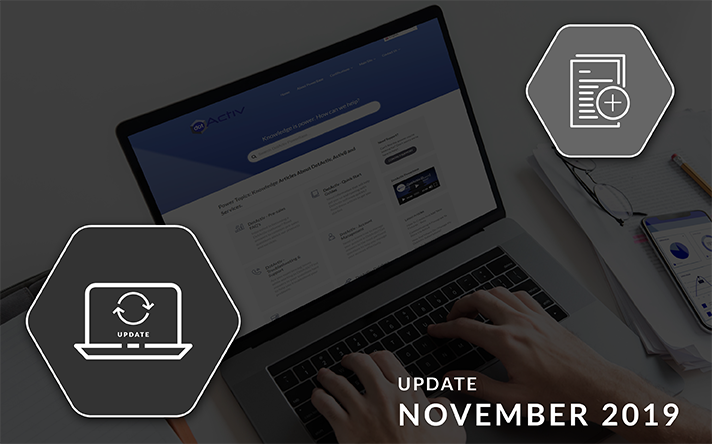 While it's nearing the end of the year, that doesn't mean that we've eased up on adding new articles to the DotActiv PowerBase. Or updating existing ones. Considering we're always innovating and improving our software, there will always be new articles. For November, there are a total of 20 new and updated articles.
If you're interested in reading up on other articles that we've added or updated, you can read October's recap here and September's recap here.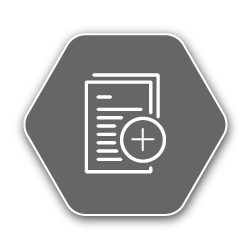 New articles on the DotActiv PowerBase
During the month of November, we added 12 new articles to the DotActiv PowerBase. These ranged between articles based on new software features, Activ8 articles and a few pieces that focus on explaining features that we haven't already covered.
1. You can request custom software development
We are often asked by customers whether or not we can create custom software features for them. The answer: we most certainly can. In truth, we encourage feature requests because it drives efficiencies and allows us to create software that you'd want to use.
Want to request a software feature? Read this article to find out the process we follow when developing new software feature requests.
2. We unpack the data integration timeline
If you purchase DotActiv Pro or DotActiv Enterprise, you'll need to go through our data integration process. While complex, by the end of it, you'll have a seamless flow of data to and from your software.
But what is the process? How do we approach it? And what do you need to know? In this PowerBase article, we unpack all the steps we follow that will allow you to save time and improve accuracy. Read about the data integration process here.
3. You can create a scope and closure template in Activ8
As already mentioned, part of the new articles added to the PowerBase include ones for Activ8, our team management software for retail. That includes this article.
When creating any new project in Activ8, it's critical that you include both a scope and closure template. With a scope template, you can add questions that allow you to understand what your project aims to achieve.
For your closure template, you can again add questions. This time, it's to understand whether or not you managed to meet the aim of the project. Learn how to create templates for both, here.
4. You can add a budget to a project in Activ8
The second new article for Activ8 also pertains to the project management side of the team management software.
With any project that you undertake, you need to consider the budget. After all, if you don't set up a budget, how will you know if you've overspent? It might seem like a pain but it forms a crucial part of any project.
Learn here how you can set up a budget for any project that you want to create.
5. You can create a Stretch Report
Back to DotActiv software, this month we included an article on the Stretch Report. This report stretches a planogram drop by drop and it's helpful to anyone who needs to implement a planogram in-store.
That's because it indicates the number of facings and days of supply for any product. Need to create a Stretch Report? Read this article to find out how to do just that.
6. How to add shelf notches to gondolas
When building any planogram, you have the opportunity to use shelf notches.
Also known as shelf brackets, shelf notches are important because they allow you to move shelves up and down on your gondola without changing the rest of your gondola.
Fortunately, it's easy to work with and use shelf notches in DotActiv software. Read this article to learn how.
7. You can use the Floor Space Allocation Report
The Floor Space Allocation Report is a new report that we've added to the DotActiv software.
In this article, we unpack the key sections that make up the report, including the information grid and report options.
If you want to use the Floor Space Allocation Report read this article to learn how to make the best use of it. This feature is currently in Beta and will be in our next official software release.
8. You can report on stock availability
With the Availability Report, you have the opportunity to report on the quantity of stock available per store based on a specific category.
As for why this is important, it allows you to do two things: forecast customer needs and ensure you replenish your stock in time to meet demand.
It's worth pointing out that for the Availability Report to work, all your information must be accurate. That includes no duplicate data and correct naming conventions. Learn about the Available Report here.
9. You can report on planogram congestion
Along with the above Availability Report, we've also added an article on the Congestion Report found in DotActiv software.
The Congestion Report gives you an indication of how many products are on any given planogram. By using it, you can understand how each category is positioned in relation to others at a shelf level.
You can use it to report on the congestion of your planogram by store or by cluster. Read more here.
10. Learn how to manage or cancel your DotActiv subscription
As part of signing up for an edition of our software on the DotActiv online store - be that a 14-day trial or an outright purchase, you'll create a FastSpring account.
It is through FastSpring that you can manage or cancel your subscription. Once you subscribe, FastSpring will send you a confirmation email with your account details that allow you to log in and make any changes.
If you want to manage your subscription, you can log into FastSpring and do so. It's the same for if you want to cancel. Read this article to find out how to do both.
11. You can communicate a planogram to store using Activ8
Once you've built your planogram in DotActiv software, you need a way to implement it in-store. That's where our planogram communication tool comes in handy.
Built into Activ8, you can use it to communicate documents and planograms to your retail stores, no matter where they are located. This tool also allows anyone at your stores to comment on planogram implementation and report any issues or concerns.
Interested in implementing your planograms in-store? Read more here.
12. We've introduced Tables as a new retail fixture
In October, we announced the introduction of apparel fixtures. This month, we'd like to add to the growing number of such fixtures with tables.
You can add tables in the same way that you'd add other apparel fixtures - first you create your apparel container before you begin adding your tables. We explain how to create and edit your table. That includes changing the attributes and deciding how to merchandise your products on the fixture.
You can read how to create and edit tables in DotActiv software here. As with the Floor Space Allocation Report, this feature is currently in Beta and will be in our next official software release.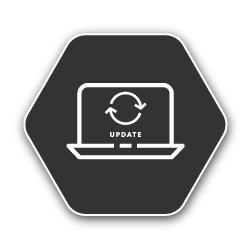 Updated articles on the DotActiv PowerBase
Along with the new articles that we added to the DotActiv PowerBase during November, we've also updated a few. This past month, we updated eight articles.
1. We unpack our support response times
The initial article on our usual response times only glossed over what you can expect from DotActiv after you log a support ticket or request help.
With the update, we break down how we classify the different task urgency levels. There are four different types, which allow us to prioritise the workload and give you the support you need and deserve.
Read up on our usual response times here.
2. We explain how you can add doors to a floor plan
After building a floor plan, you have the option to add various CAD objects. That includes, amongst others, doors.
You can add a number of different doors to your floor plan, depending on your need. For example, you can add Single, Double, Stacked or Double Stacked doors. You can also add windows to your floor plans if required.
Read this article to learn how to add doors to your floor plan.
3. We cover the prerequisite data for your ADDM Report
For the ADDM or Additional Demand Report to work successfully, it requires prerequisite data. We've updated the article to explain all the necessary data that is needed.
For example, you need to have two planograms with facing differences. That's to measure the financial impact accurately. Your KeyProduct and MDD values must be set on your planograms as well as your product descriptions.
We unpack all of the other prerequisite data in the article, which you can read here.
4. We consider the end-to-end validation of your data
Prior to data integration, it's required that you validate your data. That's so you can import it correctly into the database.
While the article on the DotActiv PowerBase covered the pre-checks, it didn't cover end-to-end data validation. We've since made the update to include this.
You can read about validating your data for integration in this article.
5. We explain how to update existing planograms from the database
After understanding all of the various data transfer methods, you can use DotActiv to easily meet your needs. This article initially covered many of the data transfer methods, bar one - how to update an existing planogram from the database.
We have since included that so when you need to transfer your data, you can. Learn how to do that in the article, here.
6. We unpack how you can update your product mappings
When it comes to converting planograms to and from various file formats, there will come a time when you need to update your product mappings.
Once you have set up your mappings, they will remain the same for all your imports and exports. You can also configure your mappings. We unpack precisely how you can do that in this article.
7. We dig into the intricacies of the planogram analyzer
When using the planogram analyzer to improve your planogram, we touched on the criteria and explained each.
However, we didn't give you a practical example and show you how DotActiv software gives you tips on what to do to improve any planogram that you build. With this update, we reveal the details and show you how you can fix a problem.
Learn how to use the planogram analyzer.
8. We explain how to add or remove product facings
The final updated article for November is on the one that explains how to add or remove product facings to your planogram.
This update is more of an addition than anything else. You cannot manually set the number of facings deep. Instead, it is auto-calculated. As explained in the updated PowerBase article, DotActiv software takes the dimensions of your gondola into account and fills in the available space.
You can read more about facings deep and product facings here.
Conclusion
The DotActiv PowerBase provides you with quick answers to specific questions about how to make the most of DotActiv's products and services. If you come across an article that doesn't answer a question to your satisfaction, please leave a comment on the article. It's entirely anonymous and will help us to help you get the answers you deserve.