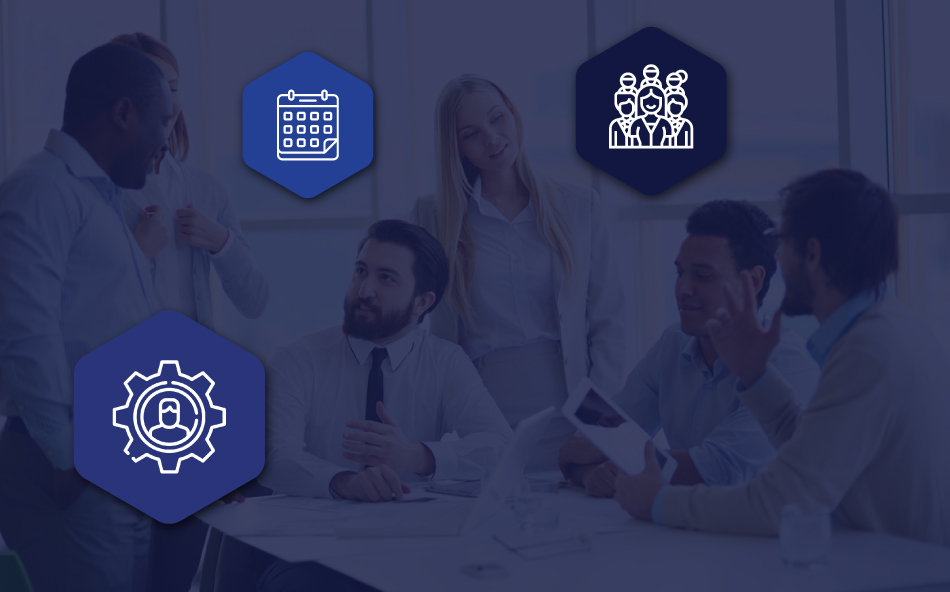 DotActiv proudly specialises in providing category management software and professional services and has done so since the early 2000s. We are a South African-based company and started offering our products and services to the local market, but we also serve the global retail market. You only need to look at our client list - We provide meaningful impact to the international retail market.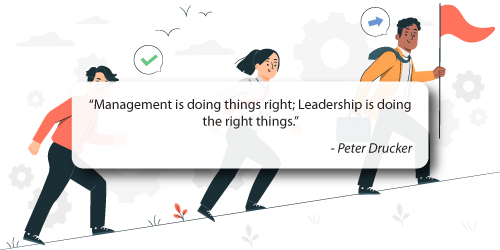 We are a dynamic group of individuals who take ownership, leadership, trust and integrity to heart. Within our production teams, we aim to create successful leaders who can motivate and inspire their teams. We also aim to build the next generation of leaders and account managers from within our ranks.

In this article, we discuss what an account manager is, what to expect as an account manager and unpacking the average day in the life of a DotActiv account manager.
What is an account manager?
Whether or not you have considered becoming an account manager or if you are familiar with being an account manager, you may know it's easier said than done. It requires you to be an exceptional multitasker and take on more responsibilities at once. This also does not mean you should shy away from the opportunity if it presents itself. It could be the key to unlocking your potential.
In short, the role of an account manager is to study signed customer contracts and build strategic project plans relating to these contracts. You can also expect to manage and oversee projects, identify growth and solution opportunities, explore contract renewal opportunities, and ensure that contracts are properly closed out.
What are some of the most exceptional qualities and attributes to have as a successful account manager?
Empathetic: deeply understand the goals, drivers, and needs of others;
Service-oriented: ready to go the extra mile for their clients;
Strategic: doesn't get trapped in the weeds, understands the bigger picture;
Proactive: doesn't wait to take action, is in charge;
Responsible: takes responsibility for their actions and outcomes; is accountable to others;
Good communicator: writes and speaks for impact; confirms that the other side has the same understanding;
Prepared: doesn't get hit with surprises; does the preparation work that others skip;
Great listener: active listener, makes sure the other side feels head;
Ask meaningful questions: deep questions designed to elicit insight and emotion, not just surface content;
Forward-looking: doesn't just look in the rearview mirror; always asks "what's next?";
Fact-based: based in reality; knows that "hope is not a strategy";
Always learning: invests in their skills and knowledge to keep driving forward;
Fearless: takes the knocks; willing to have the tough conversations;
Team player: looks out for the team; collaborative;
Good negotiator: looks for the win/win in every situation; grows the pie;
Authentic: comfortable with their true self;
Trustworthy: earns and deserves the trust of customers and colleagues;
Problem solver: hustles to find a solution; willing to roll up their sleeves to get the job done; and
Acts with integrity:

Doing the right thigh always, regardless of who is watching.

What to expect as an account manager at DotActiv
A DotActiv account manager is in charge of making sure each department meets the needs of our clients and customers. They handle customer complaints, find solutions to their problems, and maintain a positive relationship between both parties for future business ventures.
An efficient account manager must be customer-focused to build trust with customers. They must be a strong communicator to manage their accounts properly. They must also be knowledgeable about DotActiv's products and services to provide customers with the most effective solutions.
Are you interested in joining a dynamic team that provides category management services to the global retail market? We want to hear from you! Browse our open positions here.
Expect to display the following skills:
Excellent communication skills;

Must have strong analytical skills and be able to use data analysis techniques and know how to apply these to business situations;

Must have excellent interpersonal and relationship-building skills;

Act with integrity and represent the DotActiv brand;

Must have a high degree of internal client engagement;

Must have the ability to multi-task and work cross-functionally;

Must be able to remain attentive in a busy environment;

Be naturally calm while still having a strong sense of urgency and be focused;

Must be a team player; and

Need to be versatile and adaptive.




If you have a natural flair for client communication, building relationships, maintaining corporate image and understanding consumer behaviour, this role could be the perfect fit for you.
Ultimately, a successful account manager should collaborate with teams to achieve quotas while keeping our clients satisfied and engaged with our products and services in the long run.

Unpacking the average day of an account manager at DotActiv
What does the average day look like at DotActiv?
The day-to-day responsibilities might look different depending on the specific accounts you work on.
Your responsibilities as an account manager at DotActiv include:
Developing strong relationships with customers and conducting scoping sessions;

Preparing data and briefing scanners in terms of supported duties;

Receiving the scanner input and managing the data accordingly;

Utilising data to plan and build shelf plans;

Obtaining approval from customers and handing over shelf plans;

Building project plans and managing these accordingly;

Constantly exploring contract renewals or extensions;

Identifying growth and solution opportunities;

Managing contract closeouts;

Appropriately filing all related documents and ensuring administrative excellence; and

Optimising individual and team performance as well as all human resources functions.
We also have to take a look at the Account Management BPVC.
A business process value chain of BPVC consists of a step-by-step process that assists an account manager in delivering on a contract. Following these steps ensures you cover all aspects of the contract timely and systematically.
Steps to the Account Management BPVC include:
Managing your contract/ customer
Managing quality assurance
Developing talent
Advising prospects and accounts
We spoke to a few of our account managers to hear about their average day. Here is what they had to say:
Sanmari Roberts joined the DotActiv family in March 2021 before her promotion to account manager.
"What I enjoy most about my current role is managing a wonderful team of seven category planners and watching them grow.

I usually start my day by making myself a nice cup of coffee. Most days, I will ensure the team is aware of what is needed to do for the day and attend any leadership and development sessions booked for the day with a team member. If any team members in training or production come across any challenges, I will assist and help navigate those challenges."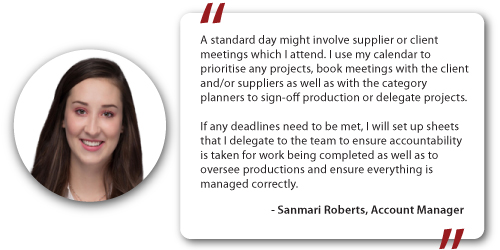 "Skills that require me to be successful in my role include time management, leadership qualities, working effectively under pressure, patience, and project management skills.
Ways in which I overcome my daily challenges involve me stepping back and placing the projects/deadlines/work to be completed in four quadrants. That's to determine what is important but not urgent, what is urgent but not important, what is important and urgent and what is not important and not urgent to prioritise my challenges. I will ask for guidance and support from my team as well as my operations manager."
Colleen Kathrayan joined the DotActiv family in August 2021 before her promotion to an account manager in 2022.
"Working with my people is most rewarding, especially watching them grow as individuals and as a team."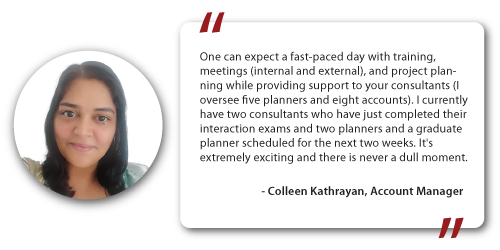 "I personally keep my diary up to date and make good use of my Google Calendar, as it reminds me when I set my meetings and tasks to meet my deadlines.
In order to be successful in this role, you need excellent people skills as you deal with lots of different personalities, and it's important to be approachable and have an open door policy. Also, anyone can be a manager, but not everyone can manage - you need to be diverse and flexible with your time management as things change in a heartbeat.
I overcome my obstacles and challenges by ensuring to have a plan B. Challenges keep you on your toes and help you grow as an individual. I try to be rational and have a backup plan for almost everything. I keep a clear mind, and I'm optimistic, which helps me overcome any issues that might arise."

Conclusion
A day in the life of a DotActiv account manager seems overwhelming, but its exciting and full of new challenges.
Well there you have it folks, you know what it takes to become our next generation's leader in this industry as an account manager. Believe in the knowledge enablement and support from your team at DotActiv, and most importantly, believe that you can also achieve great things.

Are you interested in starting your journey at DotActiv? We'd love to hear from you. You can read up about DotActiv, what we stand for and how we operate here or apply for any open positions here.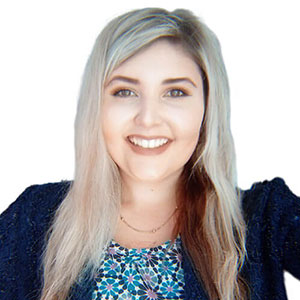 Melissa de Beer
Melissa de Beer joined in 2022 as an HR consultant. She has a Bachelor of Commerce in Marketing & Tourism Management from North-West University.