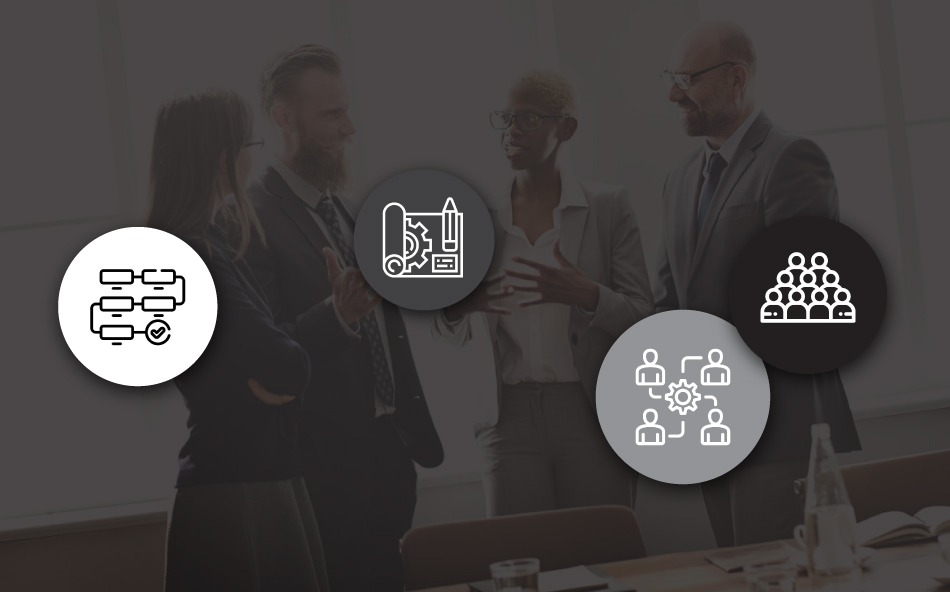 When planning a retail space, interior layout can be a make-or-break element in profits for stores of any size. Retail experts have studied traffic flow to maximise sales for decades. And it's here where a DotActiv floor planner plays a pivotal role in the success of any business that has its roots in the retail industry.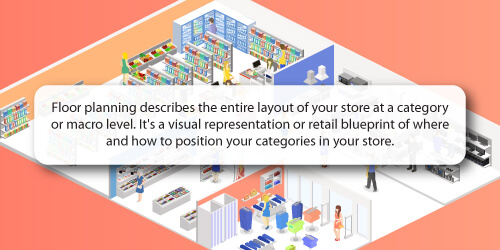 At DotActiv, floor planners help us create data-driven floor plans that refer to the layout and adjacencies of a retailer's departments and product categories on their store floor.
Creating effective retail floor plans involves considering the store size and category roles, together with sales and shopper data to determine how to place products to bring strategies to life.
What goes into planning retail floor spaces?
Floor plans are layouts that guide shoppers through the retail space. These plans consider product placement and traffic flow, driving foot traffic, browsing, and in-store purchases.
Floor plans provide a way to understand how customers will move through a store, determine whether the space is suitable for its intended purpose, work through potential challenges, and redesign it before moving into more intricate planning stages.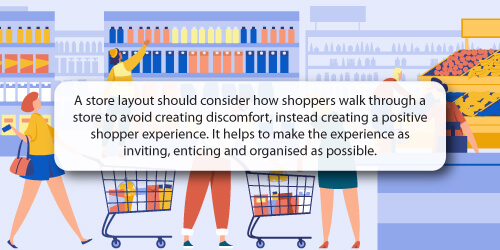 Different layouts can affect your revenues in different ways, depending on your sales goals, your type of store, the size of your aisles, and the amount of light and space available.
By carefully planning the aisles and considering how your shoppers navigate through your stores, we can ensure they see as much merchandise as possible during the time spent in your store.
A few factors that we keep in mind when designing a floor plan include:
The size and shape of the sales floor;

The type of products you stock, and

The type of shoppers that you hope to attract.
A good layout will help keep shoppers in your store for longer, making it more likely that they'll buy something before they go. Balance and thoughtful design are vital when planning an effective retail floor plan.
In addition to controlling customer flow, creating effective displays, and driving sales, a retail floor plan is about welcoming shoppers in, making them feel at home, and providing an experience that makes them want to return.
What do we expect from you as a DotActiv floor planner?
Unlike other roles at DotActiv, such as a category planner, when working as a DotActiv floor planner, your responsibilities are also exclusive to creating floor plans. Rightfully so.
But what does that mean for your responsibilities?
Designing data-driven floor plans;

Planning and building data-driven floor plans;

Conducting floor plan analytical reviews; and

Creating and presenting floor plan reports.
Does working as a DotActiv floor planner sound like a role you want to pursue? Maybe you'd rather apply to be a category, space or graduate planner. Wherever your interest lies, apply! You can browse our open positions here.
Of course, it's not only about building floor plans. It's also critical that you analyse and review them and collaborate with DotActiv space planners. That means your responsibilities also include the following:
Analysing floor plans and delivering strategic insights to clients;

Assisting clients with finalising a floor plan that is in line with the company strategy as well as the category role;

Working with space planners to ensure planograms are assigned to the store based on the created floor plan, obtain category-based insights and receive new and reviewed planograms; and.

Working with space planners to ensure that the space assigned on the floor plan is sufficient enough for each category to which it is assigned.
Planning a retail store layout is no small task. DotActiv floor planners play a pivotal role in setting clients up for success.
Unpacking the average day of a DotActiv floor planner
We reached out to a few of DotActiv's floor planners to ask them how they'd describe what an average day looks like for them.
Déan Vermaak joined Dotactiv in March 2020. He is one of our floor planning experts and works as an account manager on our Dis-Chem account.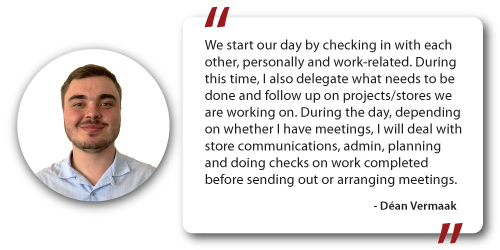 "If we have a meeting that day, we will sit for about an hour or so to prepare for the meeting and align on what we are going to do in the meeting and what we need to find out during the meeting," says Déan.
Hope Mkanda forms a part of Déan's team on our DisChem account. She joined us as a floor planner in May 2022.
"It is quite difficult to say what happens on a typical day because every day is different. It also depends on the season. For example, we are currently busy building new stores and setting up meetings for scoping sessions with regionals," say Hope.
"Our days start with meetings and catch-up sessions so that we are all aligned on what we need to do. Then we get on with building the floor plans, which would typically take a day or two. If we are not building floor plans, we are fixing store allocations or updating cluster maintenance along with the category planners as we work closely with them."
Unpacking the DotActiv floor planner BPVC
Firstly, BPVC is an acronym for Business Process Value Chain. It's a business model that provides an in-depth explanation of each activity that has to take place to transform a product or service from an idea to reality. DotActiv's Floor Planner BPVC gives you the exact steps to follow when building a floor plan from start to finish and everything in between.
So why is the BPVC critical for a floor planner?
We want to equip you to do your job to the best of your ability;

We provide you with training and a document (the BPVC) that you can consult at any time to guide you when building a floor plan; and

The BPVC increases your efficiency and productivity.
Here are some high-level steps on how to create a floor plan according to our BPVC:
Review the account context;

Determine the macro-space performance objectives;

Optimise the floor plan; and

Conduct the performance analysis.
We use our floor planner BPVC to conduct the various steps to create the floor plan for our clients. As part of the mentioned steps, we also hold four structured consultations to gather the necessary information to meet a client's objectives. We believe in working with our clients to ensure we help them meet their goals and objectives.
These consultations are as follows:
1. We confirm the performance objectives
The goal is to confirm the performance objectives and needs of the category.
2. We present the preliminary plan
The goal is to stress-test the suggested preliminary category plan before the final output. It is also to refine it where necessary.
3. We deliver the plan
The goal of this presentation-based consultation is not only to deliver the final output. It is also to explain the rationale behind our final outcome.
4. We unpack the results and make tweaks
The goal is to unpack the implementation results and talk through the learnings.

Conclusion
Having a deliberate retail store layout is critical for maximising revenue. Effective store layouts will direct shoppers to high-priority products, drive impulse sales, and manage customer flow. While it's all true, there's more than that!
When you walk into a store, do you experience the environment to be inviting, or do you linger at the entrance for a few seconds before walking away? Do you feel like you want to browse products on display?
No matter how great the location of a store is, you have to dress it up to create a warm, inviting environment that shoppers feel happy shopping in. This is what we do at DotActiv!
Are you interested in starting your journey as a floor planner at DotActiv? We'd love to hear from you. You can read up about DotActiv, what we stand for and how we operate here or apply for any open positions here.
Carmen Krige
Carmen Krige joined in 2021 as an HR consultant to provide critical recruitment support. She is currently completing an LLB through Unisa.