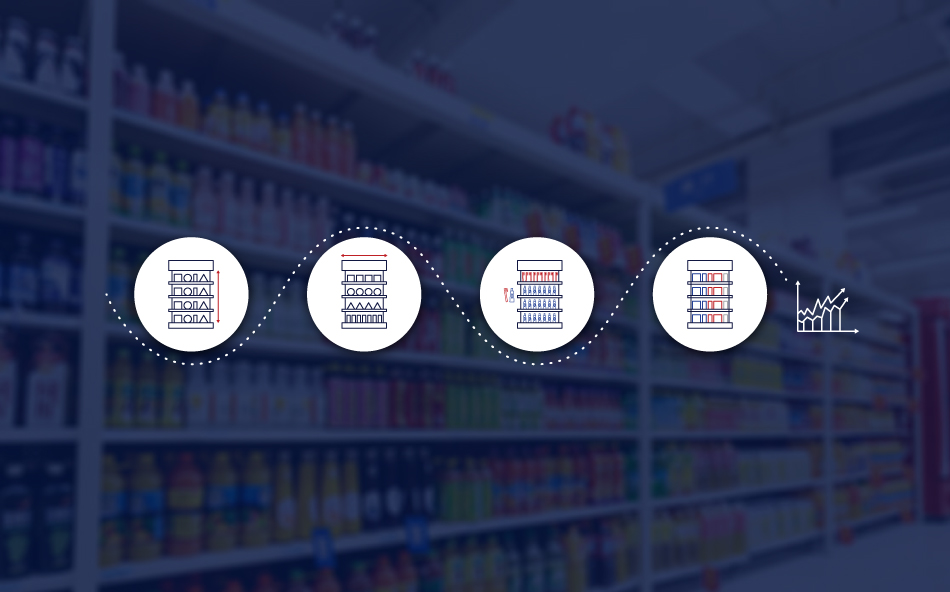 If you work in retail, there shouldn't be any debate about the importance of merchandising your store. Besides improving the in-store shopping experience, purposeful merchandising can help you increase sales, improve brand loyalty and boost store traffic - good merchandising 101. But when it comes to picking the right merchandising techniques you use in-store, which ones are best suited for you?
So, what is merchandising?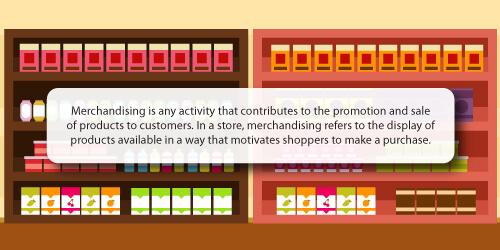 If you're wondering if it is still worth focusing on the in-store shopping experience - experts estimate COVID-19 contributed an extra $218.53-billion to e-commerce's bottom line in the U.S - it most definitely is.
According to PwC's 2021 consumer survey, nearly 40% of consumers make purchases in-store at least once a week compared to 27% who do the same online.
That speaks to the need to get your in-store experience - merchandising included - right. There are, of course, many different merchandising techniques available to you. Which combination you use depends on what you want to achieve and what products you offer. Below we unpack the four most popular merchandising techniques that you can try in-store.

1. Vertical merchandising
Let's begin with a simple, but powerful merchandising technique - vertical merchandising - which also happens to be pretty simple to explain: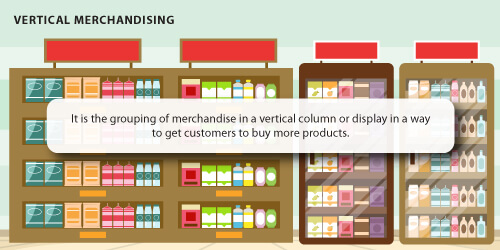 How does this technique encourage customers to buy more from you? Easy:
Your shoppers tend to focus on those products at eye level, generally between 55" and 59" or 140cm to 150cm above the ground. By displaying your products vertically, you're allowing shoppers to stay in one position while they use their eyes to follow your display of items, top to bottom.
That means an easier shopping experience for them as they can find what they're looking for with little trouble. They can also compare your product offerings and prices.
Do you need trusted advice on how to display your products in-store to maximise your sales and please your customers? Book a complimentary exploratory consultation with a DotActiv expert today. We're happy to help!
Advantages
Improved aesthetic appeal, and a better appearance and organisation of your store;
Presented consistently in vertical columns, a large selection of products will appear organised, making it easier for customers to shop at your store; and
All brands at eye level will receive equal visibility.
Disadvantages
It can lead to over facing SKUs that don't require a complete vertical allocation;
Your brand impact is somewhat diluted; and
It makes it harder to display high-profit lines exclusively at eye level.
Having read the above, let's say you want to use vertical merchandising for a category or range of products. In that case, here's a top tip:
If you implement vertical merchandising in-store, remember to consider your target customers and who they are. If your target audience is adults - which they usually are, ensure that your products are at an eye level that fits 'grown-up' heights. Also, if you know that your customers will likely bring their children with them, ensure you place products that appeal to them near the bottom of the shelf.

2. Horizontal merchandising
In using horizontal merchandising in-store, you're ensuring that all your products are at eye level.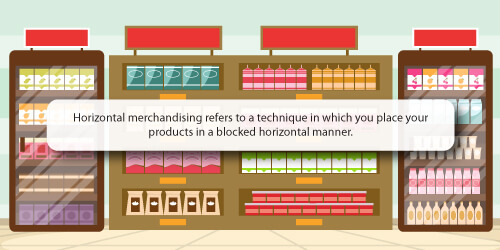 That's the easy part. But, as with most things in life, there is a downside to it:
In using this technique, customers will move from side to side to see your products. It's the opposite of what your customers prefer - standing still and scanning the shelf with their eyes. Of course, that doesn't mean you shouldn't use this technique.
There are plenty of advantages (and disadvantages) to using horizontal merchandising:
Advantages
It's easier to present more profitable items at or near your customer's eye level; and
You can entice your customers to walk through your entire display, exposing them to more products.
Disadvantages
Your poor-performing brands may not receive enough exposure and could perform worse as a result;
You will not be able to merchandise by price point; and
It is difficult to upsell your customers since you can't display bundles or add-on items.
Above, it appears that the disadvantages outweigh the advantages. That's not necessarily true because your technique depends on the products you offer.
So what next if you're planning to use this technique? Here's our top tip:
If you decide on using this method, ensure that the first product your customers will see is enticing enough to get them to move down your aisle so they can see your other products.

3. Cross merchandising
Cross merchandising is a great technique to use if you want to generate additional revenue for your store.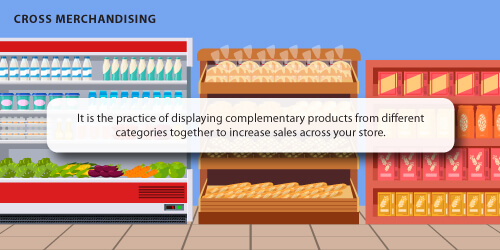 How?
Let's first consider this: according to a 2020 report from the National Retail Federation, 83% of shoppers said that convenience was more important today than it was before.
That's where a cross-merchandising technique can help.
Do you need assistance in choosing the right merchandising technique for your category or products? Book a complimentary exploratory consultation with a DotActiv expert and we'll help guide you!
Since many of your customers are looking for convenience when shopping, you're helping them by pairing indirectly related products. You're making it easier for them so they don't have to walk around frustrated as they look for items.
Advantages
Offers shoppers a shopping solution instead of products;

It makes it easier for your customers to shop at your store;

It appeals to your customer's desire to save time; and

You can organise products in a way that your customers use them.
Disadvantages
You could face possible shelf space limitations;
Your customers won't shop across your entire store; and
Your store could be seen as trying to sell off higher-priced items.
So what does this look like in action?
Let's say you sell battery-operated toys. A straightforward opportunity for an upsell and to increase basket size is to have a display of batteries next to these products. Not only are you saving your customers time, but you're also giving them a better shopping experience.
That fact should be more than enough to persuade you to try this in-store. When you do implement this technique, please remember this:
Always ensure that you have your customer in mind. Any items you choose to cross merchandise need to offer a solution to your customer. It must make sense to them.

4. Colour Block merchandising
Are you looking to draw shoppers into your store and them there for as long as possible? If you are - and yes, we know you are - then colour block merchandising could be the technique to use.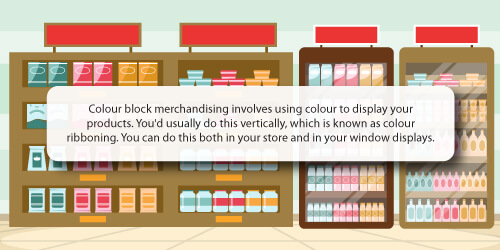 Let's say you want to entice more shoppers to visit your store. You could start by setting up a window display filled with bright colours that draw the eye. Once these shoppers enter your store, you can continue that expectation by including a similar display.
Advantages
You can use a product's colour in a display to attract your customer's attention.
It encourages multiple purchases; and
Your customers will see more of your product selection at a glance.
Disadvantages
It can be difficult to create the desired effect with certain products; and
It can make shopping in your store slower than usual.
Using colour block merchandising in-store allows you to create an emotional and personal connection with your customers. That is especially helpful when you know who your customers are so you know which colours will appeal to them most.
Of course, you do need to be careful when choosing colours. The last thing you want is a similar display to your competitors, down to the same colour and set-up.

Conclusion
When it comes to picking the right merchandising technique for your category and products, it goes without saying that you don't only have to choose one approach. There are plenty of successful stores that use a combination of the above techniques - and that's the beauty of effective merchandising.
Instead, focus on picking those techniques that suit your category and product, because, without them, you can't hope to be successful.
Have a look at some of the tried-and-tested techniques below and think about how they just might help you. Which one do you want to try?
I want to try vertical merchandising
I want to try horizontal merchandising
I want to try cross-merchandising
I want to try colour block merchandising
I want to try all of them
No matter which of the above you want to try, DotActiv can help you ensure that they're implemented correctly, the first time, every time, so you can maximise your sales while creating a great shopping experience for your customers. Book a complimentary exploratory consultation with a DotActiv expert here and let us help you achieve your goals and objectives.
Share this Image On Your Site
*This article was updated on 28 June 2022.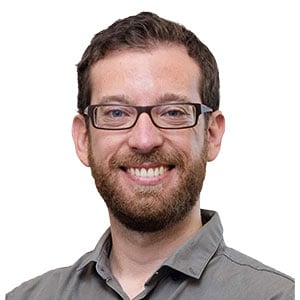 Darren Gilbert
Darren Gilbert joined in 2017 and is the content manager. He has a Bachelor of Arts in International Studies from the University of Stellenbosch.