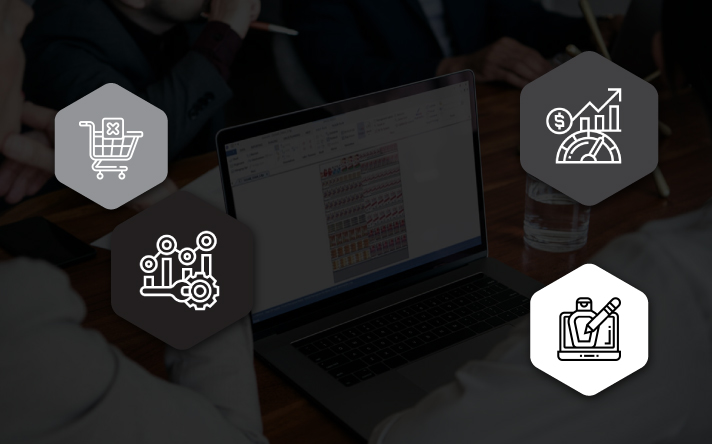 The competitive world of retail demands that you use innovative methods to optimise your sales and please your customers. But who says such approaches must be confusing to apply in your business? Take planograms, for example. While they include many intricate details, they are easy to implement. And, if you're a supplier looking to gain a sustainable competitive advantage, they are worth it.
Of course, you shouldn't view planograms as the only reason to collaborate. Retailers, we're also talking to you here. Why? Marie Griffin quotes a 2020 Coresight Research report in her article on Retail Touchpoints. Coresight surveyed 210 senior executives from retailer and supplier organisations.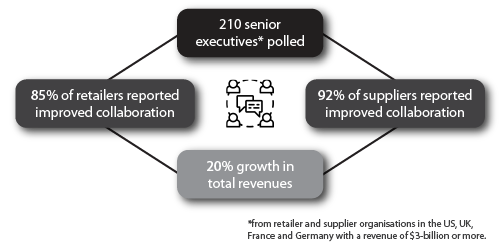 The report found that retailer-supplier collaborations can lead to a 20% growth in total revenues. That's for both retailers and suppliers.
Planograms are a form of visual merchandising completed by retailers or suppliers using specialist software and implemented in-store to maximise sales and please shoppers.
As already noted, planograms can give you a sustainable competitive advantage as a supplier. How? The advantages are plenty, and you'll find all the answers in this article. In it, we unpack the benefits that you can expect from using merchandising tools like planograms.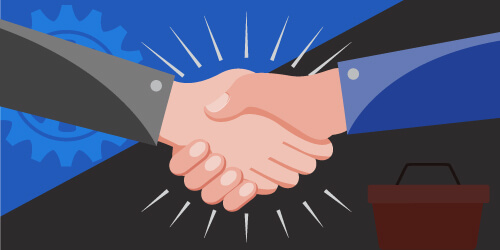 It's also worth pointing out that when you benefit, your retailers benefit too, which, in turn, cycles back to your business benefiting in the long term. It's that sustainable competitive advantage that we've alluded to above.

Planograms can help you optimise your shelf space
Any planogram you build starts with your data. What type of data? We've unpacked that in this article if you're interested in finding out.
Further to that, you can build two types of planograms:
Generic planograms:

When building a generic planogram, you're building it using a list or set of products. They also don't consider your days of supply or your highest or lowest contributing SKUs.




Data-driven planograms: Using data allows you to understand how much space each product should receive on the shelf. You also know how much stock you should have to meet customer demand.

Of the two, we'd always recommend the second option. It also speaks to this point - with data-driven planograms, you can optimise the shelf space to give all the products within the category the correct number of facings and space.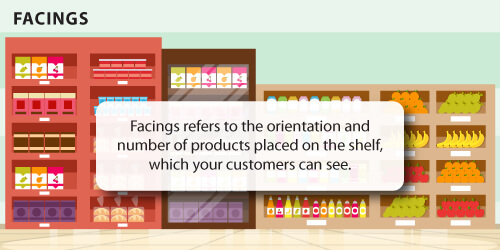 While you want to increase the sales of your products, you also need to consider what's in the best interest of the category, especially if you are the category captain. More sales for the category means you can look to expand it, which could include bringing in more of your products.
That also allows you to display your worth to your retail client and entrench any partnership you have established with them.
For your retail client, you can help them gain a sustainable competitive advantage as they can keep up with consumer demand and struggle with fewer out of stock situations (more about that here). Meanwhile, by correcting product positionings on the shelf, you can increase their (and your) sales.
Want specialist software that helps you strengthen any retailer-supplier collaboration? Book a custom exploratory consultation with a DotActiv expert to hear how DotActiv software can help you!
Let's consider the example of the Self-Medication category. You are the primary supplier who looks after this category for a pharmaceutical retailer.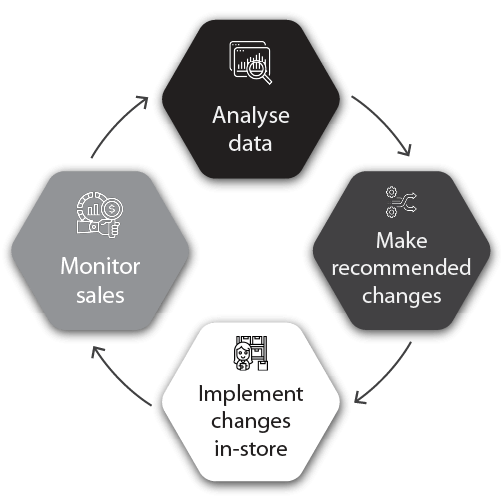 You might have initially merchandised this category alphabetically. After analysing the data and your consumer decision tree, you can see that you need to change how you merchandise the product grouping. The goal is to optimise your shelf space, which will lead to an increase in your (and their) sales.
Planograms can help you increase the performance of your category
Besides allowing you to optimise your shelf space, planograms can also help you to improve your category performance. Here, we're referring to the category that holds the products you provide to your retail clients.
How?
You can analyse each SKU on the planogram you build based on its performance. That means you can understand which products are selling and which ones are not. In short, which products should appear on the planogram and which you should remove. In doing so, you can ensure that the category is optimised to maximise your sales.
When optimising your category using data-driven planograms, your retail client benefits because you maximise their opportunity to increase their sales too. The result is a better reputation for you as you're the reason for this change in fortune.
That's one way it can help you gain and sustain a competitive advantage.
If your products deserve more space on the shelf, you can simply allocate the real estate given to them. If your retail client questions you about why you're taking this course of action, you can show them the data generated in the planogram software. You're clearly optimising the space on their shelf, which will lead to an increase in theirs (and your sales).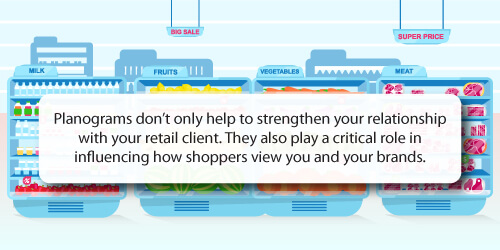 Let's say you're been entrusted to act as the category captain, which means you're looking after the entire product grouping. You thus want to maximise its sales. How do you do that? Simple - you need to create a more effective and pleasant shopping experience for shoppers. One that means making it easier for them to find the items they're looking for. It also means keeping the right amount of products in stock to meet demand.
The result is that customers will continue to visit the store because they know they can always expect it will have what they need. That also leads to more new customers as you're helping to grow that retail store to become known as the go-to retailer for any product within that category. As more shoppers visit, you can grow the category that stocks your products.
Planograms can help you to prevent out of stocks
When building out planograms, you need to consider the days of supply for each product. When analysing data, you can determine how many SKUs of a product should be on the shelf to meet consumer demand.
Meeting demand results in higher profit margins for everyone involved. Also, consider what not meeting this demand means - not having the items your customers want guarantees a loss in revenue.
It can also have a further impact on your reputation. That's especially true if you're the one responsible for building planograms or looking after the overall health of the category.
Fortunately, with sales and unit data, you can determine your days of supply by looking at your planogram. This lets you know how long a product will be on the shelf before you run out of it. Alternatively, the planogram informs the retailer of how often they need to repack your shelf.
With DotActiv's category management software, you can build planograms for your retail clients that prevent out of stocks while also increasing your category performance. Speak to a DotActiv today to find out how.
It's worth noting that this isn't only about meeting shopper demand. For you as a supplier, it's also about meeting the demands of your retail client. When building planograms, you can accurately tell how many of each SKU you need to fill the shelf to maximise sales.
By building a planogram that allows retailers to not suffer from stockouts or even excess stock, you can improve your reputation.
If they need help with their category management efforts and they want a supplier to help, you'll be at the top of the list. Now imagine if you're able to build planograms for more than one retailer and you have the same reaction (and reputation) across these retailers. You'll soon become the sought-after supplier for your category.
Planogram and planogram software helps drive product layout consistency
If you've read any of our previous articles on planograms, you'll know that we've touched on how they can provide uniformity to retailers who have many stores. It's the same for you as a supplier.
In creating planograms, you can build out a shelf (and thus category) that will appear the same across stores. Ensuring product layout consistency means you can help shoppers to understand what's going on whenever they want to shop in your category adding to creating a sustainable competitive advantage.
It's worth noting that in different regions, the same store might have a different target market which will influence which items you include in the range. However, this doesn't detract from product layout consistency.
For example, a store might stock fewer brands within a category, but on a whole, anyone who has shopped in this category in a store elsewhere will expect to have the same experience no matter which store they visit. You'll still follow similar merchandising principles when building out the planogram to ensure consistency and a pleasant shopping experience.
On the other hand, as a supplier, you might insist on using a specific brand and regime flow on all clusters, which will allow for consistency across all stores that stock your category.
When introducing a new product, you can also ensure that you execute it the same way so that shoppers know what to expect when they see a promotion stand or spotlight on a product.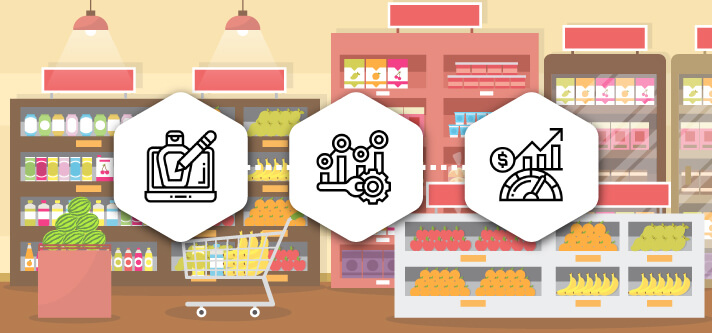 Conclusion
Building and implementing planograms is critical if retailers want to see sustained growth. However, it's not only important for them. It's just as critical for you as a supplier to use planograms to improve your business.
Why?
As we mentioned above, it helps you to:
Optimise the shelf space you've been given; and
Increase the performance of the category that holds your products.
Then there is the point that it helps you to build your reputation since you can help retailers prevent out of stocks and ensure they can have consistent product layouts across their stores.
Are you looking to get more shelf space for your products in-store? Or need advice on how to negotiate with your suppliers? Book a custom exploratory consultation with a DotActiv expert and we'll help you.
About the contributors
Brian Nyamachiri joined DotActiv in 2013. An operations manager with over 10 years of retail experience, he currently oversees Adcock Ingram, Danone, GSK, Dr Oetker, Loreal, Makro, Premier Foods, Revlon, and UPD accounts as operations manager. He has a Bachelor of Commerce in Supply Chain and Operations Management from Unisa.
Maryka Fourie joined DotActiv in 2021 as a space planner, working to deliver data-driven planograms to L'Oréal. She has a Bachelor of Consumer Science (Honours) from the North-West University.
Sanmari Roberts joined DotActiv in 2021 as a space planner and works on various ad-hoc accounts, including Premier Foods, Danone and Dr. Oetker. She has a BPhil (Honours) in Marketing Management from the IMM Graduate School.
Thuli Sidaki joined DotActiv in 2018, working as a space planner on the Revlon account, where she delivers data-driven planograms. She has a Bachelor of Commerce in Logistics from the University of Johannesburg and a SAP MM Certification, completed through SAP.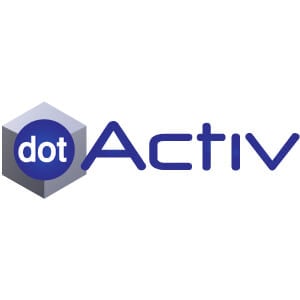 DotActiv Team
The DotActiv team comprises category management experts lending their retail experience and knowledge to create well-researched and in-depth articles.