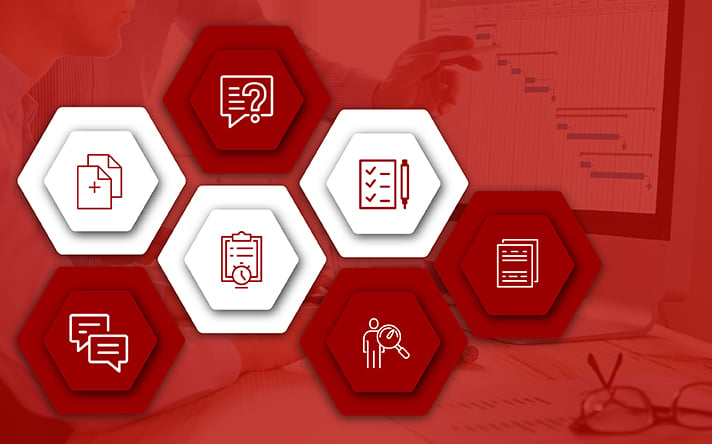 Failing to plan is planning to fail. While that's a well-worn saying, like all clichés, there is an element of truth within it. Moreover, it applies to everything you do, including any work tasks or projects. It's a critical ingredient for any retail business success. If you don't do any project planning - if you don't think strategically - you're already at a disadvantage.
What's worse, you can find yourself in a position that's difficult to escape. If your direct competitor has already laid down the foundation work before you've even started, it's a challenge to catch them. Of course, that doesn't mean you can't. With the right approach and dedicated software, you can get any work projects on track.

What is Project Planning?
When it comes to effective project planning, before you can begin, it's worth starting by considering what it is.
Under the umbrella of project management, project planning refers to the step of developing and managing all the details and tasks to ensure the successful completion of a job. Of course, there is also a timeframe by which to complete the project as well as stages and other aspects that need to take place.
Stages include setting initial strategic goals, identifying how to achieve them (through defined deliverables) and creating schedules and ways to ensure you meet them.

Why do you need a project plan?
By now, you should know about the importance of project planning and implementing and sticking to a set plan.
That said, it's still worth looking at why you need one. For the sake of this piece - and in the context of a retail business - we've pinpointed two specific reasons.
The reasons are improved communication and transparency and accountability.
It leads to improved communication with your team
If you want to see success in your retail business, it all begins with clear communication.
Need to implement planograms at all of your stores? Clear communication can help. Want your field marketers to complete a specific task while at a store? It's critical that you communicate what is expected of them.
By planning out either of the above projects in detail - you can get rid of any unnecessary (and costly) mistakes. What's more, you lay the foundation for a workforce that knows what you expect.

It allows you to be transparent and create a culture of accountability
With a detailed plan in place, communication is more explicit, yes. However, that's not the end of it. There is a positive after effect. It's transparency. Attached to that is accountability.
Here's why:
When planning any project, it's always a good idea to ensure that everyone involved in the project is aware of what's happening. If everyone has access to and can view the project from the highest level down to the finest detail, everyone can know what everyone else is doing at any time during the project.
For example, a team member will know that before they can begin a project, their colleague first needs to finish their task. By holding each person accountable, you set yourself up for success because everyone is aware of what they need to do. As stated above, there also shouldn't be any confusion.
With the right software in place to track the progress, if something goes wrong, you'll know precisely where. From there, you can rectify the problem.

What are the critical features of any project planning software?
When it comes to project planning, you can't go wrong with specialised software. We'd even recommend it. Costs aside, when looking for such software, it comes down to the features. In other words, what can you achieve with it and how can it make your life easier.
Let's take Activ8 as an example. Also referred to as team management software for retail, it has four key features specific to project management that allow you to not only plan your projects effectively but also to follow them through to completion.
Moreover, in doing so, it can help you to tackle any project with confidence.
1. Have the ability to create projects and capture all details
If you are in the process of creating a new project, you need a system that allows you to do so with ease. It needs to be simple. It needs to be straightforward. It needs to be foolproof.
Let's say you are busy rolling out planograms across your stores and you need to create a project for it. How are you going to set up your project? What do you need to set it up successfully?
First off, you need a functionality that allows you to capture all the project information. That includes a name for your project for easy reference, both during and once completion; selecting the relevant people who will be involved as well as a project manager; and deadline dates.
It helps if you can have a section where you can include any detailed notes for extra clarity. Since risks are part of any project, when planning it's critical you have a section that also allows you to acknowledge any potential dangers.
2. Be able to manage and guide current projects
Creating projects with all the necessary details lays the platform for a successful project. Of course, that is only one part of the whole. Another part focuses on the management of everything within these plans.
After all, it's all well and good creating a project. However, it counts for little if you don't manage every task and action to completion.
Imagine creating a project and then having no way of controlling the outcome or tracking progress. You're asking for trouble.
So what do you need?
Once you've created a project with tasks and set criteria and deadlines, it's critical you have a component that allows you to link tasks and milestones. Why? By linking relevant tasks, you have an opportunity to maintain control and ensure all work within the project progresses as planned.
Linking them also comes back to our previous point about transparency and accountability. Your project can't move forward if you don't complete a task.
3. Can save projects as templates to reuse
Let's say you've recently completed a project and it's been a resounding success. You can even pinpoint one of the reasons for its success - the project plan. And, you want to clone the process for future work.
If you want to reuse a project plan, you need a function that allows you to save it as a template. Once saved as a template, you can then take the framework and tweak it to fit the new project.
Let's use the above example again - you are busy rolling out planograms to all your stores. Also, it's not only for one category - it's for multiple. By saving the template used for a single planogram rollout project, you can ensure uniformity and compliance across all product categories.
That includes following the same process for each category and linking all the tasks and milestones.
4. Can hold and manage supplementary project data
The last, but certainly not least feature that you need for any successful project plan is a component that allows you to capture all the information. Here, we're not talking about notes for context or any acknowledgement of potential risks.
Instead, we're referring to the additional project data that can help you to push your plans ahead with little fuss or frustration.
For example, its critical you include information such as an overview of your project. What is the end goal? How do you plan on achieving it? Documentation such as scoping and closure templates can also help you here. Each assists you to monitor any project as you go, ensuring that everything remains on track until completion.
Also, you need to take note of the resources - human or equipment-related - to complete your project successfully as well as any expenses and budget.
Conclusion
Activ8 is team management software for retail with project management functionality. If you're interested in creating, managing and seeing successful projects through to completion, Activ8 is for you. Learn more by scheduling a demo with one of our sales consultants below.