ORGANISE, PLAN AND RUN WORK PROJECTS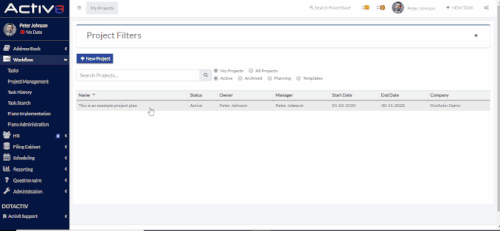 Designed to suit your business' team management needs, Activ8 has a built-in function that helps you to bridge any communication gap between your head office and stores to get planograms implemented accurately and efficiently, every time.

Sign up now to get free and unlimited access to Activ8 for the first four months. Your first 20 users are free ongoing.

CREATE NEW PROJECTS
Create projects and assign them to the relevant people within your team.

With this function, you can choose a project name, select a project manager and observers as well as a start and end date and the related company. You can also write out the purpose of the project to help better guide your team and include any possible risks associated with the task.

Add a scope and closure template if the project requires it.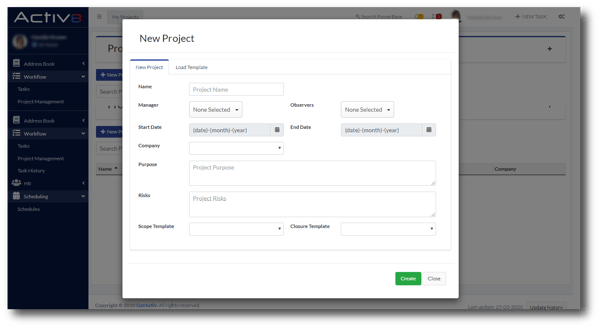 PLAN AND MANAGE ALL PROJECTS
No matter the size or scope of the project, plan all the work involved in an easy and straightforward manner.

Build your projects by creating tasks and giving them set criteria and deadlines. Assign these tasks individually and place them within milestones. Link relevant tasks to ensure the work progresses and you meet all goals by the end of the project.

By using Activ8 to plan and manage your projects, you can reduce the stress and chaos of project management.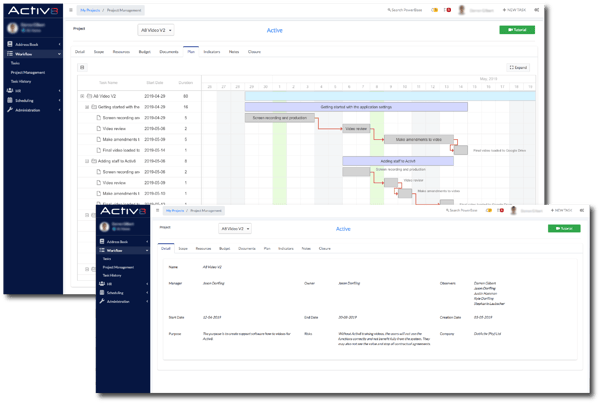 SAVE PROJECTS AS TEMPLATES
Save created projects as templates for future use.

If you want to reuse a project plan, save it as a template for when you need it.

When beginning your next project, load the template, tweak the details for relevance and you're good to go. It's ideal if you find yourself needing to create many similar projects at once or you're too busy and need structure.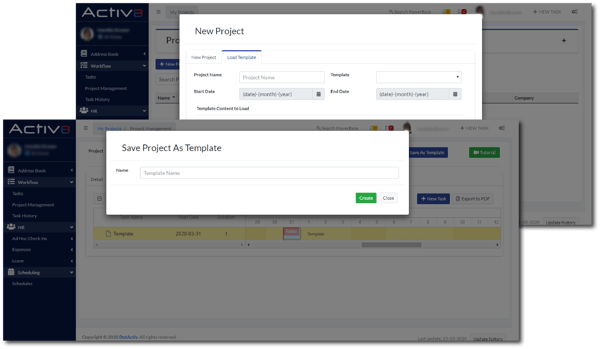 MANAGE ADDITIONAL PROJECT DATA
Capture and store all supporting information about ongoing projects.

With this feature, you can include an overview of the project itself, the resources needed - be that people or equipment-related - keep a record of expenses and budget as well as any necessary documentation and notes relevant to the overall project.

There are also scope and closure questionnaires that allow you to measure whether you've met the goals of the project.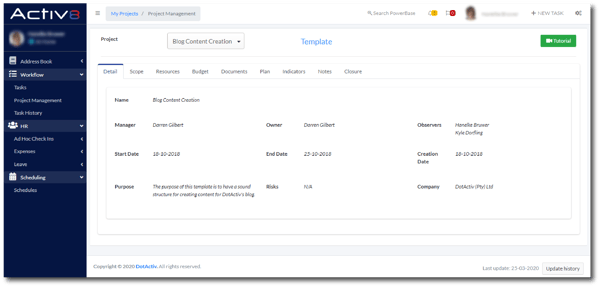 BOOK YOUR CUSTOM EXPLORATORY CONSULTATION
Looking for a team management software solution that enables you to maximise the work output of your mobile retail workforce? Software that allows you to create custom questionnaires and report on store compliance?

After booking your free online exploratory consultation, you can expect us to research and evaluate your unique context. We'll create a personalised agenda to match your business' interests, goals and context.

We'll reach out to you before your consultation to share your personalised agenda. You're welcome to request any changes or additional points.

We'll consult with our internal experts to curate and customise conversation points, content, and the presentation so that it's in line with your personalised agenda. Depending on the outcome of our consultation, we'll schedule a separate custom advisory consultation to share our proposed recommendations with you.