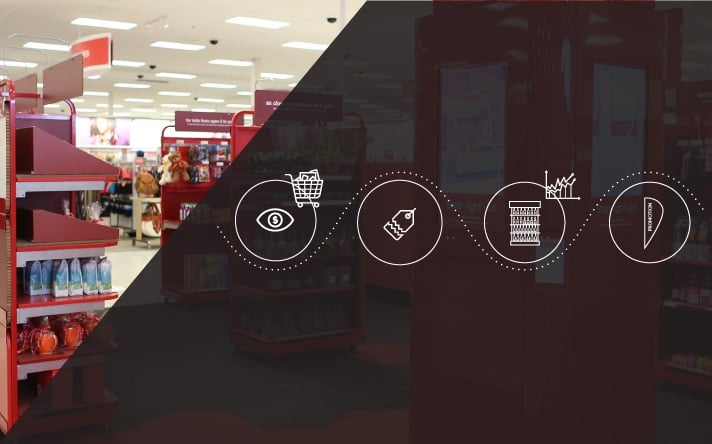 For the last 50 years, a lot of what we perceive about the world around us has been impacted by advertising, the media and merchandising. Of these three, merchandising, which is the way retailers and suppliers present products to customers, has had the most direct impact on sales.
Take kids for example, whose parents will move heaven and earth to get the latest and greatest toy on the market. This is a result of merchandising and media, which have allowed brands like Barbie and Lego to record billions in revenue. In this blog, we are going to discuss the case for how merchandising can unlock sales growth and explain its "bigger picture" role in space management.

In the broadest sense, "merchandising" is any practice which contributes to the sale of products to a retail customer. At a retail in-store level, "merchandising" refers to the display of products in a way that stimulates interest and entices customers to make a purchase. But why is it so important? Here are some reasons why it is vital to retailers and suppliers:
1. Traffic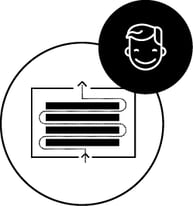 Attractive merchandising is key to driving visitors to your store, and the use of attractive signage and display is often the differentiator. Exterior merchandising gives customers a first impression of the store or allows customers to identify with the store and the brand, ultimately influencing a customer's decision to come in.
2. Sales
Effective merchandising has the most direct impact on sales. How a retailer displays their products, how they price them, what promotions they run all play a role in the customer's shopping experience. When a customer has a great shopping experience in a store, the chances that they will return for another great experience or purchase more will be far more likely.
For example, Sara goes to the grocery store to pick up coffee for the office. She usually grabs a regular instant coffee brand and proceeds to the register.
Alternatively, Sarah sees a shelf talker located just above the instant coffee which she usually purchases. The shelf talker shows a delicious cup of coffee in high definition. Sarah decides to treat her colleagues at the office and spend the extra money to get the premium brand of ground coffee. This is in-store merchandising at its best and had the shelf talker not been there, Sarah would not have not have bought the premium brand leading to lost profits.
3. Space Management
Space management is the allocation and control of in-store space, involving the planning of displays, fixtures, shelves and overall layout of the store. Merchandising and space management go hand in hand, with efficient space management creating a retail space which provides for attractive merchandising and a pleasant shopping experience for customers.
4. Builds Loyalty
Building customer loyalty starts with easy access to quality products, clean and well organised retail space but most importantly, continuity between stores. Ensuring that you have appealing product displays and localised assortments go even further to invite customers to return.
Types of Merchandise

To get higher returns, there are various types of merchandise (products) which retailers will need to display in a store to entice customers to purchase from them, and in return maximise store profits. The type of merchandise is based on what need is being fulfilled by the purchase, and will, therefore, affect the location of the product in the store as well as the format used to display the stock.
1. Convenience goods
Convenience goods are products which customers are already familiar with and expect to purchase without too much effort. They purchase the product without much thought or planning and stick to their favourite brand. If their choice of brand is not available, they will probably switch to the next available brand. Convenience goods can also be classified as staples such as milk and bread.
2. Impulse goods
Impulse goods are purchased on impulse. This means that customers buy them because they have seen them and want them. If impulse goods are not well displayed, they are often ignored. Impulse goods include magazines, sweets, or complementary products (e.g. rusks are an impulse purchase with tea). These products are often displayed at till and check out points to entice customers to add it to their basket quickly.
3. Shopping products
Shopping products are products which customers' compare before purchasing. Customers typically compare many alternative brands based on price, quality and content, etc. before making a final decision. Consider high-value items as an example - shoppers will usually get more informed before purchasing.
4. Speciality goods
Speciality goods are products which customers are prepared to search for, and will travel some distance if necessary. An available alternative offering is not acceptable. These products do not need to be conveniently located because customers will usually search for this product. Examples include hardware and equipment such as drills and BBQ grills.
Merchandising Techniques

Selling techniques are a crucial element of any retailer's success, but a copy and paste approach across all stores are not enough to compete in today's competitive retail market. Merchandising techniques give form to selling strategy, and depending on the objective of the brand, each approach should differ by category.
Selling strategies should not be the sole effort of retailers and should be in collaboration with suppliers who act as true experts when it comes to their brands and their categories. Working together, retailers and suppliers can serve and satisfy more customers, grow their categories and stand out from their competition.
Although there are various merchandising techniques one can use, we are going to focus on just four of these methods.
1. Vertical Merchandising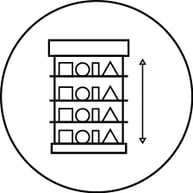 Vertical Merchandising is the method of presenting items in a vertical display. By placing popular products closer to the customer's line of sight, those products have higher visibility than items which have a much lower turnover. A vertical merchandising display allows customers to stay in one position, but it uses their eyes to follow the display of items, from top to bottom, in a vertical fashion.
Advantages:
Customers tend to focus on the products at eye level. By displaying merchandise vertically, customers will see more of inventory and more product options. It makes it easier for them to compare product offerings and prices.
Vertical Merchandising improves the appearance and organisation of the store.
Large product selections tend to look messy and overwhelming to customers. Presented consistently in vertical columns, a large selection will appear organised and easy to shop.
All brands receive equal visibility at eye level.
2. Horizontal Merchandising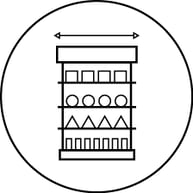 Horizontal merchandising places products for sale in a blocked horizontal manner. Customers read left to right scanning the length of an aisle not to bottom – so they would find it difficult to find what they are looking for.
Advantages:
This merchandising technique makes it easier to present more profitable items at or near the customer's eye level.
Customers read from left to right and top to bottom making it easier to find what they are looking for.
3. Cross merchandising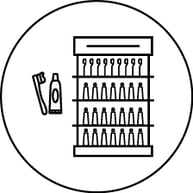 Cross-selling or cross-merchandising is when a retailer displays products that are used with each other, together. This helps increase sales as it appeals to the impulse buyers. Usually, the store is designed so that complementary products face each other in an aisle.
Advantages:
Makes shopping easier for customers - most want convenience and a one-stop shop.
It appeals to customer's desire to save time.
Increase basket sizes by offering convenient solutions.
4. Colour blocking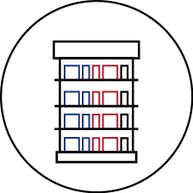 Colour blocking is when products of a similar colour are grouped together on the shelf (normally in a vertical manner – called colour ribboning). People associate colours with moods, sensations and even objects.
Advantages:
Using the colour of a product in a display can attract a customer's attention and even induce them to buy.
The customer will see more of the product selection at a glance.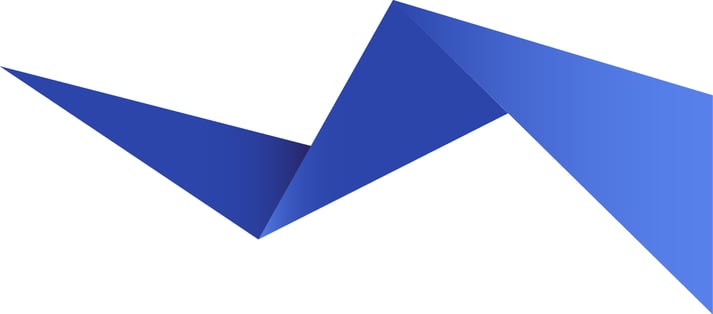 Today, planograms (diagrams or models which indicate the placement of retail products on shelves to maximise sales) are the pillar of space management. They provide details as to where a product should be placed on a shelf and how many facings that product should have. A planogram defines which product is placed in which area of a shelving unit and in what quantity.
Merchandising and planograms are like two peas in a pod, and when planned together they produce the best results because planograms help make selling strategies a reality in stores.
The primary focus of space planning is to have the right amount of space for each SKU on the shelf (based on sales data), arrange the products in a way that makes them appealing to the customer and minimise wasted space.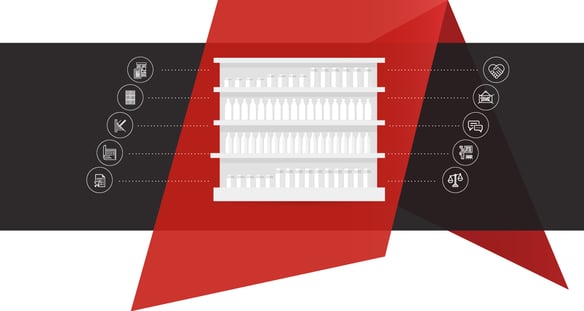 Here are a few reasons why a retailer would want to use a planogram:
Communicate how to set the merchandise.
Ensure sufficient inventory levels on the shelf or display.
Use the space efficiently whether floor, page or virtual.
Facilitate communication of retailer's brand identity.
Assist in the process of mapping a store.
Correctly influence order quantities.
Additional benefits of using a planogram include:
Satisfying customers with a better visual appeal.
Tighter inventory control and reduction of out of stocks.
Easier product replenishment for staff.
Better product positioning.
Effective communication tool for staff who are responsible for the displays.
Improved sales.
Improve selling the potential of every inch of retail space.
Produce gap analysis to understand lost opportunities.
Compare actual product distribution across multiple stores.
Product Placement and its Role in Merchandising
With planograms, retailers and suppliers can better execute on their merchandising strategies by planning and communicating through planograms. Planograms are ultimately about optimisation, and with product placement at the centre of their purpose, they have a critical role in your merchandising efforts.
1. Visual product placement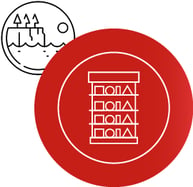 There are two main types of visual product placement:
Horizontal product placement: This places products for sale in a horizontal manner. While this type of display technique has the potential to present items at or near the customer's line of sight, it also forces the customer to move from side to side to follow the display.
Vertical product placement: This is the practice of displaying items in a vertical display. By placing popular products closer to the customer's line of sight, those products have higher visibility than items which have a much lower turnover. A vertical merchandising display allows customers to stay in one position but uses their eyes to follow the display of items, from top to bottom, in a vertical fashion.
2. Commercial product placement
There are two factors for deciding the commercial placement of different products.
Market share placement: Market share placement involves analysing sales data (internal and external) and allocating space accordingly.
Margin placement: Margin placement is influenced by the margin a product brings. The higher the profit margin of a product the better the product positioning will be.
Commercial product placement would never occur in isolation as aesthetics is vital for the customer.
Store Layout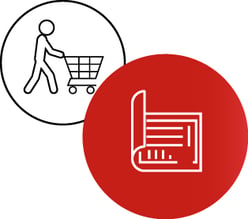 A store's layout and merchandising are two areas which must work together to drive sales. Store design and layout tell a customer what the store is all about and serve as a tool for communicating and creating the image of the store in the mind of the customers. The environment which is created in the store is a combination of the exterior look, the store interior, the atmosphere in the store and the events, promotions and general themes adopted in store.
The objective of store layouts is to maximise the efficiency of the movement of customers and merchandise. To achieve this, retailers need to focus on:
Providing floor space for both people and merchandise
Floor layout to facilitate customer movement
Grouping departments and categories in a logical order
Allocating floor space to departments and categories
Assign shelf space to products in departments and categories
Meeting the above allows retailers to guide customers around the store and entice increased purchases, create a balance between sales and shopping space, present merchandise efficiently and manage traffic flow and congestion.
Traffic Flow
Traffic flow, the movement of customers through a store, plays a critical role in the layout of a store. Psychologically, customers are impacted when a retailer makes their aisles small – implying a scarcity of space and subliminally encouraging customers to keep moving through the store in an orderly fashion. An efficient store layout will influence shoppers movement as well as impact their purchasing behaviour.

Conclusion
Ideas are good but putting them into action is great. Take advantage of a consultation with one of our experts to learn about how you can develop a competitive merchandising strategy and execute on it.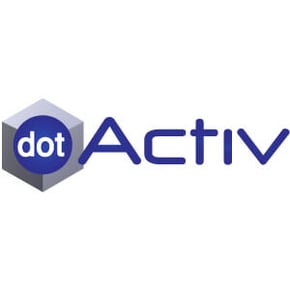 DotActiv Team
The DotActiv team comprises of multiple category management experts, all lending their years of retail experience and knowledge to create well-researched and in-depth articles that inform readers of DotActiv's retail blog.