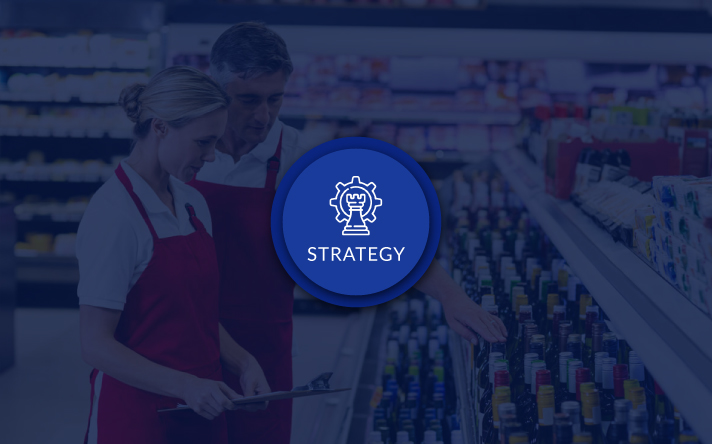 Merchandising strategies* continue to play a crucial role in your retail success. From increasing traffic towards more profitable categories to generating excitement by creating a buzz around a new brand or fresh product line, these strategies are valuable tools that deliver results. More importantly, such strategies allow you to stay relevant in an already competitive industry.
That's said, it's also worth considering the impact that COVID-19 has had on the world and retail.
During the height of the pandemic, demand for specific products shot through the roof - for example, there was a 167% increase in demand for top-half apparel categories compared to the same period the year before. This example is just one of many that show the shift in demand and consumer behaviour.
All that points to this simple fact:
Smart merchandising strategies require collaboration and an understanding amongst all stakeholders.
Sharing critical information (think: Point-of-Sale data, existing category clustering strategies and assortments per store cluster) with your suppliers allows you to tap into their extensive knowledge and expertise. It also allows you to lay the groundwork for an effective merchandising strategy.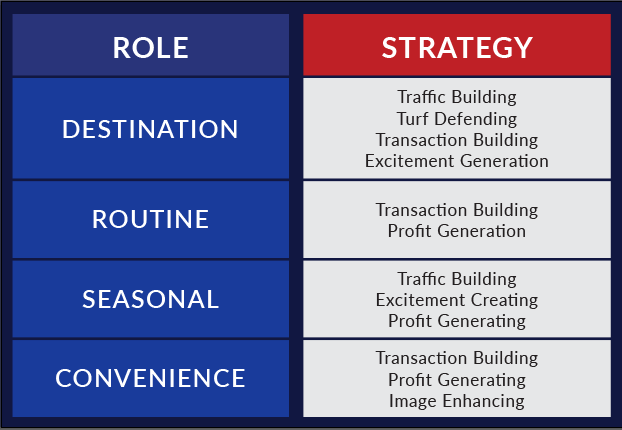 Merchandising strategies that to help you increase category sales
Strategies are intended to boost your retail performance. But how exactly do these plans and actions achieve this? Well, put simply, merchandising strategies should aim to:
Enhance the strengths of a category;
Focus on combating the biggest threats to a category; and
Create lucrative opportunities for the segments across your stores.


With these powerful benefits in mind, we take a look at six types of category and merchandising strategies that can help you to increase your sales.
1. Traffic Building

- to get more people into your store while directing them to those all-important categories
The traffic building strategy aims to draw your customers' attention into the store, then to the aisle, and, ultimately, into a category. Typically, you'd use this strategy for products that are price sensitive, are frequently purchased and have a high degree of household penetration.
Example: A way to increase your store traffic is to place your high loyalty items in "hot spots". These areas are likely to be more visible and accessible, and as a result, are effective at pulling consumers through your store.
Traffic building products or categories are usually best displayed at eye level, which is deemed a prime position because it generates the most sales.
2. Transaction Building / Cash Generating

- to increase the average spend

within the category
This strategy focuses on increasing the size of the average category transaction, by encouraging your consumers to purchase complementary products.
Example: if a consumer intends on buying paint, they might also need to buy supplementary items such as brushes, rollers, thinners, sandpaper, overalls, masking tape or black bags to complete the job.
Transaction building strategies also include the display of items to encourage impulse purchases and using promotions to encourage up-trading. A great example here - 3 for the price of 2 offers.
3. Profit Generating

- to boost cash flow and category percentage margins
When identifying your profit-generating categories, you need to consider three factors:
Higher selling prices
Higher gross profit % (margins) and
High margin and stock-turn categories.


Want more practical examples of each of these merchandising strategies and how to implement them in-store? Download our free ebook
You'll find that accessories that compliment a product generally fall into profit-generating categories. You can increase your consumer's exposure to higher-margin items by merchandising these categories in high traffic areas. This simple action can make a big difference in your overall merchandising efforts.
You can also create great in-store experiences and provide amazing customer service around these items, a point made by Francesca Nicasio of cloud-based point-of-sale and retail management software company, Vend. She quotes Trader Joe's founder, Joe Coulombe on driving sales, putting forward the idea that you don't want to tell customers to buy. Instead, you want to encourage them to do so.
4. Turf Defending
- to hold onto what's yours. Become the unbeatable option, defend your market share and own those sales
A turf defending category represents a product grouping you could bring into your business to maintain and protect your market share against a known competitor.
Turf defending strategies usually consist of aggressive pricing and promotion strategies. These categories should receive the best position in-store, and you should merchandise them accordingly.
The proper use of a turf defending strategy can assist in creating a positive overall price image. But beware! You must apply a turf protection strategy carefully because there is a high margin investment at stake.
5. Excitement Generating
- to get people talking about you by meeting their needs and through innovation
You can use this strategy to create excitement for a particular category by communicating a sense of urgency or opportunity to the consumer. Beyond creating an aura of 'exclusivity' around the category, you can take control of how people think by getting creative with your efforts.
Excitement generating strategies focus on offering fashionable and innovative products or promotions.
Seasonal items, latest arrivals, special items, limited editions, rapidly growing segments, and items that encourage impulse purchases all fall into this category.
6. Image Enhancing

- to write your own story and tailor the desired image of the category
You would use image enhancing strategies to improve your image in any of the following areas:
Quality;
Variety;
Price;
Service;
Delivery; and
The brands you have available.
It may include anything from exclusive product offerings, meal solution suggestions, the variety of your product assortments, or competitive pricing.
Conclusion
Implementing merchandising strategies in your retail business allows you to take full advantage of the strengths of each of your categories. That's because of the strategies you choose to deliver on your chosen category role.
When choosing an approach, you must consider the overall objectives of a brand, the goals of the category itself and even the type of retailer that you are.
Do you want to increase your foot traffic?
Do you want to invite new customers to try your product?
Do you want to develop loyal customers?
A good merchandising strategy application will go a long way in helping you to not just answer these questions, but also empower you to extract the results you're aiming for.
And remember: It's crucial to collaborate with all stakeholders so that everyone is aware of what you want to achieve and how you plan on achieving it.
Better yet, adding expert stakeholders - like DotActiv's team of category management experts - to your merchandising efforts will help to optimise your retail strategy, boosting performance, saving money and transforming your retail potential.
Are you looking to choose the merchandising strategies that'll help you to increase your sales while pleasing your customers? Talk to us. You can book a custom consultation with a DotActiv expert here or visit our online store here to browse through our various category management software and services options.

*This article was updated on 31 March 2022.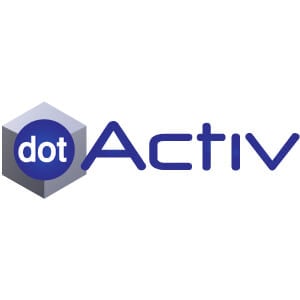 DotActiv Team
The DotActiv team comprises category management experts lending their retail experience and knowledge to create well-researched and in-depth articles.