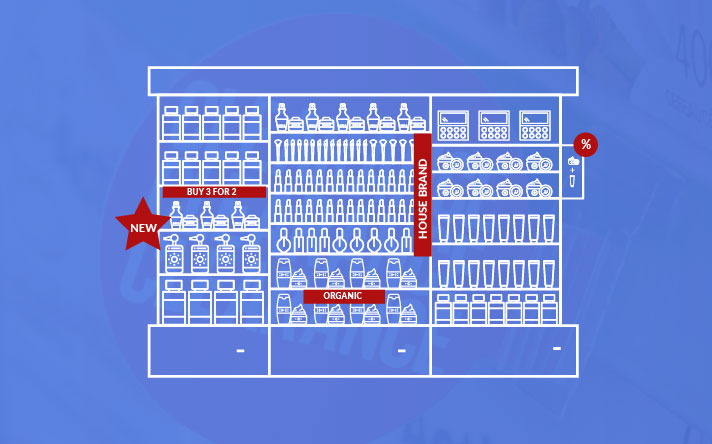 While shelf talkers are small in comparison to everything else in your store, they are by no means insignificant. In fact, they're more powerful than you think. That is because besides driving more customers to your shelves, they can also influence purchasing decisions. Not bad for a retail fixture that can be easily overlooked.
But there is more to your shelf talkers than simply introducing new products, raising brand awareness or advertising seasonal products. Often referred to as 'silent salespeople, your shelf talkers can also play a crucial role in your category management strategy.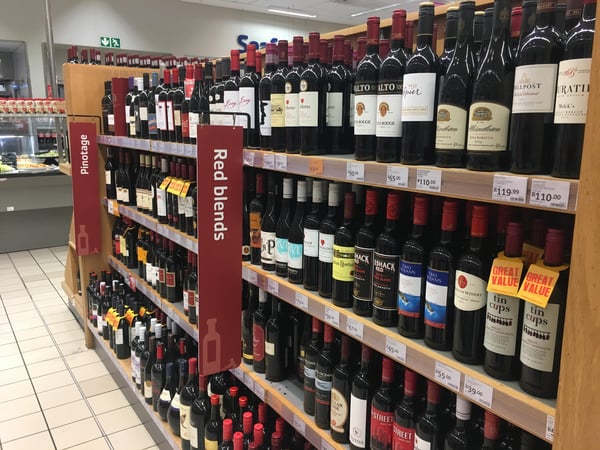 Knowing that I don't have to worry about searching for a product because it's clearly marked out means that I can walk straight to the shelf where it is and put it in my basket without fuss. Compare that to a store that you enter and you can't find what you're looking for.
They can help your customers navigate through your categories
Considering the amount of time and effort it takes to plan your category flows in-store, the last thing you'd want to do as a retailer is to not take full advantage of it. In fact, you could be wasting your time if you didn't.
Fortunately, your shelf talkers can play a significant role here, as you can use them to help to navigate your shoppers through the sub categories, segments, and sub segments of the various categories within your store.
Let's take your average wine shop as an example.
Upon walking in, a customer might have an idea of what they want to purchase. It could be a cold winter's day, so they're looking for a red wine. Not just any red wine, though. They want a Cabernet Sauvignon as it's their favourite. But in a sea of wine bottles, which are all very similar in colour, it can be difficult to find the right one.
With a shelf talker or label in place, though, your customers can easily navigate between the different wine sub categories, be that by location, brand, or grape variety depending on how you've classified your products. If you label your wine category according to a region, for example, with the help of proper labelling, your customers will know where to find it on the shelf without much fuss.
That makes it an easier, more pleasant shopping experience for them, which can turn them into repeat customers.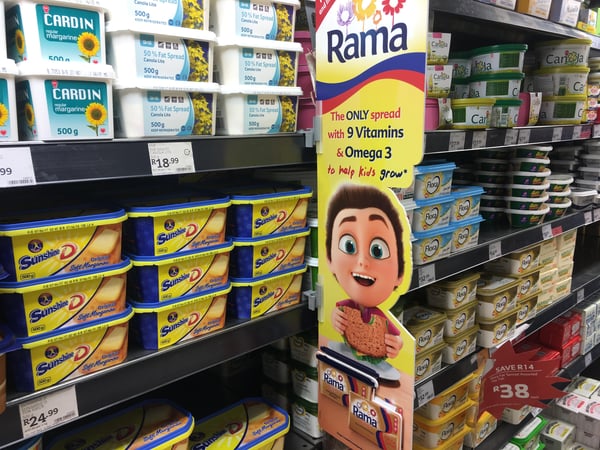 When walking into a store, I'm looking for products that will help me to live a healthy life. If I went into a store and see either of these shelf talkers (immediately above and below), I'd feel rest assured that I'm buying products that are healthy. Also, I'll see this as a reason for going back as the store itself is looking out for me. It's a classic example of customer-first thinking.
They can help add value to your customer's purchase journey
While shelf talkers can play a purely promotional role in your retail store - here you can think about those buy 2 get 1 free shelf talkers that in just about every store - if you want to make full use of them, you need to see them as more than just a selling tool.
A shelf talker can be just as effective when used to educate and inform your customers. Since the biggest change in category management over the years has been to place more emphasis on your customers and what they want, that should make sense.
Here's an example. A customer enters your store. While walking down the food aisle in search of their regular cereal brand, they stop themselves because a shelf talker is extolling the nutritional value of a similar product but different brand. Curious, they might even try it out.
While such a shelf talker is promotional (and always will be), it educates first. As a result, you're giving your customer a choice to make an informed decision, which adds value to their overall purchase journey.
A recently ended promotion in Dubai is the perfect real-world example here. Ahead of the launch of new nutrition guidelines that will ban school canteens from selling junk food in that country, many hypermarkets took part in a contest to promote healthy eating for children.
One supermarket, Choithrams, introduced shelf talkers and roll-ups in eight of its 21 branches in Dubai as part of the promotion, which also saw giveaways of healthy food items.
Again, while it's certainly promotional, it also goes far beyond that function of pure selling, taking on the role of educating.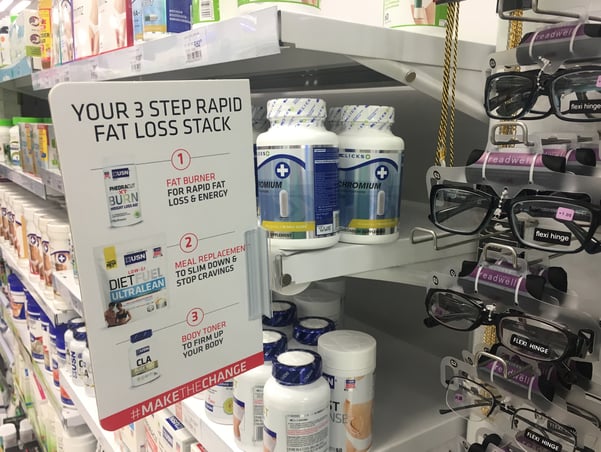 If you're looking to lose weight and walk into a store to find a product to help, you'll likely be met with array of different ones and not know which one to pick and why. And it can be daunting. But what if you walk into a store and see either of these images (immediately above and below)? Straight away, that feeling of anxiety is replaced by relief as all the information you need is right there in front of you.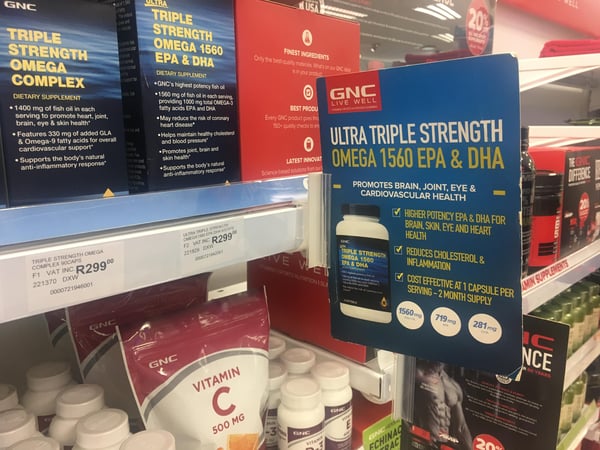 They can have an impact on, and even improve customer experience
Besides the dual role of promoting products and educating customers, there is another less obvious function that a shelf talker can play: it can have an enormous impact on the customer experience.
In this case, it's not your traditional shelf talker though. Rather it's via a beacon platform, defined as "micro-location technology that lets customers interact with products on store shelves from their smartphones and other smart devices".
GameStop, an American video game, consumer electronics, and wireless service retailer, has even market tested the technology. As GameStop's then CIO, Jeff Donaldson, said to the National Retail Federation, the point was to provide their customers with a new and innovative way to navigate their store.
Bluetooth-enabled sensors are placed throughout a store, and upon entering, customers can, through an app, access digital content by waving their phones in front of beacons that are placed on the shelf.
Partly educational, it provides an interactive element, which allows for a new and improved form of customer engagement. Where it does deviate from your traditional shelf talker is that your customers are in complete control of what information they receive so they can switch off whenever they've had enough.
While the above example is centered around a technology-focused retailer, a beacon platform, also known as iBeacon, can easily be used in a food or clothing store. If you're a pharmacy retailer, you can also make use of it so long as it makes sense to your overall strategy.
Another non-traditional opportunity is to include QR coded POS shelf talkers next to the price label on your shelf or even on the packing of your products.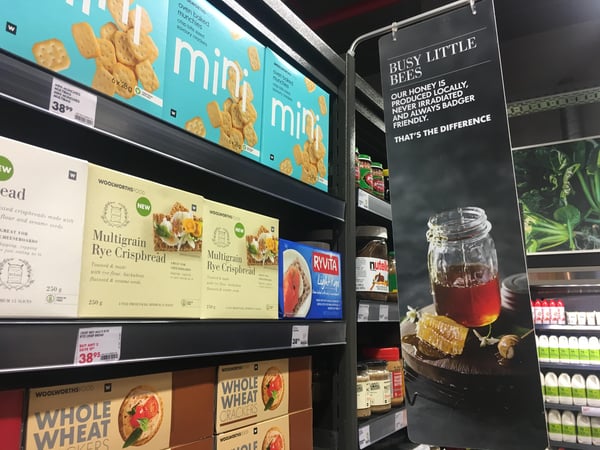 When choosing a product, its good to know that my choice can make a difference. Not only for myself and my pocket, but also for the environment. Walking into this store and reading this shelf talker puts my conscience at ease.
Conclusion
A shelf talker is an incredibly powerful tool. When used correctly, they can play a significant role in the success of your category management strategy. For that to happen, though, you do need to see them as more than just a tool to sell more product. After all, we live in a world where your customer comes first.
Shelf talkers are not the only way to please your customers. Download our FREE Shopper ebook and learn about tactics that put your customers first.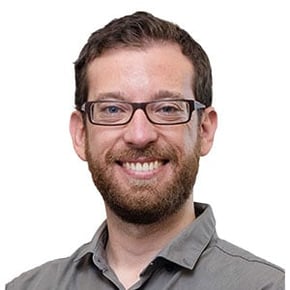 Darren Gilbert
With over 10 years of writing and marketing experience, Darren joined DotActiv in 2017 as a content writer where he was responsible for producing blogs, Ebooks and more. He has since worked himself up to the role of content manager, where he oversees all and any content produced by the company. He has a Bachelor of Arts in International Studies from the University of Stellenbosch.