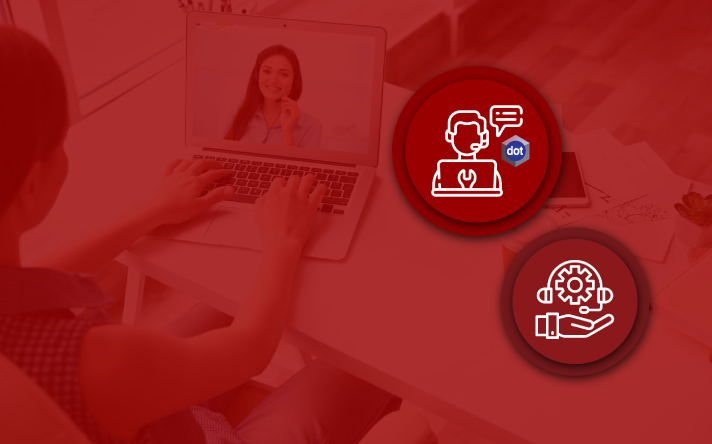 It is a fact: if you want to be competitive in today's retail industry, you can't do it alone. No, we're not talking about that constant need to rely on your data or your suppliers. Both are a given. Instead, we're talking about the need to invest in specialist software. And with that investment comes the need for expert technical support.
You could view this type of support as a branch of customer service. Here's a statistic from Khoros, a global customer engagement software company and quoted by HelpScout to back it up:
"For 86% [of businesses], good customer service turns one-time clients into long-term brand champions."
Considering that statistic alone, it would be nonsensical for a company such as DotActiv to not pay close attention to how it offers technical support. Fortunately, we have a strong team that delivers exceptional support to all our customers.
What is technical support?
Before we can get to a day in the life of DotActiv's technical support team, it's worth looking at what we actually mean by technical support. What is it exactly? What purpose does it serve? Who works in 'tech support'?
If you'd rather skip to what the average life of someone in DotActiv's technical support team looks like, click here to navigate to that section.
Above, we mentioned the technical support function's close ties to customer service. That is true - both influence the other - and you might even find some arguing that customer service or client support and technical support are the same. But they are not. Customer support focuses on the customer experience while technical support takes care of something else altogether.
Technical support is a service provided by companies selling either physical products or software. It provides registered users with help and advice about the company's products.
In the context of a company such as DotActiv, that 'help' encompasses a wide variety of tasks from hands-on work with clients and assisting them with our software to back-end work where we test software or manage servers. More about that in the next section. But we could sum our technical support up as a single hyphenated word:
Problem-solving.
That's it in a nutshell. Technical support is about solving client problems. It's also why it's so critical, both from DotActiv's perspective and our customers.
Want to help DotActiv's technical support team provide world-class support to clients across the world? Apply here!
From your perspective as a client, our technical support team is your first point of contact when you log a ticket from the software. That means we need to provide a fast and efficient solution, which we do consistently. Of course, this is also a mutual relationship. It's a two-way street.
To provide quality service and technical assistance, a support team needs to work hand-in-hand with customers.
American computer magazine, PCMag points out that including all the necessary details is critical to success.
"The most important thing to understand about getting help from tech support people is the amount of detail you need to supply them. This is a very precise business: a single, misplaced comma in a router's table once caused thousands of Internet customers to be down for days."
When you combine the technical knowledge and skill set of a well-rounded support team such as DotActiv's with a client who provides all the necessary details, the result is an easy, smooth process for everyone. It's a win-win.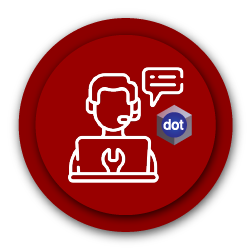 What does an average day in DotActiv's technical support team look like?
Working at DotActiv, and particularly in the Technical Support team is all about routine. In reality, it needs to be so because deviating from a tried and tested process can lead to confusion and potential issues.
So what does the average day in DotActiv's technical support team look like?
It begins with a look at still open tasks or recently logged support tickets and replying to any urgent emails. Doing so ensures we're aware of what to prioritise for the coming day.
Then there is an 8 am catchup with DotActiv's IT team - our software developers included - to chat through work and responsibilities for the day.
During the catchup meeting, the support team will raise any points about potential bugs so that everyone can chat about how to approach a fix.
In that sense, you'll notice that the success of DotActiv's IT team comes down to collaboration. It's a point of pride that we love to show off, and you could make the same assumptions about any department across DotActiv and you'd be right 100% of the time.
Once that's complete, our Technical Support team holds a separate meeting with their line manager.
During this second meeting, time is spent going into detail about any open tasks or support tickets. The team will also explain, and debate if necessary, what steps they'll take to resolve any issues. In this meeting, the support team will also provide any information on the progress of any database integrations for clients.
With those meetings out the way, it's a case of assisting customers (and DotActiv colleagues) with inquiries and solutions to their IT problems. Again, it might appear routine-based and it is. However, you'd be surprised by the interesting and challenging support inquiries that our team receives. That, in itself, makes the role a challenging but also an endlessly fascinating one.
Let's break down a few of the day-to-day responsibilities. As someone who works in this team, you could expect to complete or work on each of the below:
Resolve and provide support to any tickets logged through the DotActiv software;
Resolve and provide support to any tasks created on Activ8 from internal and external users;
Complete data integration projects, which include creating the database, stored procedures, importing data, installing and setting up the Import Utilities;
Monitor and perform manual data imports, if necessary, for certain databases and clients; and
Test new updates for Activ8 and DotActiv software.
So what does any of the above responsibilities look like on a practical level?
It comes back to what PCMag said - it begins with getting all the relevant information and then attempting to resolve any issues over email or within the task itself. If our team is unable to resolve the problem that way, they'll escalate the issue.
Escalating the issue, for example, means setting up a meeting or a remote session with the client to find a solution directly.
Our Technical Support team uses Virtual Private Networks (VPNs) and Remote Desktop Platforms (RDPs) for that. By connecting to a VPN and then to an RDP, we can remote onto your computer to perform necessary checks on the SQL database that DotActiv's software relies on. We do, of course, inform you of what we are and will do to assist you.
You will also be present in the session. That means we can chat with you as we work and ensure that we find a solution as quickly as possible, thereby providing you with the type of support that you deserve.
Conclusion
DotActiv's Technical Support team provides a critical function that can mean the difference between a client who is empowered or one that is dissatisfied. We always strive to provide assistance so that our clients are confident when they use our software.
You only need to return to what this team is all about: solving problems and providing solutions for you, our cherished clients. And we're really very good at doing it.
Are you interested in being part of a team that prides itself on providing the kind of support, technical or otherwise, that you'd only expect from a global leader in category management? Read all about DotActiv here and once you're done, apply here.
About the contributors
Charlotte Barker joined DotActiv's technical support team in late 2021 as a support developer. In her role, she works hand-in-hand with DotActiv customers to offer quality support and assistance. She has various Microsoft qualifications in Python, Javascript and HTML as well as a QCTO FET certificate, all from CTU Stellenbosch. She also plans on studying further through UNISA.
De Wet Müller joined DotActiv's technical support team in 2022 where he's focused on offering invaluable support to all of our clients across the world. He has various diplomas, including in MCSD, MCSE: BI, MCSA and CISCO CCNA, all from CTU Potchefstroom.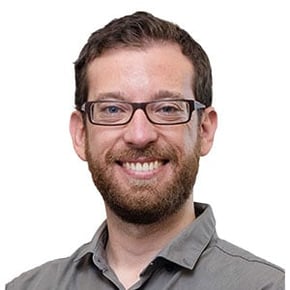 Darren Gilbert
With over 10 years of writing and marketing experience, Darren joined DotActiv in 2017 as a content writer where he was responsible for producing blogs, Ebooks and more. He has since worked himself up to the role of content manager, where he oversees all and any content produced by the company. He has a Bachelor of Arts in International Studies from the University of Stellenbosch.