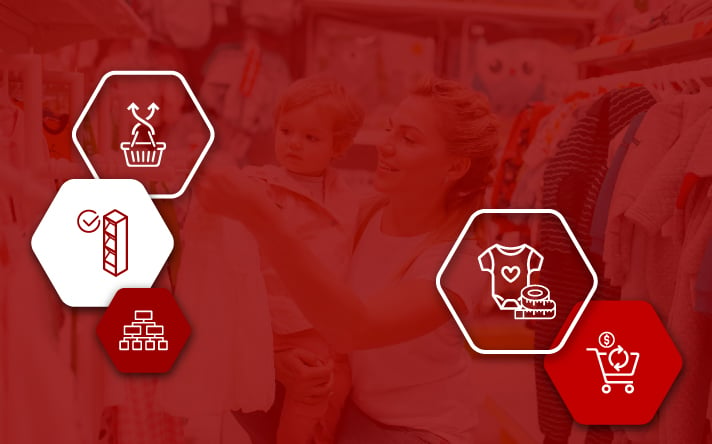 Baby clothing and children's apparel is one of the fastest-growing categories in recent times and one that you can find in more retail stores each year. You only need to consider the research. Global market research company, Fortune Business Insights projects the global apparel market size to reach USD 82.54-billion by 2027.
Knowing this, it makes sense to consider stocking such a category. Of course, it needs to make sense to your overall business and it's critical to approach it in the right way.
Incorporating these categories into your store or focusing solely on children's clothing can be a very creative and fruitful experience if you execute it correctly. That can come with the help of correct category management software and merchandising principles.
But what merchandising principles must you know? How can you best merchandise children's apparel in your store? More importantly, how can you implement this category successfully?
About the Contributors
Corli Pretorius joined DotActiv in 2020 as a retail space planner on the Dis-Chem account. She studied BsC Consumer Science with Business Management at the North-West University.
Nadia Cloete joined DotActiv in 2017 as a shelf planner, creating data-driven planograms for Makro, a wholesaler chain and subsidiary of Massmart that has international ties to Walmart. She currently works on the Makro General Merchandise account.
Merida Kritzinger joined the Sales and Marketing team in late 2019. She studied BConsumer Science: Clothing Retail Management at the University of Pretoria, completing her thesis on Consumer Perception of Corporate Social Responsibility. She is currently the Sales & Marketing Manager, working and servicing multiple accounts from across the globe.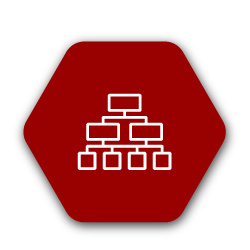 You must determine your consumer decision tree
Determining a Consumer Decision Tree (CDT) depends on how you, as a retailer, merchandise for your target market. It is also dependent on the nature of your business. If you are merchandising children's apparel, you would first need to understand where the category fits in your business. It would also be worth understanding how it would fit on your floor plan.
Also, is it your main category? Or is it an add-on category that your customers would only shop on impulse?
One best practice to use for merchandising baby and children's clothing is to determine how your target customer shops in this category.
Firstly, determine the category, which is Children's Apparel in this case. Next, you should determine your sub-categories. Two sub-categories could be Clothing and Accessories.
From there, you can divide it into the relevant segments.
For example, you could divide your sub-category - Clothing - into segments of T-shirts, Pants, Onesies, and Sets. For your Accessories sub-category, you could divide it into segments of Shoes, Socks, Hats, and Mittens. You could break the consumer decision tree down even further by using sub-segments or adding in segmentations, depending on the merchandising principles you use throughout your store. Doing so allows you to stay consistent.
If you are a retailer that stocks different brands, merchandising by brand as a sub-category might be an option.
A factor to keep in mind when setting up your CDT for children's clothing is seasonality. You would need to change your CDT often if your items are season specific. Typical examples include Back to School, Valentine's Day, Easter, Halloween and Christmas.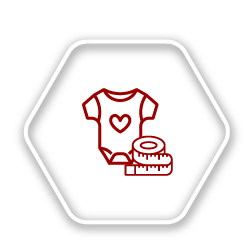 You must determine the size ranges of the clothing
If you are a retailer who stocks different clothing brands for children or babies, it is critical to determine the size ranges before buying a specified amount.
Why? Because children's clothing is usually sized according to their age range.
For example, you'd get 0-3 months and 4-5 years. At these ages, children grow quickly and they require new clothing every few months, which will influence what you stock. As a clothing retailer, you'd need to stay in control of your inventory and plan forward.
Of course, as pointed out by Jenn Bonnett, a fashion stylist who works with children, it's difficult. She's quoted on Care.com, saying, "It's impossible to give hard and fast rules when it comes to baby clothes sizes, especially since brands all size and label things a little differently."
Also, there is the argument of standard children clothing sizes. Depending on which country you are in, it can be different. The joint European standard for size labelling of clothes (formally known as EN 13402) has partially adopted and standardised sizing based on body dimensions.
After determining your CDT and size ranges, you would need to merchandise the products. For such items, it's best to place them behind each other, from smallest to largest, and to the back of the rail for optimal visual consistency. Doing so also ensures that your smaller sizes are visible and not lost behind the larger clothing sizes.
You can achieve this in DotActiv software by using our "Pack Manual" function.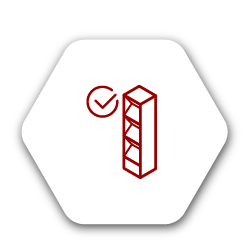 You must use the correct fixtures
The most appropriate fixtures to use on your gondola for children's clothing are single or double hanging bars or a pegboard with pegs for smaller items, like accessories. This is because children's clothing is mostly merchandised on hangers.
And there is a good reason for it. They are the type of fixtures that present these products best.
You can merchandise your staple items like pants, t-shirts or accessories on shelves below the hanging bars. Meanwhile, you can use your bottom or top shelving as storage space for excess inventory if your store doesn't have enough storage space to keep full-size ranges.
Keep in mind that if you do this, your shelves must remain neat and presentable at all times - there isn't much worse for shoppers than finding a shelf or aisle that is messy and unshoppable.
If your retail space and store size allows it, you can also use tables or stands to merchandise those items that you can fold.
There is also the visual aspect to consider. A mix of fixtures will draw the customers attention, for example, using hanging bars on the top to showcase the full print on the item and the design of the item, with a few popular sizes behind the item.
Below the hanging bars, you can add in shelves for extra stock or different colour variations.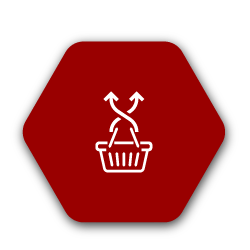 You must know the complimentary items for cross-merchandising
Clothing, and especially children's clothing, gives you the perfect opportunity to cross merchandise and increase the shopper's basket size.
By adding small accessories or shoes next to or close to an accompanying item, you can create the image of the "full outfit" in the shopper's mind. This works well if you have a mannequin set up in a section of the store and place the fixtures containing the clothes nearby. Doing so can entice your shoppers to add more items to their basket - they can visually understand how a product would look when paired with another item.
For example, they might have come into your store to buy a pair of baby shoes. Because of that visual aspect to your merchandising display, they could end up buying matching jeans or a t-shirt to complete the outfit.
When merchandising any category catering to children, it's also critical to keep the visual aspects of your display interesting and colourful to draw children's attention to the gondola. When shoppers are entering the store with their children, you want the products to appeal to their children as much as you want them to appeal to their parents.
It is, therefore, beneficial to also add small toys, backpacks or stationary of the same colourway or theme in proximity to the clothing as this will most likely also increase the basket size of the shopper.
Seasonality also plays a role when cross-merchandising. You could, for example, add towels, flip flops, swimming pool toys and goggles close to the Children's Swimwear or adding blankets close to the Children's Sleepwear category.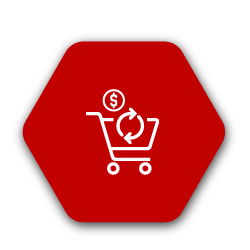 You must familiarise yourself with the correct buying cycles
If you want to see success when merchandising children's apparel, you must communicate often with your buying department, space planners and your in-store merchandising team.
Due to fast fashion and children's clothing being very seasonal, you would need to update your planograms for every season and as soon as certain sections sell out. At the end of the season, you could allocate a section of the gondola to a sale section for random sizes and items leftover that are outdated.
You could even advertise it as a "last of the best" section to further entice shoppers to buy.
Buying cycles can also influence merchandising. As soon as shipments enter the warehouse, most retailers want the products in-store as soon as possible. This becomes a problem for space planners who need images and dimensions to create a planogram for in-store implementation.
Obtaining the required information from the supplier before shipment is ideal. However, in many cases, it does not materialise or is not possible. It is, therefore, beneficial to have an agreement between your retail buyers and warehouse staff to get the information as soon as it arrives.
It allows you to avoid any unnecessary delays and clears your schedule for those arrival times. It also ensures you have enough time and resources allocated to producing an effective planogram for implementation.
Conclusion
Merchandising children's apparel is a creative process that can be very beneficial to your business if executed correctly.
Looking for advice or need a category management solution that can help your business? Visit our online store here for more information or book a custom exploratory consultation.