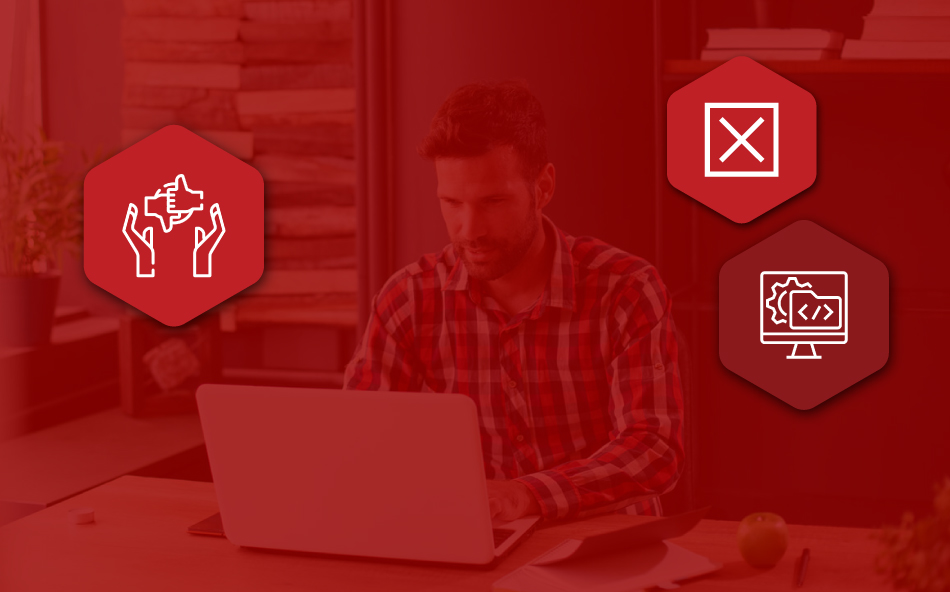 Are you interested in maximising your store performance and improving the shopping experience for your customers? Then data-driven planograms* are well worth investigating. Aimed at maximising the selling potential of your entire store, you build them to make it easier for your customers to find what they want. What is not to love?
That leads to a question critical question that any retailer or supplier should ask: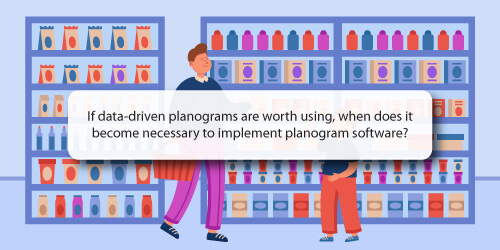 If you're looking for an answer to that question, keep reading. Because besides the need to know when to use planogram software, we're also unpacking a few common misconceptions and likely consequences of not using specialist software to build planograms.
When should you implement planogram software?
Considering the positive impact a planogram software solution can have on your retail business, the argument for whether you should use it or not should be brief.
As for when your store should begin using it, that argument can be a far longer one. It's because there are many opinions.
However, let's make it easy:
We recommend you implement planogram software from the beginning. And if you can't commit to planograms from the start? Then as soon as possible.
We're not recommending that only because we provide planogram software and services. At DotActiv, we provide category management solutions, yes. However, we ensure that any solution we recommend meets your goals and objectives.
Let's consider Retailer A and Retailer B to explain: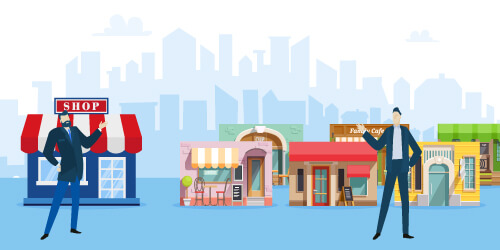 Retailer A: They are about to open their first store. They've heard about planogram software and want to use it from the beginning.
If you're Retailer A, you'd require minimal change management and low upfront investment to get started. Add to that the practical and financial benefits of investing in planogram software. As you grow, you can scale your efforts when rolling out planograms, ensuring implementations and monitoring compliance.
Retailer B: They recently opened their tenth store. Until now, they have opened all their stores without using planogram software. However, they've decided it's time to invest.
As Retailer B, you'd require more change management and higher upfront investment. You would also have to pay catch-up in every other aspect of your business. If not planned correctly, it could even be chaotic.
We will admit there are nuances to each approach - neither is one hundred per cent foolproof. In this case, it would be easier if you were Retailer A since you'd be far more competitive and efficient as you grow your brand. You also avoid any chaos that can sometimes be associated with change management.
What are the misconceptions about planogram software?
There are a few misconceptions around planogram software, all of which are uncalled for and damage the good that such software can offer your retail business.
1. It's too expensive or an unnecessary expense
When discussing planogram software, a common misconception is that it's too expensive. It's easy to figure out why. In the past, you might have viewed software as such. Large space planning suppliers, for example, provide solutions that can make it appear as if planogram software as a whole is too expensive. That is far from the truth.
Looking for a category management solution that fits your specific needs and budget? Book a complimentary consultation with a DotActiv expert and we'll match you with the best solution.
Let's take DotActiv as an example here. We offer three paid software editions - Lite, Pro and Enterprise. Each edition enables the creation of performance-enhancing data-driven planograms. If you're a small retailer, a far better solution would be Lite, since it gives you everything you need to perform optimally at an affordable price.
If you view planogram software as an unnecessary expense, you're most likely looking at it as a short-term solution. It's not that. Instead, it's all about the positive long-term effects it can have on your business.
Let's look at Retailer A again. Once they reach ten stores, they'll be more competitive than Retailer B was when they had opened that many stores. That's because they've laid the groundwork and thanks to software, which factors in their retail data, they know what products to stock to maximise their retail space. The next step is to ensure correct implementation.
2. It takes too long to implement and doesn't provide results
Besides hearing that planogram software is too expensive, you might hear (or read) the argument that it takes too long to implement. Again, this isn't true. However, we do need to put it into context.
If you have 100 stores, it will take a long time to implement planograms. But that isn't the software's fault – anything that you implement or introduce for 100 or even 500 stores will take a long time.
Added to this is the point that implementation is vital if you want to see positive results. More about that in another point further down.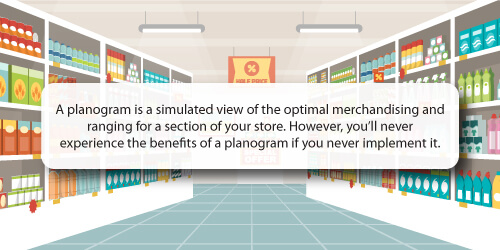 Another reason why you might hear this argument is because there is the fear that it takes too long to train your staff to use the software. Again, it's a misconception.
For example, DotActiv Lite can take as little as two days to set up. We also have the DotActiv PowerBase and DotActiv Academy and a dedicated training department to help with any queries about using the software.
Also, you wouldn't need to employ a full-time space planner to create and maintain planograms for your stores. Instead, you can identify one of your existing staff who has a capacity to grow and they can do it on a part-time basis. 2 or 3 hours a day is more than enough.
As you grow, you can then dedicate more time to it. Alternatively, if you have the budget, you can outsource it to a category management solution provider or ask one of your suppliers for assistance.
3. The data can't be trusted
If you want to understand something in your retail business, the best place to start looking is your retail data. Numbers don't lie. Instead, they provide you with an in-depth understanding of what does or doesn't work.
For example, by looking at your POS data, you can understand what your customers buy each month or during specific periods of the year. That can include all purchases over a month or individual purchases.
Now apply this collected data to your planograms. In the case of DotActiv, regardless of if you have an integrated database or note, we only use the data provided by our clients. We then take that data and interpret it before presenting it visually. We do not add, subtract or manipulate any data to our benefit.
We also don't share data and adhere to strict policies. That includes limited access to servers, regular password changes, updates, security checks and more.
It's also worth pointing out that there is no benefit for anyone. Imagine manipulating data to tell you what you want it to say. How are you expected to offer the right products to your customers (and maximise your sales) if your data is telling you one thing but you're doing the opposite?
4. Planograms are nothing but pretty pictures
Planograms are meant to be visually appealing and attractive to entice customers to visit a shelf and shop. There is no getting away from that. However, it's disingenuous to believe that planograms are nothing more than pretty pictures.
That defeats the point of building and implementing planograms.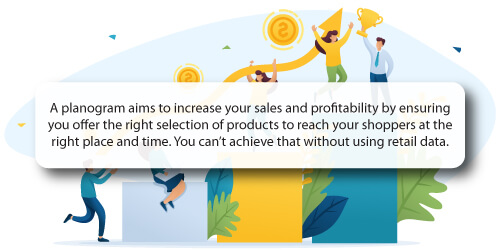 A performance-enhancing planogram is visually-appealing because it has the correct flow, merchandising principles and balanced days of supply factored in. There is also much analysis, expertise and forethought put into the positioning of each product within a section.
We also regularly liaise with clients to ensure that we're producing work that aligns with their goals and objectives. That ensures that any shelf in a store is not only aesthetically pleasing to shop for a customer, but also delivers the maximum return on investment for a retailer.
5. It's only for large retailers
It's a dangerous misconception to believe that planogram software is only for large retailers. As proven above, there are different solutions depending on your size so the idea that this software isn't for you if you're a small retailer is not true.
Considering the challenges that you face as a small retailer, giving you an opportunity to compete is imperative. And that is where planogram software can help you. But it's more than that.
Do you want to have an advantage over your competitors? Book a complimentary consultation with a DotActiv expert to hear how our software can help you achieve that and more.
With this software in place, you can offer your customers what they want, when they want it. It also allows you to give your customers a better shopping experience so that they'll return.
What are the consequences of not using planogram software?
As mentioned above, planogram software can help you offer the right products to your customers at the right time and maintain a competitive edge. But what if you don't make use of the software?
A few consequences include:
1. Loss of inventory control
You'll struggle to keep track of what is coming in or going out of your store. As a result, you face a higher risk of going out of stock on certain items while also overstocking on others.
2. Stock the incorrect products
You might find your store stocking more slow-moving products than you want. By not using software, you'll struggle to identify these products. That leads to many slow-moving products on your shelf, preventing you from stocking more high-performing products and slowing your sales growth.
3. Messy and cluttered stores
Besides the financial consequences, you can directly affect the shopping experience. Without proper software, there is a higher possibility of having a cluttered and messy store that is impossible for your customers to shop.
Add in excessive floor congestion during your peak trading hours and you have the perfect setting for an unhappy customer experience.

Conclusion
There is no one-size-fits-all solution when it comes to planogram software. And there shouldn't be. If you're a small retailer, you have different needs than a larger retailer, even if they are your competitor. Rather, it's about what solution works for you.
Are you searching for planogram software that can provide you with a leg up on your competition? One that can help you to maximise your sales? Book a complimentary consultation with a DotActiv expert today and we'll show you how we can help you achieve this and more. You can also browse through our software editions and service options on our online store.
About the contributors
Michael Puckering joined DotActiv in 2017 as a space planner. Since then, he has worked on various accounts, gaining extensive experience across different retail environments. Currently, he works on the ACDC account as an account manager.
Runet Kritzinger has been with DotActiv since 2015, primarily managing the Makro Food and Liquor account. Today, she works as an account manager, overseeing the InMotion account. She has a Bachelor of Consumer Science with a Business Management degree from North-West University.
Tayla Grifo-Fanner joined DotActiv in 2016 as a retail space planner. She has worked on various accounts, including Pick n Pay. In 2020, she was promoted to the newly established Software Account Management team where she oversees various software accounts.
*This article was updated on 7 September 2022.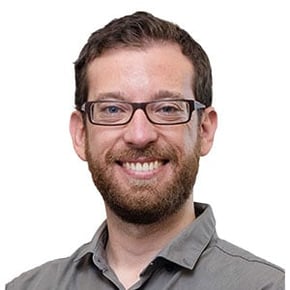 Darren Gilbert
With over 10 years of writing and marketing experience, Darren joined DotActiv in 2017 as a content writer where he was responsible for producing blogs, Ebooks and more. He has since worked himself up to the role of content manager, where he oversees all and any content produced by the company. He has a Bachelor of Arts in International Studies from the University of Stellenbosch.