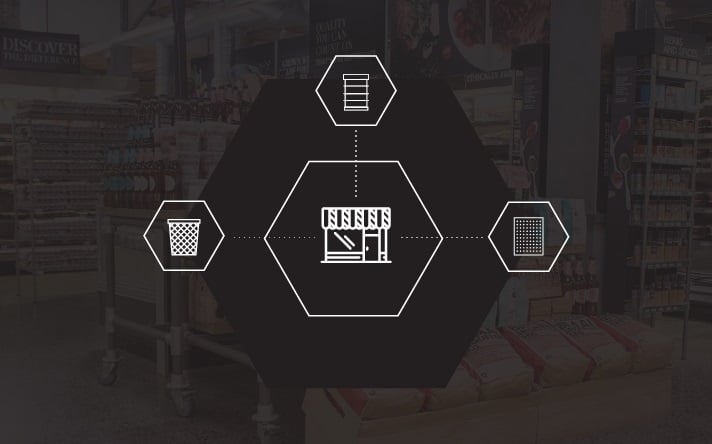 Retail fixtures come in many different shapes and sizes. From awnings to bookcases to different types of lighting, they all play an effective part in the overall visual merchandising of your store. That being said, it's important to choose the right type of retail fixture. Pick the right one, and it'll help your business. Choose the wrong retail fixture, however, and you could end up paying dearly for it.
That is because as much as you might want to include all sorts of retail fixtures in your store, not all types will benefit your business. There is the space and layout of your store to consider as well as the type of store you have and the products you sell.
Having said that, there are a few types of retail fixtures that every retailer should own if they want to improve their sales and get the most out of their store.
Baskets
No matter what your store sells or how big (or small) it is, you can always make use of baskets.
Baskets are helpful for retailers who have smaller, loose items that can't be displayed on the shelf properly. Now, instead of taking these items off the shelf, and your customers thinking you don't stock the products, you can stack them neatly.
Benefits of using baskets as a retail fixture in your store are:
Organised and clean. Without baskets, you'll have small, loose products scattered across your store. The result is a store that can be viewed as messy and disorganised. If that's the case, it will also mean a customer walks into your store, doesn't know where the product is and then walks out.

Easy to shop. Consumers want their

shopping experience

to be as easy and as stress-free as possible. As a retailer, it's you job to ensure that this is the case.

Maximise your retail space. Considering they don't take up much space, baskets allow you to pack in as much as possible, allowing you to include more products within any given space.
Shelf Talkers
Also known as shelf edge labels or banners, Shelf Talkers can be used for pricing, product information and heightening specials.
We've written about shelf talkers before on our blog. As mentioned in that article, shelf talkers are great as they can drive more customers to your shelves and ultimately influence a purchasing decision.
They may be small in size, but they can have a huge impact on your bottom line. Shelf talkers are also an effective way to attract and communicate any in-store specials with your customers as they wander through your store.
Here's how to get the most out of your shelf talkers:
Stick to one feature. Your product might have a handful of great features, but now is not the time to focus on all of them. Rather focus on the one feature that will draw your customers' interest.

Ensure that the sign is well looked after. Considering that a shelf talker is effectively an in-store marketing tool, the last thing you want is for it to look old and dilapidated.

Make it simple to read. Just as each shelf talker should focus on one feature, when creating one, it's best to ensure that it's easy to read. After all, your customers will be on the move. Anything that is complicated to read or too long will be dismissed and you'll have lost a potential sale.
Gondola Ends
Used for promotions, specials, or displays, gondola ends or end caps have multiple purposes.
We've already written about how to get the most out of your gondola ends before on our blog. As we noted in that piece, gondola ends have the power to turn stock over twice as fast as other areas. That fact alone should push all stores to include them.
Benefits of including gondola ends include:
Increases impulse buying. Considering that your gondola ends receive higher footfall when compared to your individual aisles, stocking them with high impulse buys can increase your sales.

Brand Awareness. A gondola end gives you the perfect opportunity to showcase a product that would otherwise be lost on the shelf amongst other products.

It's a gateway to an aisle. If your gondola ends are visually appealing, they can pull in shoppers who usually only shop the perimeter of your store.
Consequences of choosing the wrong retail fixture
Above, we focused on the retail fixtures that all retailers should consider having in their store. Making use of them in your store will lead to happier customers, and, of course, more sales for you.
But what if you choose the wrong retail fixture?
The whole point of your store layout is to display your products as optimally as possible. Without the ideal retail fixture, you're doing the opposite, making it harder for your customer to get what they want. You're also ruining the shopping experience for them. And, as dramatic as it may sound, a customer who has a bad shopping experience at your store is unlikely to come back
One other consequence of choosing the wrong retail fixture is that it will result in a loss of feet to your store as your customers, expecting to find a product, can't. Instead of looking for an alternative product, they are known to simply walk out the store and not consider going back because they believe they can't get that product at your store.
Conclusion
To your customer, a retail fixture isn't the first thing they think about when they enter your store. However, that doesn't mean that retail fixtures shouldn't be top of mind for you. Introduce the right retail fixtures at the right place in your store, and you have the opportunity to see your sales soar.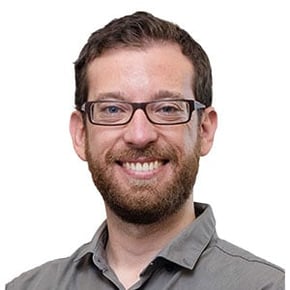 Darren Gilbert
With over 10 years of writing and marketing experience, Darren joined DotActiv in 2017 as a content writer where he was responsible for producing blogs, Ebooks and more. He has since worked himself up to the role of content manager, where he oversees all and any content produced by the company. He has a Bachelor of Arts in International Studies from the University of Stellenbosch.