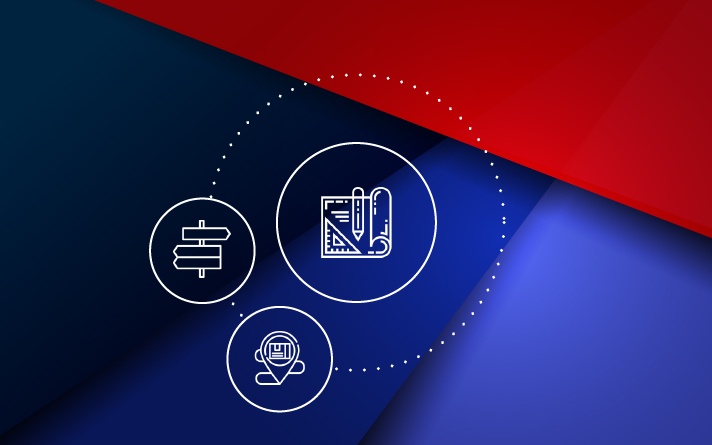 The relationship between a supplier and retailer is one that needs to be built on trust, with an open communication channel. This is to ensure that there is alignment, not only in terms of organisational goals and outputs but also when it comes to suggesting changes that need to be made at the store level. Or, even on planograms.
Shelf space efficiency and product assortments are concepts that affect both retailers and suppliers. For suppliers specifically, it's about finding ways of optimising the shelf space allocated to them by their retail customers. The best way to do this is with the help of data-driven planograms.
Let's use an example to illustrate our point. Ever sat in a plane or bus and had to share an armrest with the stranger next to you? More often than not there will be attempts on your part to "negotiate" your arm into a more comfortable position. Similarly, as a supplier, you need to negotiate for shelf space for your products. While it is the retailer that gets products into the customer's hands, it is up to you to ensure that your products are allocated sufficient space.
Book a one-on-one walkthrough with DotActiv to hear how you can negotiate more shelf space for your products
This is a constant dialogue between retailers and yourself to align not only with their goals but to also ensure that the products supplied have enough opportunity, through shelf space, to sell. As suppliers, you can also use data-driven planograms as proof of the value in carrying out any proposed changes.
Up till now, we have looked at who would use a planogram and why. However, there is a question that may have come to mind: What is a planogram?
A planogram is a graphical representation of how products should be merchandised on retail shelves to increase sales and improve the shoppability of the category. This is often based on a single category comprising of different brands and variations of a certain grouping of goods. This looks at the facings allocated to each product along with their positioning.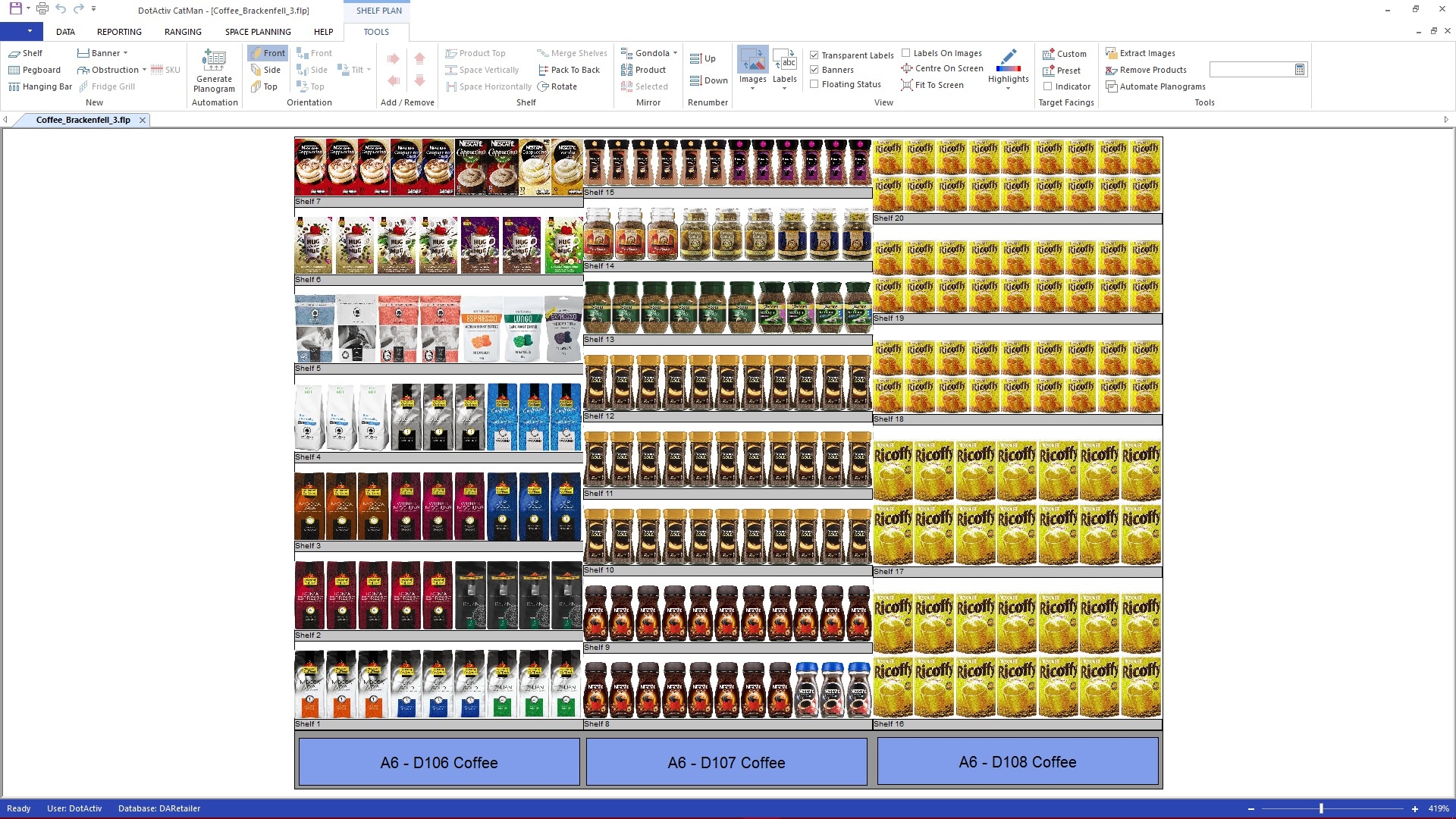 A typical planogram populated with products as found in DotActiv software
You can go a step further when using data-driven planograms. Based on sales data captured by the retailer's POS system, you can reference this to see if the allocated space is, in fact, correct, or needs adjusting. Of course, there are many aspects to consider when looking at store performance. You will need to define which metrics you would want to focus on and align accordingly.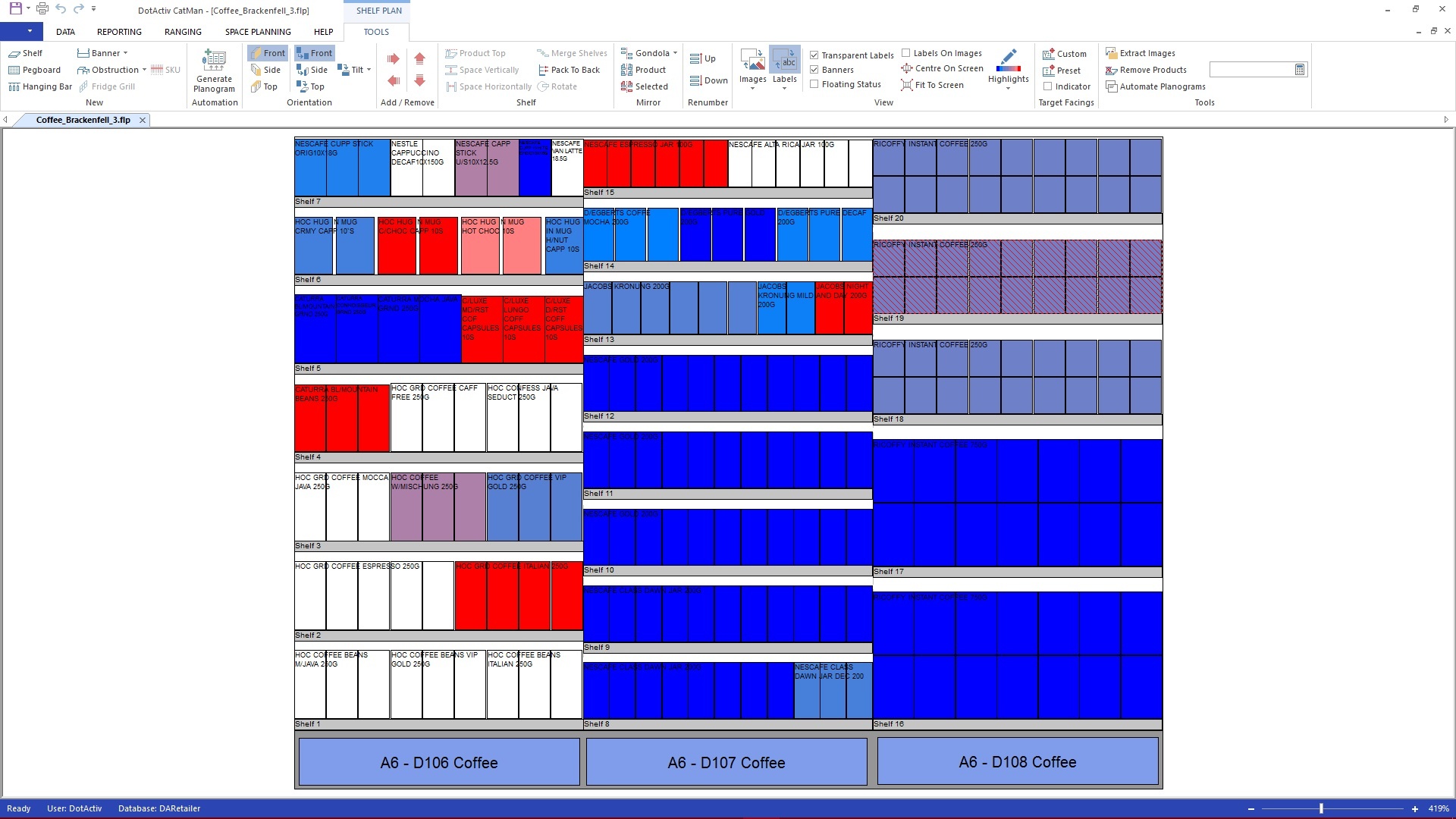 In the image above, we have highlighted the Coffee planogram by Days of Supply
There are a lot of retailers who have not invested in planograms yet
While some retailers prefer to have their planograms generated and managed in-house, the converse can be said for others. There are retailers who prefer to have their suppliers come to them with not only a proposed plan for their allocated space but with a planogram, in hand for their allocated space.
In fact, there are those retailers who hand much of the responsibility of generating planograms to their suppliers. They would allocate space and convey an expectation to their supplier for that space.
It is worth mentioning that retailers won't simply hand this level of responsibility to you - instead, you would need to convince the retailer that allowing you to make this level of contribution would be beneficial for the overall performance of the category. Convincing retailers that don't have any space planning in place is much easier than you might think.
Once you get the go-ahead, an agreement needs to be reached on the level of your involvement as a supplier when it comes to the category in question. It is then up to you, the supplier, to pull the relevant sales data required to generate this planogram.
This opens up the door for negotiation when wanting to allocate more space to your products on the shelf. Of course, as we already stated earlier in this piece, this needs to be aligned with the retailer's strategy. More than that, it also needs to make sense to the entire category.

That said, while there are those retailers who want to keep their cards close to their chest, being able to show others what they're working with can result in bigger, better things for them. Let's say, for example, that you're a Coffee supplier and you've been asked to help them plan a gondola.
Using the sales data that they've provided, you can go back to the retailer requesting more space for your product. What's more, you have proof in the form of data to back this up as a good decision for the overall performance of the category.
They're almost certainly going to see an increase in sales for that category which means they'll want to increase their stock orders from you.
Of course, it is not always easy to just get this level of trust going. There are many considerations to make so that you are not only their supplier of choice but more importantly, your work aligns with their goals.
Different approaches to the retailer-supplier relationship
When it comes to the retailer-supplier relationship, there are a few different approaches that retailers generally take. Hopefully, this will give you an idea of where you fit in and how this positioning could change in the future. Below is a quick overview of each. For a more detailed understanding of the different approaches to category management, take a look at this article.
1. Centralisation
This is a hands-on approach for the retailer and provides them full control over the whole process. The retailer also funds the process. Although the retailer takes full control of the process they also call on suppliers for input as and when needed.
2. Category Captain
Another approach is when retailers choose one supplier from a category to become a Category Captain. This is essentially the opposite of centralisation.
We covered what a Category Captain is in a piece previously. By appointing a Category Captain, retailers have the opportunity to let a supplier take on an active role in planning for the category - this includes how it should be merchandised.
The expectation is that the contribution should be beneficial for the retailer's overall category performance.
3. Category Partners
The last approach is the most collaborative form of category management. This is through the use of Category Partners.
The old adage of two heads being better than one rings true here. Being able to leverage the experience of a handful of suppliers for a single category versus that of one provides an even bigger pool of knowledge and expertise for the retailer to tap into.
This also allows the retailer multiple views and angles that a category can be looked at, exposing any gaps that a retailer may not have picked up. This process includes input from both the retailers and yourself. Going this route also provides the capability to make more sound and informed business decisions.
Suppliers benefit by building planograms for retailers
As a supplier, there is benefit in offering to build planograms as a service. That's because there is more influence over how products are merchandised in-store.
As a supplier you have unique value to offer retailers:
A retailer only deals with the sales data of their stores. Meanwhile, as a supplier, you generally wouldn't only supply one store. You'd quite possibly supply all supermarkets in the area. Without blatantly stating which supermarkets are outselling the others, you have the advantage of being able to take this information and customise a strategy for each store.
This also allows you to pick up market trends pertaining to a particular product category, allowing you to take action via a decrease or increase in facing or product range, for example.
Retailers who already have their own planograms still benefit from supplier input
While we have looked at the benefits of a supplier being able to offer planograms to their retail customers, not all is lost if the retailer in question already has its own space planning capability. In fact, we would go as far as saying that this is an even better position to be in.
This relationship can be compared to that of a Writer and their Editor.
Let's explain. The writer (the retailer) produces an article based on information and findings associated with the topic. The Editor (supplier in this case) serves as the second pair of eyes, refining and suggesting changes where necessary while keeping the essence of the piece.
Similarly, having your input when planning space allocations facilitates just that. It's an opportunity to have a second pair of eyes look through and comment on what can be done differently to yield a better return. This difference in perspective is a key aspect as it also allows the sense checking of any planograms generated by the retailer.
As mentioned previously in this piece, the information that a supplier has in comparison to that of a retailer is of a larger scope and offers a view that is at a higher level. This allows retailers to tap into the industry knowledge that you have accumulated.
The sharing of this information and insights also allows the retailer to gain a perspective he or she would not typically have had before.
Conclusion
Be it at store level, Head Office level or that of a multinational retailer, as a supplier, your input on a retailer's space allocation is golden. As a supplier, you have the ability to not only drive your business but theirs too.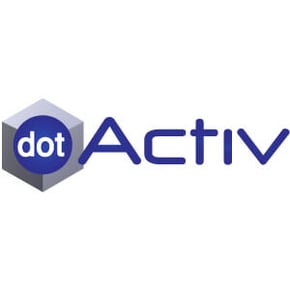 DotActiv Team
The DotActiv team comprises of multiple category management experts, all lending their years of retail experience and knowledge to create well-researched and in-depth articles that inform readers of DotActiv's retail blog.