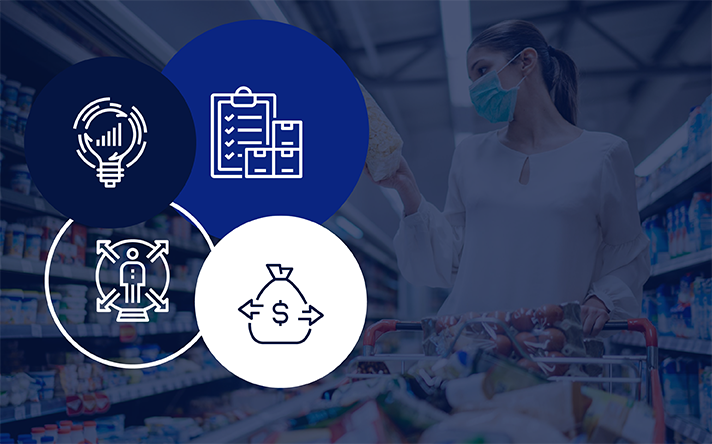 The current COVID-19 pandemic has caused unprecedented disruption to the world economy and supply chain and has changed how your consumers live, shop and spend their money. Online sales have exploded, non-essential purchases have declined, and your consumers are reassessing the value of products before they make a purchase.
To ensure a future where you can be successful and competitive long-term, you need to understand what the post-pandemic economy might look like, and how your business will adapt to it to retain profitability. Here, clustering can play a critical role in keeping your business profitable. Not only while the world is in lockdown, but also once we've managed to overcome this pandemic.

Clustering helps your business identify, monitor and predict consumer demand
Cluster analysis uses data inputs such as performance data or loyalty data to group stores based on their similarities.
For example, you could use product-level data (barcode) and fact data (sales and units) to cluster your stores. This means that stores with products that perform in a similar manner will be grouped together in a cluster.
In DotActiv, you can cluster your stores and then use a data cube to retrieve the data from your database. This allows you to analyse the performance of each cluster in terms of the variables you specify such as sales, cumulative sales, units, average retail selling price, SKU count and more.
By analysing each cluster you can identify and understand the consumer demand for your products, which will facilitate the assortment planning, space planning and inventory management processes that work together to optimise your profitability during the pandemic as well as in the future.

Clustering facilitates data-driven assortment planning, space planning and stock control
Cluster analysis is an integral component of category management.
By grouping your stores into clusters, you can profile and understand the customer base of each. This information feeds into assortment planning where you now have the knowledge to build a customer-centric product range for each cluster.
DotActiv's range optimisation feature can help you tailor your assortments to your customer base to ensure that the right products are offered at the right place and time. Once your assortment plans have been completed, each store within the cluster must receive a planogram to implement the range changes.
Next, you can use cluster analysis and other machine learning techniques to monitor the stock turn of each product. You can make use of measures such as capacity, weekly movement and days of supply to ensure that you have enough stock to reduce the need for 'panic buying' and ensure a consistent supply to maintain turnover.
Stores within the same cluster are likely to require the same inventory management strategies due to the similar target market and consumer behaviour within the product category. Therefore, you can also predict and monitor stock movement to avoid stock-outs or overstocks, resulting in profit maximisation.

Clustering is a dynamic process that keeps up with changes in the economy and market environment
Dynamic clustering involves conducting a cluster analysis on a regular basis. This could be every one, three or six months. Dynamic clustering is important during the current situation because it allows you to keep up with changes in consumer demand as well as shifts in the industry.
During a pandemic, it has become evident that consumer demand, as well as market conditions, can change within a day or a week. Therefore, by analysing these changes and deciding on a clustering roll out plan, you can reap the benefits. That includes the following:
1. A product assortment tailored to consumer needs and preferences
Stores that fall within the same cluster are assumed to exhibit similar consumer purchasing behaviour. This will help you to anticipate and plan for the products that your consumers want and need to purchase. This will avoid stock-outs as well as lost turnover from having to discount products that are not required or purchased during a national state of emergency.
2. Enhanced consumer loyalty
During the COVID-19 pandemic, the competitive landscape is enhanced. Larger retailers may have the capital and capabilities to operate for longer periods of time without regular income while smaller retailers may struggle to keep up due to decreased consumer demand, a strained supply chain and so on. During this time, consumer loyalty is at an all-time low.
Your shoppers are more likely to switch to another retailer that can provide the products they usually purchase if you cannot keep up with demand. By using dynamic clustering, you can anticipate and plan strategically to satisfy the product needs of your customers.
3. Current cluster analysis results
By implementing dynamic clustering in your business, you can use real-time performance data to make effective strategic decisions that sustain the profitability of your business.

Clustering helps you to keep in close contact with your customer base
During a pandemic or times of uncertainty, you need to keep in close contact with your customers and keep them up to date with changes in your business. This allows you to strengthen the relationship between your brand and your shoppers. It reinforces customer loyalty. You can use customer relationship management or CRM tools to understand and communicate with your consumers to ensure a mutually beneficial relationship.
Clustering also helps you to identify, segment and profile your customer base per product category. By doing this, you can ensure that the right messages reach the right consumers at the right time. Customers within the same cluster are likely to exhibit similar purchasing patterns and so you can target them in the same manner.
Conclusion
It is evident that consumer behaviours that have emerged during the COVID-19 pandemic may remain for some time after it is over. A new competitive environment has been created, which highlights the need for data-driven insights to enhance the category management practices of your business to ensure you remain profitable during this time. More importantly, to position your business to be more profitable in the future.
Need assistance with clustering? Let DotActiv help. Find out more about our clustering services here or book a meeting here.