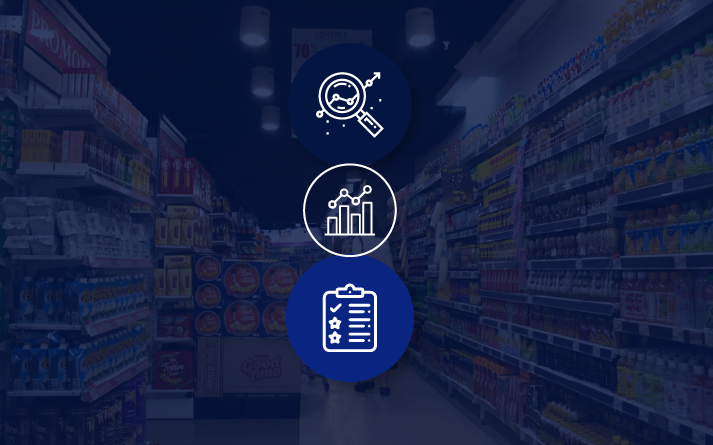 Something isn't right with your product offering and you know it. Your sales are down and fewer customers are visiting your store. These are signs that you need to look at what you offer and that's where a range review comes in. While daunting if you don't know where to begin, following a set-out process will make it easier to manage.
It's worth noting that analysing a range is different for every retailer and assortment analyst. However, there are similar factors that you can consider, which we'll cover in this piece.
About the contributors
Tayla Grifo joined DotActiv in 2016 as a retail space planner. She has worked on various accounts, including Pick n Pay. In 2020, she was promoted to the newly established Software Account Management team where she oversees various software accounts.
Tanya van der Merwe joined DotActiv at the beginning of 2018. She currently oversees the Makro General Merchandise account. Makro is a wholesaler chain and subsidiary of Massmart that has international ties to Walmart.
Megan Evans joined DotActiv in 2019 as a space planner. She has worked on various accounts, including Pick n Pay since joining. Currently, she works on our Dis-Chem account. She has a BA Degree in Fashion Media and Retail.
Meagan Paynee joined DotActiv in 2019 as a senior space planner, creating data-driven planograms for Ultra Liquors stores across South Africa. She has a BSc in Biological Science, as well as BConsumer Science: Clothing Retail Management from the University of Pretoria.
What is a product range review?
The products you stock have a direct impact on your success as a retailer. How?
For one, by stocking the wrong items, you displease and frustrate your customers. That can lead to fewer customers visiting your store as you garner a reputation as a retailer who can't fulfil their needs. That leads to a drop in sales.
Of course, you can reduce the likelihood of this happening by completing a product range review. But what is that?
In simple terms, it's an exercise in which you take a close, logical and unbiased look at the products in your range per cluster. You want to evaluate the performance of each product or brand against the performance of the total range. That's to ensure that you have a range of products that match the needs of your customers.
During this analysis, you can evaluate if you should keep a product in the range, replace it, or remove it. By replacing or removing any products that are not selling as expected, you can give more space on the shelf to your top-performing products.
That also speaks to the point that you can't set and forget your product range. The needs of your customers change constantly and you need to adjust as they do. At DotActiv, we generally recommend a bi-annual range review where possible.
You only need to consider any seasonal category or item to see a clear example of this. If you're a clothing retailer, you'll sell more swimming costumes during summer than you will during winter. Or, more wool jerseys during winter than summer.
To ensure you deliver to the customer's needs, it is thus critical to update your ranges to reflect the season, new trends or innovation within a category.
At this point, it's also worth pointing out the difference between a new range and a range review to prevent any confusion. There is a difference.
A new range is about looking at your existing range and updating it according to new business principles or strategies, new trends in the market, or a change in demand. It can include an overall of your product range.
Meanwhile, completing a range review is about tweaking your existing range so that it's fully optimised. That includes delisting products and listing new ones to ensure your range consists of good sellers and innovation.
What goes into a product range review?
If you want to complete a comprehensive analysis of your product offering, be it for a new range or a range review, there are a few aspects that you need to consider.
1. Relevant retail data
Your first point of call for a product range analysis is to look at your data. Most specifically, it's about choosing the most relevant data.
For example, it's critical to take note of data around when you first listed a product or introduced it into the business. New products will automatically form part of your new range to give them a fair chance to perform. Up until when you see it has a new product that is retailer-specific.
Further, the most obvious type of data includes sales data for your products. Then there is your unit movement of these products and the growth in comparison to previous years. Having any or all of this information can help you track product performance.
Besides that, you can look at other data such as the average price points; brand profile; house and exclusive brands; your stock on hand and at your distribution centre; the product status, whether it is active or inactive and its contribution within the category, subcategory or segment.
A note on active versus inactive. In this instance, we are referring to the status of the product within a retailer. Is the product available and replenishable or is it on hold or out of stock?
You'd ideally want to only work with products that are active and that you can replenish.
2. Your category hierarchy
The next point to consider is the role your category hierarchy plays. It's a critical role since your hierarchy forms the base for your range.
To ensure that you consider all products in the category, you must structure your range within a level of the hierarchy. It will assist you to make sure that there are products that fall within each subcategory so that you can offer a comprehensive range that meets all the needs of your customer.
When tight on space, you can look at the same level of your hierarchy for any products that have the same functionality. You could then delist the worst performer of the two.
For example, if you have two furniture sprays within the same brand, you could delist the worst performing of the two.
This is also a fundamental part of your retail space planning later on so that your shoppers can find the products that they are looking for in-store.
It's also critical to align your brand profile within the range to ensure your range aligns with your cluster. For example, if you are working on Cluster A, you know that it's more premium. You will ensure to list more premium brands than in other clusters, such as your Economy of Mid-Tier.
After all, besides customer satisfaction, having a well-thought-out hierarchy can also help you boost customer loyalty.
3. Your category strategy
You must also consider your chosen category strategy when analysing your range.
A category strategy defines what a category needs to do to perform optimally. In other words, it's a means to drive sales of a specific group of products and you can implement it at a store level.
Understanding and knowing the category strategy enables you to analyse your range. It also helps you determine what kind of products and how many different offerings should be made available.
Let's say, for example, that you stock products and you've given this category an Occasional or Seasonal role. In that case, it is not necessary to offer an extensive range of products because your customers do not expect to find the full range. However, if you have given this same category a Destination role, you would need to increase the number of products you stock.
When it comes to analysing your products, and you use software such as DotActiv, you can use a point system. This system allocates points to each product based on different inputs. The allocated points will help you decide which products to keep or remove.
If you don't use specialised software, you can look at setting up a Pareto analysis or completing a simple sales/units contribution exercise.
How do you know when to review your product range?
Now that you know what goes into a product range analysis, it's critical to understand when to review your ranges. There are a few factors that can play a role in your review.
1. Consider seasonality
The first factor is seasonality. Why?
That's simple - knowing this will help you determine how many times per year you need to review your range. Not only that; it will also help you to understand your sales. When it comes to certain SKUs, they may only perform at their peak during specific months of the year and you need to consider that when ranging.
Let's consider a category like Towels. You would only review the range twice a year. Once to ensure that you list your winter products and again in summer to list your summer products. Whereas if you consider a clothing category, you'd want to review it as often as seasons change or new trends appear.
2. Look at your chosen category role
A second factor is your category role.
The role you choose plays a significant role for the simple fact that your product range needs to reflect it in-store.
For example, if you have given a category a Destination role, you need to offer a large range of products throughout the year. If you don't, you're working against your chosen category role.
Likewise, if you've given a category a Seasonal role, you would only need to ensure that your range covers what your customers want during that particular season. During the rest of the year, you can cut down on your range and give the space to other products or categories.
3. Keep the supplier/retailer relationship in mind
A third factor is your relationship with your suppliers. The state of it has a direct impact on your success. How?
Let's consider if you have a poor working relationship with your suppliers. If you have a bad relationship due to issues such as stock or inconsistency with pricing, you'll struggle to offer the products your customers want. That will not only affect your range - brands can pull out - but also your reputation as a go-to retailer.
On the other hand, let's consider when you have a good working relationship.
In the case of de-ranging products that affect your supplier, because you have a steady relationship, they could buy back any stock that isn't selling as well. These suppliers could also help you with logistics or even reduce prices so that you can place these products on promotion.
The same goes for listing products or planning to highlight their product to boost sales. If you can see that when a supplier/retailer relationship is a collaboration more than a rivalry, you can only gain from it.
Conclusion
Product range analysis is an important step in the category management process. In any retail environment, it is important to ensure that range reviews and analysis are done efficiently and effectively to stay relevant in the market.
Do you need help selecting the correct range for your business? Let us help. You can book a complimentary custom exploratory consultation with us here or visit our online store.