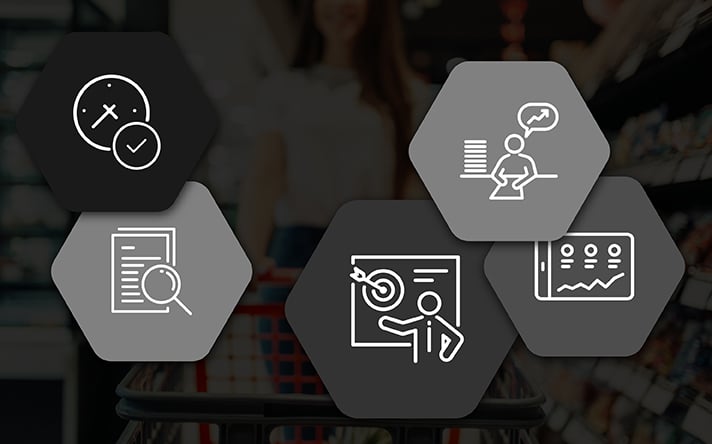 Having access to expert retail advisory services at the right time can mean the difference between setting plans and strategies in place - resulting in sustained competitive advantage - or, on the other hand, a strategic blunder.
If you want to improve your retail business, investing in software and technology is a good starting point. However, it is critical to understand that a technology investment alone is not a solve all solution. There is strategic intent, talent and resourcing, process, strategic planning, strategic implementation and control and much more to consider. This is where retail advisory services will help you to crystalise your strategy and to align the organisation and prepare it to make the strategy happen.
Because DotActiv specialises in category management solutions our retail advisory services and this blog is naturally slanted accordingly.
Why invest in retail advisory services?
At its heart, it's about offering tailored advice to a company to solve a specific problem. For retail advisory services, it's recommendations based on a combination of academic study and years of experience working in the retail industry.
If you're a retailer, you should expect to get access to advice that enables you to make bold decisions which lead to the improvement of the performance of your categories. If you have decided to take a long-term approach, expect advice that will assist you critically review the purpose your category play in your business so that you can gain a sustained advantage over your competition.
As a supplier, you should get access to category management advice that helps you to gain more exposure for your products on the shelf. Again, if you view this as a long-term investment, which we'd recommend, you can learn how to position your business as an indispensable asset to the retailers that you supply.
That said, when it comes to unpacking such services, it's not only about answering questions of what it is and why you need it. It's as critical to answer the 'When' question.
When is the right time for retail advisory services?
Here's the short answer: it is a good time for retail advisory services if you or your team are not aligned around your short, medium or long-term category management vision. It goes without saying that this vision should be documented in detail.
By speaking to retail experts who have years of experience working with many retailers and suppliers from different sectors, you can gain fresh perspectives on your business and get pinpoint category management advice on how and where to focus.

How does DotActiv deliver its retail advisory services?
When it comes to DotActiv's retail advisory services, you have two options available to you. The option you choose depends on your business requirements.
You can either get access to departmental experts who can provide tailored category management advice as and when you or specific members of your team needs it. Or, you can receive a comprehensive category management best practices benchmark evaluation. The second option allows you to crystalise your category management vision.
1. You can receive expert category management advice when requested
If you are looking for expert advice on any aspect of category management, this option is for you. It also doesn't matter where you are in the category management journey.
Lets's say you're new to category management and need help choosing a strategy for a category. We can help you. Or, if you still need to determine the consumer decision tree for your category, we can do that too.
Because we base our recommendations on your unique circumstances, you can be rest assured that you won't receive blanket advice that can you can't implement.
If, for example, you're already a category management expert, then we'll provide you with advice that fits your requirements and the stage of your retail business.
This advice covers assortment planning, floor planning, planogramming and data analysis. What's more, any recommendations we offer will help you to approach the planning, technical foundation, methodology, change management and execution with confidence.
But how do we deliver this advice to you?
Similar to how we deliver our business intelligence services, we make our experts available to you.
All that you need to do is provide us with the focus area, problem statement or question that you want us to answer. From there, the expert assigned to your account will consult internally. That includes doing research of their own, looking at your data and uncovering any relevant insights, and packaging it into an easy to understand format.
Once ready, they'll set up a meeting with you, usually a video call via Google Hangouts to discuss their findings. During this meeting, they'll also explain their recommendations in the context of your environment to show you how you'll benefit.
2. You can crystalise your category management vision
DotActiv has a rich history that dates back to 1991. In 1997, we became the first company to establish a formalised and collaborative management process between a retailer and a supplier. In 2001, we became the first company to create a data-driven category management system.
That all boils down to one thing: we have over 25 years of experience in the category management business. We have used that time to first establish a set of best practices. Then, we refined these best practices to ensure they are as comprehensive as possible.
These best practices cover a wide range of category management dimensions, including but not limited to questions about Talent, Process, Support and Technology. We provide you with the critical questions that you should be asking yourself about your category management vision.
It's worth pointing out that the key to this side of our retail advisory services is trust.
You must be honest when answering these questions. We can't provide you with the relevant advice if you are not willing to reveal the good, the bad or the ugly regarding each category management function.
Once the evaluation is completed, we will then compare the results to see how your organisation stacks up against our best practices. This isn't so much about telling you that you are wrong. Instead, it's about finding opportunities where we know you can improve.
One of the most helpful parts of the evaluation is that it will help you to look at each element within your category management function and determine which specific things need to be worked on, and what actions should be taken in order to improve.
We will also put together a recommended short, medium and long-term category management vision which is suited to your business uniquely. You'll receive a detailed document and supported co-branded presentation.We'll also meet with you to unpack our recommendations along with the rationale.
Conclusion
DotActiv is not just a software vendor. We are also a team of category management experts who are ready to help you achieve your goals. Learn more about our services here.