Your store floor plan determines how customers shop in your store. Either it can leave them feeling confused and frustrated or provide them with a positive shopping experience. In a time when the popularity of online shopping is increasing, you must aim to provide your shoppers with the most pleasurable shopping experience possible. Floor planning is a great tool to achieve this.
Floor planning is also a vital part of the category management process and it brings all of the elements of category management together. Through DotActiv's strategic floor planning services, you can plan your store to provide every shopper with a positive shopping experience.
In this article, we will discuss how floor planning forms an important part of reaching success with category management and what DotActiv's floor planning services entail.
What is floor planning?
Floor planning, in the context of retail, refers to the layout and adjacencies of your departments and product categories on your store floor. The creation of effective retail floor plans involves considering your store size and category roles along with your sales and shopper data to determine how to place your products.
It is important to consider what type of store layout is right for your merchandise, fixture types and your store size so that your shoppers can easily find the products that they are looking for.
Floor planning is essential no matter how big or small the size of your store. Each store layout type has its advantages and disadvantages and therefore it is crucial to carefully think about your options to determine which store layout or combination thereof is right for you.
You can use your retail data to determine your best performing product categories and whether you have allocated enough space to them in your store. It also allows you to strategically place your best performing categories around your store to lead shoppers in a certain shopping path, thereby exposing them to more of your merchandise. What's more, it allows you to plan your category flows so that your customers follow a natural shopping path because your category adjacencies make logical sense.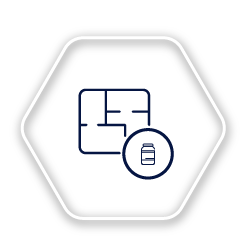 Floor planning as a function of category management
Floor planning brings all of the elements of category management together in one output.
Careful planning goes into every planogram for each product category to ensure that products are placed according to the consumer decision tree. This is wasted if the consumer cannot locate the category in your store.
You can use data-driven floor planning to optimise your available selling space and achieve higher trading densities. It ensures that your ranges and created planograms fit into the available space allocated to the category. This avoids messy stores and excess inventory.
A floor plan allows you to visualise the layout of a store and ensures logical category placements and flows. You can use this strategy to increase the basket size of your shoppers. For example, by placing the Coffee category across from the Biscuits category, you could encourage a customer who was only looking to buy from one category to purchase from both.
Planograms, meanwhile, are linked to floor plans to make them data-driven. DotActiv's Floor Planning Service will provide you with a heat map to indicate where your top-performing categories lie on your floor plan to ensure that you allocate space accordingly while considering the category role for each product category. Therefore you can align your strategies with the available selling space in your store.
Benefits of floor planning for retailers
Firstly, floor planning allows for the utilisation of available store space and an optimised space to sales ratio. This also avoids over and understocking of products which result in messy or empty stores respectively.
Secondly, Well-defined category flows and adjacencies improve the shoppability of the store and result in consumer satisfaction. You can place categories in a way that they make logical sense and complement each other, which ensures a positive shopping experience.
It is also a way to ensure consistency throughout your retail stores so that consumers have a similar experience in terms of product placement no matter which store they visit.
Floor planning allows you to identify your top-performing product categories so that you can place them throughout your store to reduce floor congestion during peak trading hours.
Finally, floor planning allows you to create a shopper path that exposes your customers to a larger merchandise offering, thereby increasing basket sizes.

DotActiv's Floor Planning services
Effective floor planning takes time and it can seem intimidating. Through DotActiv's Floor Planning services, you will have an allocated floor planner assigned to you to create your data-driven floor plans for you so that you can gain from the benefits mentioned above. Your floor planner will work with you to deliver your floor plans to you remotely to bring your strategies to life.
Our floor planning process includes a series of meetings, held through your preferred video conferencing tool such as Google Meet, Zoom or Skype. In these sessions, your floor planner will uncover important information pertaining to your floor plan such as the datasets to be used, category roles, existing floor plans, fixture information and your floor planning strategy.
Leverage the expertise of our space planning consultants to get data-driven floor space plans which improve shopper flow and increase basket flow
We'll use this information to create your floor plan which links to your planograms. It will be presented along with highlights indicating category performance (heat map) and category space allocation reports to justify the space planning decisions.
For DotActiv to deliver this service effectively, we will work alongside you to gather all the relevant information regarding floor planning and we will require access to your database (where products are classified according to your display hierarchy), category-based clusters, product ranges and range caps as well as an existing floor plan blueprint or CAD file.
DotActiv will also conduct a post-implementation analysis to determine the effect of the implementation of the floor plan and to identify opportunities and areas of improvement for the next floor plan review.
Conclusion
Optimise your selling space and improve your store performance through the implementation of data-driven floor plans at your stores. For more information, you can book a custom exploratory consultation here.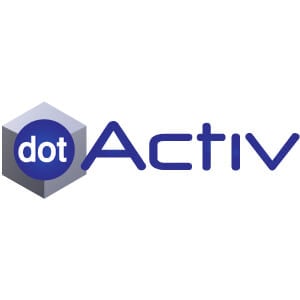 DotActiv Team
The DotActiv team comprises category management experts lending their retail experience and knowledge to create well-researched and in-depth articles.