WE HAVE WORKED WITH MANY GENERAL MERCHANDISE RETAILERS FROM AROUND THE WORLD
We have spent 20+ years catering to the global retail industry. During that time, we have assisted our fair share of general merchandise retailers. We understand that you face strong competition from all types of stores and even online retailers.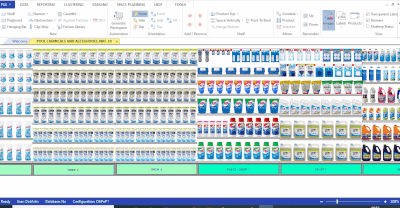 We also understand you need to meet the demands of customers who expect more from you than in the past. You're expected to carry a large and broad range that is deep enough to cater to all of their specific needs. But then there is the overall customer experience that you need to get right to encourage shoppers to shop in your store for longer. It's a delicate balance.

With DotActiv's powerful category management software and services, you can create data-driven assortments, space and floor plans that help you to entice shoppers to visit and keep returning to your store.

THESE GENERAL MERCHANDISE RETAILERS CHOSE DOTACTIV
We work with many general merchandise retailers from around the world, including the selected few below. Interested in joining them? Click on each logo to find out more about them.

BOOK YOUR CUSTOM EXPLORATORY CONSULTATION
Looking for a category management solution that suits YOUR needs? One that will help you improve your business and deliver the results you want?

After booking your free online exploratory consultation, you can expect us to research and evaluate your unique context. We'll create a personalised agenda to match your business' interests, goals and context.

We'll reach out to you before your consultation to share your personalised agenda. You're welcome to request any changes or additional points.

We'll consult with our internal experts to curate and customise conversation points, content, and the presentation so that it's in line with your personalised agenda. Depending on the outcome of our consultation, we'll schedule a separate custom advisory consultation to share our proposed recommendations with you.
ENTICE CUSTOMERS TO SHOP IN-STORE FOR LONGER WITH A BEST-OF-BREED CATEGORY MANAGEMENT SOFTWARE SOLUTION
We can provide you with powerful category management software that includes all the features needed to identify opportunity gaps, improve your buying consistency and maximise the selling potential of your retail space, all while pleasing your customers and encouraging them to shop in-store for longer.
HOW DOTACTIV ENSURES CUSTOMER SUCCESS
We provide all of our software users with a range of extra services and resources, all aimed at helping our customers see continued success.
WHY SHOULD YOU CHOSE A DOTACTIV SOLUTION?
Implementing a category management solution in your business makes sense because of what you can gain from it.
Control rising inventory levels

Improve category profitability

Maximise your selling space

Create visually appealing displays
Identify opportunity gaps

Increase foot traffic

Increase basket sizes

Ensure product layout consistency
Improve your buying consistency

Reduce out of stocks

Make smarter business decisions

Reduce excessive inventory holding
ACHIEVE CATEGORY MANAGEMENT SUCCESS WITH OUR SERVICES
No matter your category management goals or objectives, we can help you achieve them with our strategic, tactical and transactional category management services.

Get access to deep expertise and tested methodologies when you buy DotActiv's category management services.