TRACK PROGRESS OF ALL WORK ACROSS YOUR BUSINESS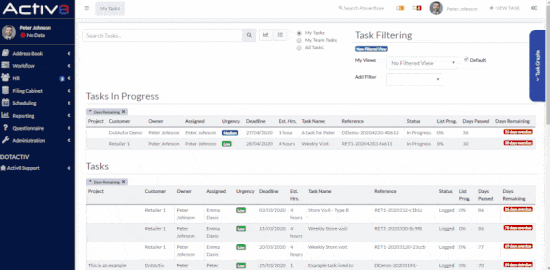 Designed to suit all of your business' team management needs, Activ8 has a built-in tasking function that helps you to keep track of everything that goes on in your business, regardless of the size or scope of work.

Sign up now to get free and unlimited access to Activ8 for the first four months. Your first 20 users are free ongoing.
CREATE AND ASSIGN TASKS
Create and assign tasks to your team with criteria and deadlines specific to your work environment.

Task fields included Task Name, Description, Type, Assigned User, Observers, Company, and Estimated Hours. While the Estimated Hours criterion defaults to 15-minute increments, it's only a guide. You can enter any whole amount of time.

There is also a 'Complete By' or deadline date field, and you can add files to provide more context on any created tasks.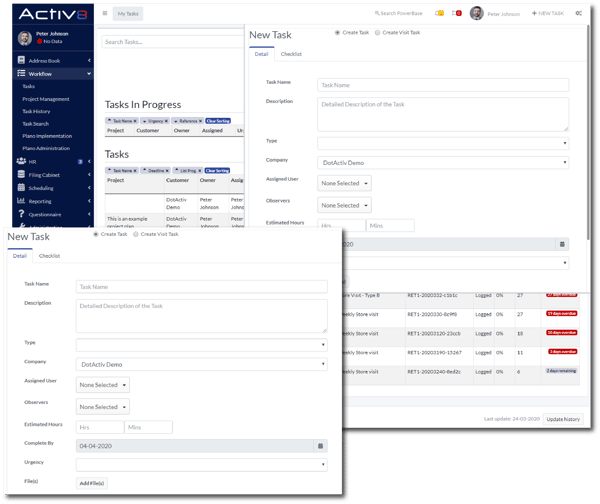 CREATE AND SAVE CHECKLISTS FOR TASKS
Include checklists, created once-off or via a saved template, for any tasks assigned to your team.

Each checklist item includes the Activity, Assigned User, Estimated Hours, Deadline Date and a Task Type.

The checklist functionality also allows you to include more than one person in a task. If the work is multi-faceted, create a step or activity for each person to complete.

After creating a task, you can edit and save your checklists as templates to use for similar jobs in the future.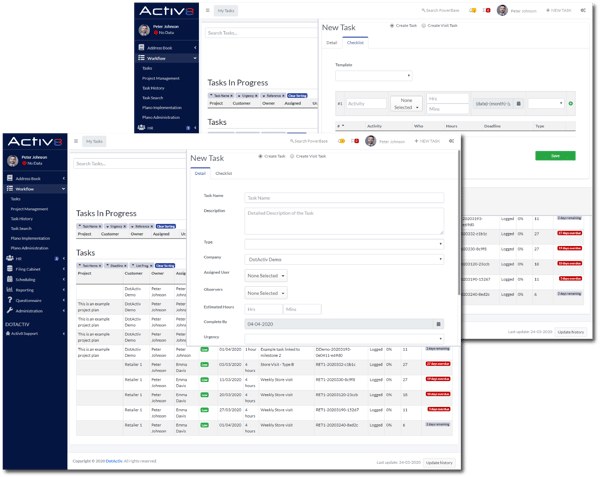 ASSIGN TASK TYPES BASED ON WORKLOAD
Choose how you want to assign tasks to your staff.

When creating a task - and before assigning it - you can include a filter on a specific Task Type. That filter enables you to automatically assign tasks to a person in a specific team based on their overall work capacity.

It's especially helpful for you if you have a busy workforce and you need an unbiased approach to distributing work evenly across all your employees.

Role-based access allows you to override the automatically assigned function and assign manually.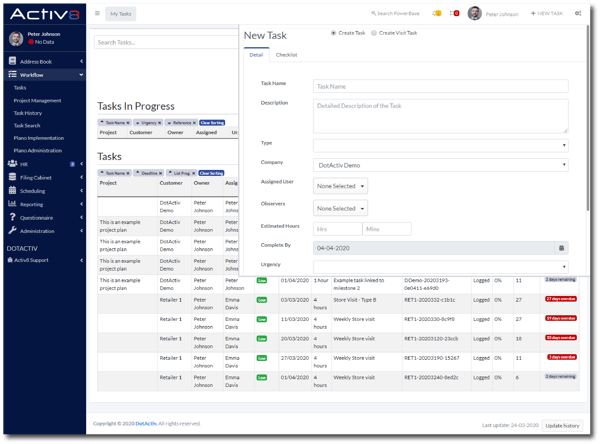 MANAGE AND SORT THROUGH TASKS WITH FILTERS
Manage and sort through your tasks as well as those of your team by adding filters.

The task filtering function allows you to add and save filters to access in the future. It's ideal for line managers wanting to monitor and manage the work of each of their team members.

You can filter tasks by Assigned User, Board, Company, Observers, Projects, Task Owner, Task Status or Task Type.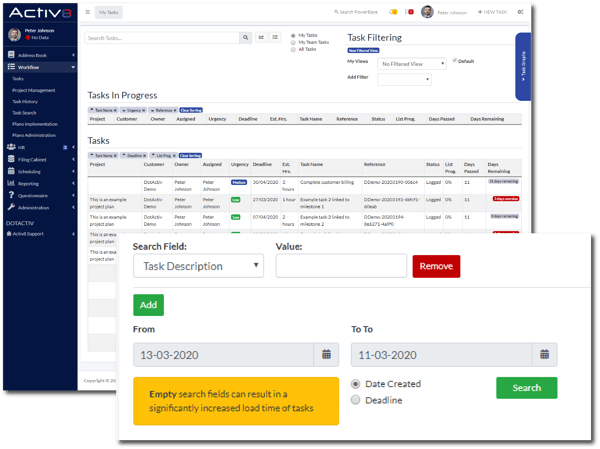 VIEW BREAKDOWNS OF TEAM TASKS
Get a quick visual understanding of all your tasks currently on the go.

Presented as a pie chart, you can gauge the progress of tasks from a high level across your team within seconds across three specific fields - Completed, In Progress and Logged.

Clicking the pie chart allows you to drill down into the fields and look at each task individually.

We've also included two bars beneath the pie chart which show how many tasks you and your team have in total as well as how many are overdue.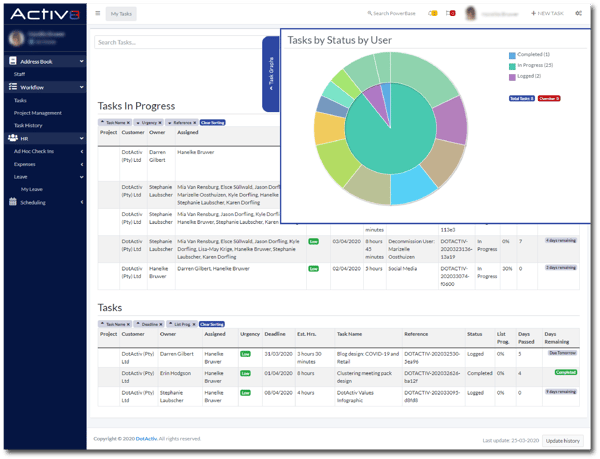 SEARCH COMPLETED AND CLOSED TASKS
Search completed and closed tasks by created, deadline, and overdue dates.

When filtering completed tasks, you have the option to include task owners, assignees and observers as well as the associated company and task type, giving you an in-depth view of the tasks that your team and company have completed over your chosen period of time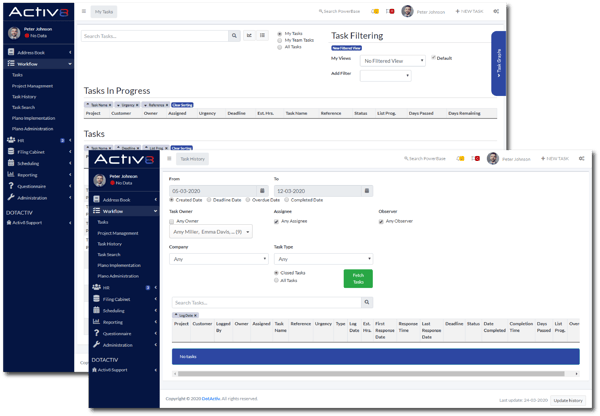 BOOK YOUR CUSTOM EXPLORATORY CONSULTATION
Looking for a team management solution that enables you to maximise the work output of your mobile workforce? Software that allows you to create custom questionnaires and report on store compliance?

After booking your free online exploratory consultation, you can expect us to research and evaluate your unique context. We'll create a personalised agenda to match your business' interests, goals and context.

We'll reach out to you before your consultation to share your personalised agenda. You're welcome to request any changes or additional points.

We'll consult with our internal experts to curate and customise conversation points, content, and the presentation so that it's in line with your personalised agenda. Depending on the outcome of our consultation, we'll schedule a separate custom advisory consultation to share our proposed recommendations with you.
ALL ACTIV8 FEATURES
Do you need dynamic team management software that can help drive accountability, transparency and improve collaboration?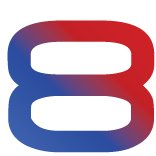 ACTIV8 OVERVIEW
Drive transparency, accountability and structured management across your business with a dynamic team management software solution.
Read More
PLANOGRAM COMPLIANCE
Automatically send new and updated planograms to stores for implementation and reap the benefits of your category strategies and tactics.
Read More
TASK MANAGEMENT
Keep track of everything that goes on in your retail business, no matter the size or the scope of the work. Create tasks, save checklists and set up templates.
PROJECT MANAGEMENT
Organise, plan and control any work projects while also managing associated risks. Add checklist items and save projects as templates for future use.
Read More
FIELD MARKETING
Schedule and automate store visits, visualise your brand representation at stores in real-time and gather meaningful data all in one place.
Read More
ADDRESS BOOK
Manage staff, supplier, customer and prospect records as well as contracts, agreements, invoices and more in an easy to understand account timeline.
KEY PERFORMANCE INDICATORS
Measure team and individual performances across multiple KPIs.
Read More
LEAVE AND EXPENSE MANAGEMENT
Document all work-related expenses and track employee leave.
Read More
TIME AND ATTENDANCE
Monitor team punctuality and check staff locations throughout the day.
Read More