DRIVE ACCOUNTABILITY IN YOUR BUSINESS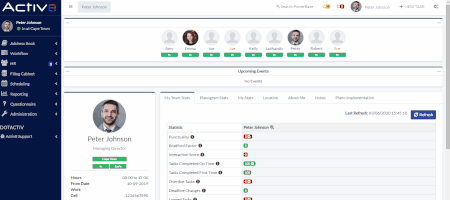 Designed to suit your business' team management needs, Activ8 has a built-in function that helps you to monitor individual performances, get an in-depth understanding of your team statistics and set thresholds specific to your business.

Sign up now to get free and unlimited access to Activ8 for the first four months. Your first 20 users are free ongoing.
MONITOR INDIVIDUAL AND TEAM PERFORMANCES
Observe and monitor the punctuality of everyone in your retail business.
When logged into Activ8, on your dashboard is a My Stats column with widgets detailing punctuality rate, tasks completed first time and tasks completed on time, all expressed as percentages.
For easy reporting, we've colour-coded these widgets so, at a glance, you can discern how often your team arrives on time and when they're late. You get to decide the punctuality threshold.
You can also compare an individual against the rest of their team or your entire business.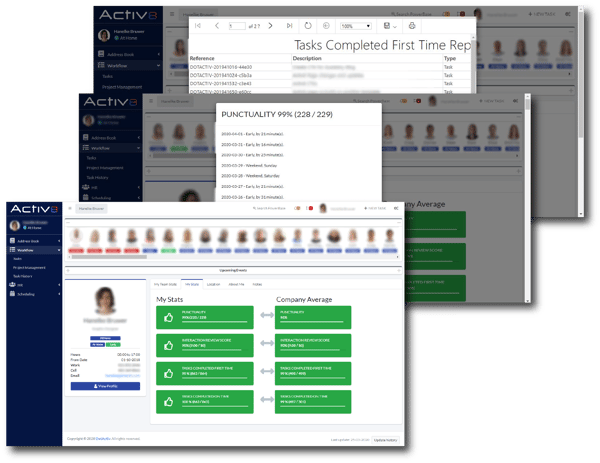 UNDERSTAND YOUR TEAM'S STATISTICS
Get a detailed understanding of the performance of each member of your team across multiple KPIs.

Found under the My Team Stats tab on the Activ8 dashboard, there are more than a dozen key performance indicators available to you.

Besides Punctuality and Tasks Completed First Time and On Time, other KPIs include Overdue Tasks, Tasks Not Responded, Assigned Tasks, Tasks Due Today, Deadline Changes, Capacity Trend, Bradford Factor and more.

It is ideal for line managers looking for a way to manage the performance of everyone in their team. Moreover, to ensure work consistency across the entire business.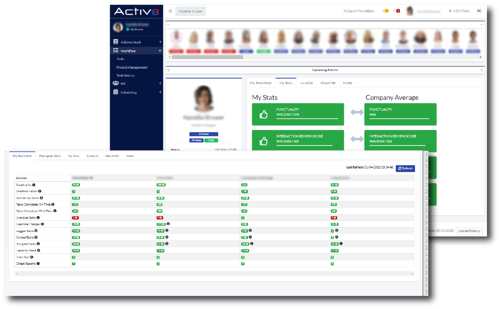 SET PERFORMANCE THRESHOLDS
Set performance thresholds specific to your business.

For each KPI, you can choose a period (Days) and a threshold (Percentage) that makes sense to how you run your business and what you want to achieve.

Built-in colour widgets adhere to all the thresholds you set. That means you'll know whether or not your team meet the expectations determined by you.

These thresholds also help you to drive a company culture where transparency and accountability are at the core.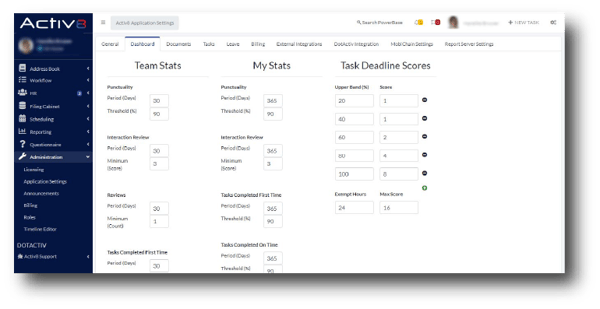 BOOK YOUR CUSTOM EXPLORATORY CONSULTATION
Looking for a team management software solution that enables you to maximise the work output of your mobile retail workforce? Software that allows you to create custom questionnaires and report on store compliance?

After booking your free online exploratory consultation, you can expect us to research and evaluate your unique context. We'll create a personalised agenda to match your business' interests, goals and context.

We'll reach out to you before your consultation to share your personalised agenda. You're welcome to request any changes or additional points.

We'll consult with our internal experts to curate and customise conversation points, content, and the presentation so that it's in line with your personalised agenda. Depending on the outcome of our consultation, we'll schedule a separate custom advisory consultation to share our proposed recommendations with you.