WE CAN HELP YOU GROW A BUSINESS BUILT ON TRANSPARENCY, ACCOUNTABILITY AND COLLABORATION
We have spent 20+ years catering to the global retail industry. During that time, we have also assisted our fair share of professional service firms, helping them to run more efficient businesses.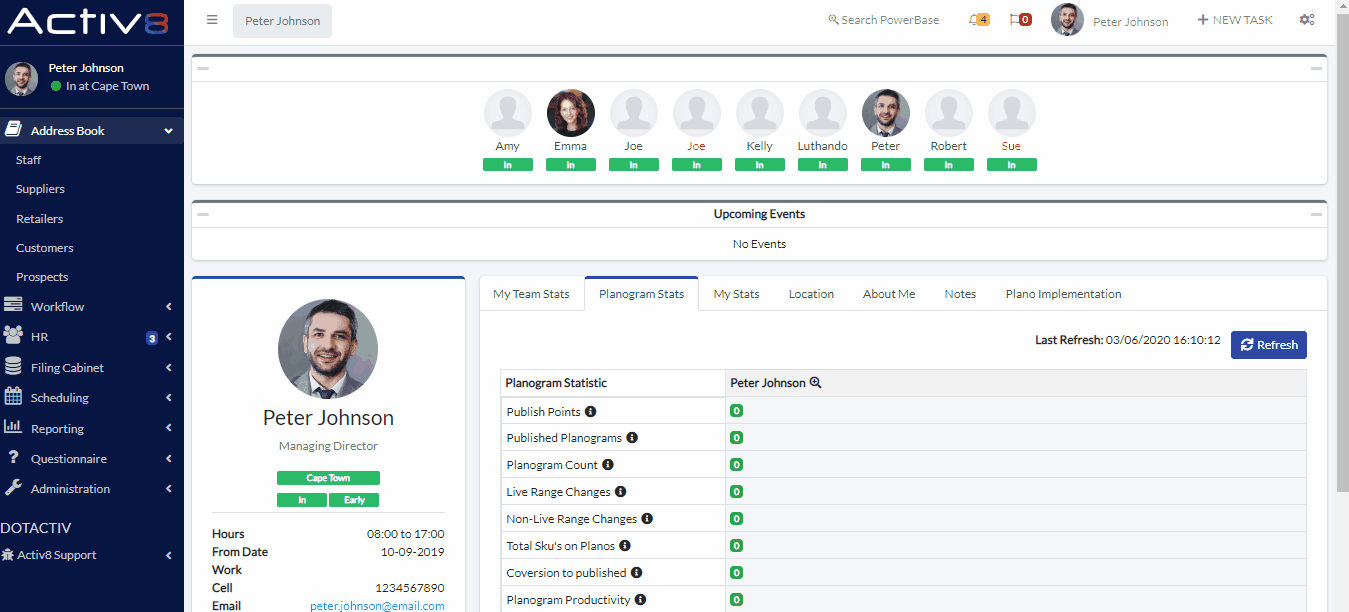 We understand you need to organise, plan and manage all work and projects precisely so you can deliver high-quality service excellence to all of your clients. We also understand that you need to provide your teams with key information that ensures they can work efficiently.

With Activ8, our dynamic team management software, you have access to all the features and functions needed to help you grow a business built on transparency, accountability and collaboration. When you sign up, you can get access to an unlimited number of users for free for the first four months. After that, your first 20 users are free.

ACTIV8 SUITS ALL PROFESSIONAL SERVICE FIRMS
We work with many professional service firms from around the world to manage their teams remotely, including the selected few below. Interested in joining them? Click on each logo to find out more about them.
WE CAN CATER TO ALL PROFESSIONAL SERVICE FIRMS IN THESE INDUSTRIES.








BOOK YOUR CUSTOM EXPLORATORY CONSULTATION
Looking for a team management software solution that enables you to drive transparency and accountability? Software that will enable structured management across your business?

After booking your free online exploratory consultation, you can expect us to research and evaluate your unique context. We'll create a personalised agenda to match your business' interests, goals and context.

We'll reach out to you before your consultation to share your personalised agenda. You're welcome to request any changes or additional points.

We'll consult with our internal experts to curate and customise conversation points, content, and the presentation so that it's in line with your personalised agenda. Depending on the outcome of our consultation, we'll schedule a separate custom advisory consultation to share our proposed recommendations with you.
DRIVE TEAM ACCOUNTABILITY, MANAGE PROJECTS EFFICIENTLY AND DELIVER SERVICE EXCELLENCE WITH A DYNAMIC TEAM MANAGEMENT SOFTWARE SOLUTION
We can provide you with dynamic team management software that includes all the features needed to drive team accountability, manage tasks and projects efficiently, and deliver service excellence.
TOUCH
Role-Based Access Control
Role-Based Access Control
TOUCH
Android & iOS Mobile Apps
Android & iOS Mobile Apps
HOW DOTACTIV ENSURES CUSTOMER SUCCESS
We provide all of our software users with a range of extra services and resources, all aimed at helping our customers see continued success.
WHY SHOULD YOU CHOOSE ACTIV8?
Implementing a team management solution such as Activ8 in your business makes sense because of what you can gain from it.


Improve project collaboration

Understand team productivity

Set performance thresholds

Collect time and attendance data
Track expense and travel claims

Manage leave requests with a live calendar

Onboard new employees remotely

Ensure role-based access permissions
Drive planogram compliance

Maximise workload of mobile workforce

Schedule and automate store visits

Understand brand representation in-store